Vontaze Burfict has been fined $112,000 by the NFL for two separate hits that occurred in the Cincinnati Bengals' 28-21 loss to the Pittsburgh Steelers last Sunday.
His hit on Antonio Brown was the one that generated the most national attention, attempting to hit him over the middle with a shoulder-to-helmet blow eerily similar to the one he made in the 2015 Wild Card game, knocking Brown out of the game with a concussion.
This time, Brown avoided the worst of it. Burfict's teammate, rookie safety Jessie Bates, took the brunt of the blow.
Burfict was also fined for this third quarter hit on James Conner, as referenced by Schefter. Burfict attempts to hit James Conner high, seemingly not caring about the tackle, and doesn't bring him down, resulting in a 16 yard gain.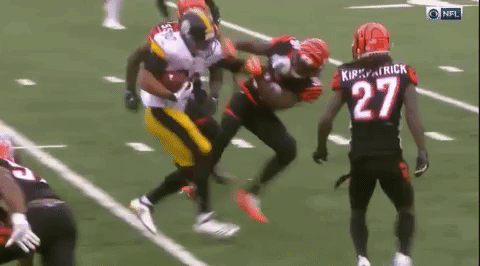 The league opted against a suspension, despite the call from fans and ex-players, like Browns future Hall of Famer Joe Thomas, for a lengthy suspension.
Cam Heyward spoke to WDVE – via the Trib – and said Geno Atkins told him last year none of his Bengals' teammates understand what Burfict is trying to do.
"I remember when we were at the Pro Bowl, talking to Geno Atkins about it," Heyward said. "And he was just like, 'I don't understand it.' They say Vontaze Burfict is a great guy. But when he plays us, he just likes to turn up."
As we pointed out this morning, this marks the 12th fine and/or suspension of Burfict's career, who entered the league in 2012. This is the largest one ever that didn't result in an outright suspension. That breaks his previous "record" of $75,000 in 2016 after stomping on a player's leg.