The Pittsburgh Steelers played a complete game against the Atlanta Falcons. Offense, defense, special teams, all were "above the line." But Mike Tomlin singled out the latter for the biggest play of the game as Roosevelt Nix's punt block late in the third quarter of the win.
Tomlin talked about the play to open up the press conference Tuesday.
"I thought the play of the game, the thing that kind of broke the game open, didn't occur on offense or defense," Tomlin said. "I thought it was the blocked punt by Rosie Nix. Significant play. We expect that from Rosie."
At the time, the Steelers were only up by ten and with facing a potent Falcons' offense, it was still anyone's game. Nix's block gave Pittsburgh the ball at the 18 and three plays later, James Conner carried the ball into the end zone to go up 27-10.
With the fourth quarter moments away, Atlanta had to abandon the run game, becoming one-dimensional, and letting the Steelers' pass rush make an impact.
Tomlin cited the veterans who play on special teams as a reason for that unit's ability to make those types of plays.
"We expect that from that group. We have a uniquely seasoned special teams unit with guys like Rosie, and Chickillo, and Tyler Matakevich, and Larry Fort, Jordan Dangerfield. That have all been collectively together for an extended period of time from a special teams standpoint. It's good for that group to deliver on that, deliver on that experience, that collective experience."
It's the team's first blocked punt of the year but they've come close several times already. Officially, the Steelers blocked one punt last year too, the opener versus Cleveland, and deflected another one a couple weeks later.
That's in part aided by Danny Smith's scheme but also made possible by excellent players. Nix is the team's best special teamer ever since Vince Williams was removed from that unit while Chickillo, Fort, and Matakevich have all been consistently solid. Nix is a tone-setter with those impact plays and the energy he brings. Check him out after the block, walking around and flexing even as punter Matt Bosher is still scrambling around. Which yeah, finish the play, I know, but it just proves it's a part of the game Nix loves.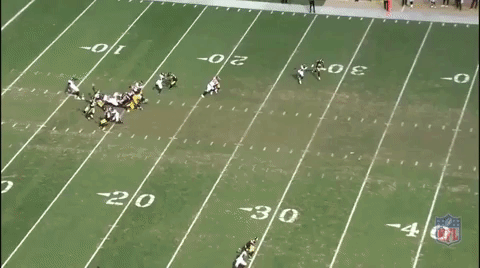 There's new faces getting involved too like Brian Allen, who played well as a gunner Sunday, and Matthew Thomas, an ultra-athletic linebacker who has even been used as a gunner this year.
If Chris Boswell can get back to his usual steady play, the Steelers will have a quality special teams unit top to bottom.