As we've done in the past, the keys to the Pittsburgh Steelers winning (or losing) today's game. Three things that need to happen for them to end up on the right side of the score and vice versa. My prediction is at the bottom.
The Steelers Will Win If…
1. They double Jarvis Landry on third downs.
To the defense's credit, they've done a really effective job of taking away offense's best weapons on key downs and situations. Against Atlanta, Julio Jones was locked down. Even against the Bengals, Keith Butler rolled all his coverage to A.J. Green and Tyler Boyd. Bracketing Green high/low with a safety rolled over while using Terrell Edmunds as a lurker underneath in combination with the slot corner.
Landry is the clear threat in the Browns' passing game, in part because everyone else is hurt. The rest of the receivers are rookies and guys you've never heard of. That's not to say they can't be threats, Antonio Callaway has speed and Day Two talent – character dropped him as low as he was selected – but the #1 worry is Landry. Double him all game, especially on third down (he's top ten in third down catches), and force the other weapons to make plays.
2. Get into third and manageable.
And they should be able to. The Browns' run defense is allowing consistent yardage with a bottom third run defense with the fourth-worst first down run defense, allowing 4.86 yards per carry. Cleveland still manages a top ten third down defense overall, impressive considering how bad they've been on first down. They do that through creating pressure and being aggressive, especially when offenses get into third and forever.
So run the ball well, have an efficient pass game early on, and get into 3rd and 3 instead of 3rd and 8. You can apply that to any game, sure, but it's extra important for a playmaking Browns' defense who can rush the passer and make plays on the football when it's in the air.
3. Use the quick and screen game early.
Best way to slow down an excellent pass rush? Quick and screen game. Get those defensive ends slowing down, thinking about the screen. Look at how the New England Patriots controlled Khalil Mack and Chicago last week. Here are the first three plays they ran against them plus the final one, the TD Tom Brady threw on 3rd and 1.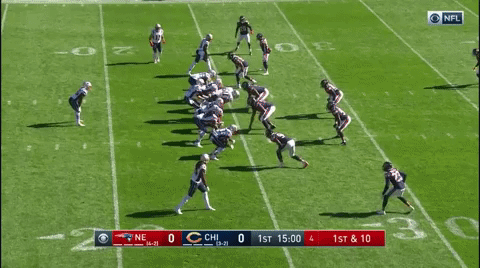 1. Fake screen, draw
2. Fake draw, fake end around, screen
3. Screen
4. Screen
Was Mack a threat on any of those plays? Nope.
To be clear, New England isn't the only team who has ever done this. But they sure did it well against an elite pass rusher. The Steelers need to do similar to combat Myles Garrett. He'll make his fair share of plays but if you can get him thinking early, you'll limit that impact. And that's huge.
The Steelers Will Lose If…
1. Baker Mayfield breaks contain too often (and the Steelers play man coverage).
Butler played a lot of man coverage in the first matchup. While that helped wash away the Browns' pass game, it let Tyrod Taylor run all over them. He put up 77 yards and a touchdown on the ground that week and was the only consistent way he moved the football.
Taylor is now gone but Mayfield is a threat with his legs too. I think Mike Tomlin is correct in his assessment that Taylor is quicker to take off than Mayfield, who wants to extend the play outside the pocket, but he'll fearlessly run if he has to.
Zone coverage, or a combination coverage (bracketing Landry, zone rest of the way), would be the best way to play Mayfield on third and long. And up front, the defensive line can't let Mayfield easily break contain. Running QBs are the worst to stop and are the NFL's new weapon. The young rising stars of the league, Watson, Mahomes, and rookies like Mayfield are all capable of beating you with their legs.
2. They fail to contain Duke Johnson.
Johnson has a bigger role now that the Browns traded away Carlos Hyde. He still won't be used as much in the run game but they're going to walk him out, have him run an advanced route tree from the backfield, and be a matchup headache for Steelers' linebackers. Now more than anytime this year with all the injuries at receiver. They'll throw screens, they'll throw the short game, and they'll throw vertical with him. Vince Williams and Jon Bostic will be tested. Let's see if the team has any plans for L.J. Fort this week. Maybe work him in nickel packages, as they did when Williams was sidelined.
3. Randy Fichtner doesn't use the middle of the field.
That's how the Steelers' offense can move the ball in chunks against Cleveland. Get into heavier personnel, 21 or 12 personnel (not 13 or 22 though, give me two receivers on the field), where the Browns seem to check into Cover 2, and rip the ball on post routes between the hashes. Get their talented corners to bit, trail, or simply not be there if they're covering the flats.
Cleveland has a good secondary so just asking receivers to win routes all day won't be the easiest task to accomplish. Need to exploit their scheme with level concepts and divide routes to put the safeties in conflict.
Game Prediction
Pittsburgh: 31
Cleveland: 14
Season Prediction Record
2-3-1