For the second week in a row, the Pittsburgh Steelers turned in a strong performance in the tackling department, leading to a thrilling 28-21 win Sunday at Paul Brown Stadium in Cincinnati.
One week after recording seven missed tackles against an explosive offense in the Atlanta Falcons, the Steelers nearly matched that number again in Week 6 at the Bengals, another high-scoring unit.
Not a single Steelers defender recorded more than one individual missed tackle on the day. There's a clear formula to win for the Steelers: balance on offense, and tackle well on defense.
Let's take a look at the missed tackles report.
Total missed tackles at Bengals – 8
Cam Heyward – 1
Tyler Matakevich – 1
Sean Davis – 1
Vince Williams – 1
Tyson Alualu – 1
Cam Sutton – 1
Jordan Dangerfield – 1 (special teams)
Anthony Chickillo – 1 (special teams)
Total missed tackles through 6 weeks — 65 (10.83 misses per game)
Joe Haden – 7
Sean Davis – 7
Vince Williams – 7
Mike Hilton — 6 (one on special teams)
Terrell Edmunds – 6 (two on special teams)
TJ Watt – 5
Stephon Tuitt — 3
Artie Burns — 3
Cam Sutton — 3
Anthony Chickillo – 3 (one on special teams)
Bud Dupree – 2 (one on sack attempt)
Jon Bostic – 2
Cam Heyward – 2
Tyson Alualu – 2
Tyler Matakevich – 2
Roosevelt Nix — 1 (special teams)
Coty Sensabaugh – 1
Jordan Dangerfield – 1
Nat Berhe – 1
LJ Fort – 1
Looking at the individual misses from Sunday's slugfest, nobody really stands out with egregious misses, at least in terms of numbers. You'd like to see Jordan Dangerfield and Anthony Chickillo – two guys that made the roster due to special teams contributions – not miss special teams tackles, but that's just the breaks of the game.
Just two defensive backs missed tackles in the win, which is an upgrade from the three misses by defensive backs last week against the Falcons.
Up front, Cam Heyward and Tyson Alualu missed tackles along the defensive line, while Vince Williams missed one tackle on a run stop attempt. That being said, Williams came up with the lone "open field" stop of the game on a third down play in the fourth quarter, wrangling Joe Mixon to the ground one-on-one.
On this play in the first quarter, these were the first recorded misses by the Steelers defense.
Running out of shotgun, Andy Dalton hands off to Mixon heading left. Heyward does a nice job of controlling his gap and gets off the block of Clint Boling to try and make the stop, but he's unable to get enough of a grip on Mixon as he flies by.
Heyward does slow him down slightly, allowing Tyler Matakevich to get into the play at the top of the hole, but the backup linebacker flows to far to his right, allowing a cutback line for Mixon. Matakevich ends up attempting an arm tackle as he falls away from the play, resulting in a missed tackle.
After this miss, we didn't really see Matakevich on the field defensively the rest of the game.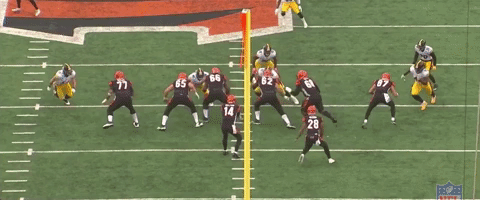 This play looks eerily similar, doesn't it?
Again running out of shotgun, Dalton hands off to Mixon with the Steelers holding a slim lead on the road. Running behind Boling and tackle Cordy Glenn once again, Mixon is able to get into the second level of the Steelers' defense, thanks to a missed tackle by Williams in the hole.
That's a play Williams has to make, especially after he does all that work to get around a blocker to get a clean look on Mixon.
After that, Tyson Alualu records a miss diving at the feet of Mixon, resulting in Mixon gaining another five yards at the end of the run before Bud Dupree is able to get him on the ground.
Overall, this was a strong defensive performance in the tackling department by the Steelers. It's something to build on heading into the bye week.
Offensively, the Steelers forced 11 missed tackles, meaning Pittsburgh finished +3 in the tackling department in the win.
Total forced misses at Bengals – 11
James Conner – 5
Stevan Ridley – 2
Vance McDonald – 2
Xavier Grimble – 1
Ryan Switzer – 1
Total forced misses through 6 weeks – 74 (12.3 forced misses per game)
James Conner — 38
Antonio Brown — 11
Vance McDonald — 8
Ryan Switzer — 8
Ben Roethlisberger — 3
Stevan Ridley — 3
JuJu Smith-Schuster — 1
James Washington — 1
Xavier Grimble  — 1
James Conner continues to dominate in the forced missed tackles department, leading the league in that category. He's really taken another step with his game.
Vance McDonald continues to look like a runaway train every time he catches the ball in the open field. Defenders are hesitant to put a hat on him at times, while Xavier Grimble got in on the action, forcing a Jesse Bates miss on his 22-yard catch and run down the right sideline.
Nothing looks better than this one though:

Seeing Vontaze Burfict get bullied like this warms my heart.