As we have been for several years now, we'll break down the Pittsburgh Steelers' opponent each week, telling you what to expect from a scheme and individual standpoint. Like last year, Josh Carney and I will cover the opposing team's offense. I will focus on scheme, Josh on the players.
Today, checking out the Cincinnati Bengals' offense.
Alex's Scheme Report
Bengals Run Game
Identity is the word I used up in the title. And that's how I would describe this run game now, much different than the first half of 2017. Last year, they didn't have a "guy." It was an ugly committee, no back could get into a rhythm, and they were keeping a clearly more talented Joe Mixon on the bench.
Mixon is just coming back from injury but he's the guy. Even moreso with Gio Bernard missing due to a sprained MCL. Mixon is averaging an impressive 4.5 yards per carry, a full yard better than he did last season. Three of his 60 carries have gone for at least 20 yards. Backing him up will be Mark Walton. Watch out for him out of the backfield more than as a runner. As an aside, he hasn't played a single snap on special teams, which really surprises me, because he covered kicks (and did it well) at Miami. Thought he would be their next Cedric Peerman.
I've seen a little bit of everything in their run game, they even ran a wham scheme to begin the second quarter against Miami last week (TE/FB down blocks an interior DL) but if you had to choose the concept they run the most, it's their Duo run scheme. That's a man blocking run with double-teams up front and then climb to the second level to the linebackers.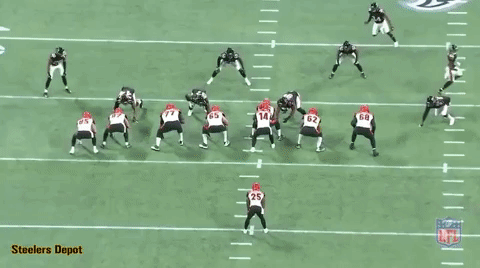 Bengals like to run a ton of 12 personnel, two tight end sets. We'll see if that continues given all the injuries they've suffered there. No Tyler Eifert and Tyler Kroft appears like he'll miss this one. Leaves them awfully thin.
Couple other notes about the run game and offense. Receivers have three carries this year (Boyd, Erickson, Ross). The offense is averaging over 30 points per game, 4th in the league and a spot ahead of the Steelers, while they've been nearly as impressive in the red zone, finding the end zone 70.6% of the time. That's good enough for 5th place. Third down offense comes in at 14th, just over 40%.
Bengals Pass Game
Andy Dalton has done well enough though in his typical fashion, there are many pockets of less-than-stellar play. Completing close to 66% of his passes, 7.7 YPA, and thrown 12 TDs to 7 INTs. He has at least one interception in four of his five games.
They are getting the ball vertical, tied for 8th places in 20+ yard completions. A.J. Green is still the dude here but it's Tyler Boyd who leads the Bengals with 30 receptions. He's been Dalton's go-to receiver on 3rd down with 11 such receptions, 10 of them moving the sticks. That's tied for 5th and 2nd in the NFL, respectively.
Green is getting moved around a ton, plenty of time in the slot to get matchups on nickel corners (if the defense doesn't shadow/travel, a popular talking point for this week's game) but he's still the top threat in the red zone. Three of his five touchdowns this year are inside the 20.
Cincinnati definitely isn't afraid to push the ball vertical. They like to run this switch vertical concept. Line up 2×2, switch release off the line, and get downfield.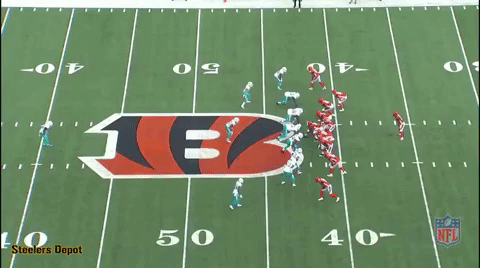 And watch out for their screen game between the Steelers 25-50 on 1st and 2nd down. That's when they like to run it.
If I had to guess, they use motion pre-snap more than any other team in the league. Big shifts, return motion, going to empty, whatever, they do it. Want to force you to adjust and help ID your coverage/blitz.
Josh's Individual Report
It's Bengals week, Steelers fans! With that comes a heated rivalry that could lead to an ugly display on Sunday, especially with the Steelers returning to Cincinnati for the first time since Ryan Shazier suffered his back injury there, and the return of Vontaze Burfict to the rivalry.
That can be talked about on another day though as we focus on a much-improved Bengals offense under the direction of offensive coordinator Bill Lazor. If you remember, Lazor took over for Ken Zampese last season after the Bengals got off to a woeful start in the 2017 season.
Now, Cincinnati is back offensively, rolling in the passing game and running game as Andy Dalton looks confident again, while a rebuilt offensive line is opening up holes for dynamic second-year running back Joe Mixon.
Through five games, Cincinnati sits 17th in total offense with a little over 367 yards per game, but they're an opportunistic team, scoring 30.6 points per game, good for fourth best in the NFL behind the Saints, Chiefs, and Rams.
Dalton might be considered league-average with his numbers (15th in passing yards per game, 12th in yards per attempt), but he's tied for third in the league in passing touchdowns with 12, meaning he's striking while the iron is hot.
He might not be playing at peak-2015 Dalton level, but he's been darn good this season, spreading the ball around to guys like AJ Green, Tyler Boyd, Tyler Eifert, and Giovani Bernard.
Dalton catches a lot of flak as a starting quarterback in the NFL, but he's one I can get behind. He doesn't have the biggest arm, but he has a knack for fitting the ball into tight windows with accuracy.
Under Lazor, Dalton has excelled with play-action passes, thanks in large part to the Bengals committing to a run game with Mixon. That's allowed Dalton to open things up with play-action fakes, taking shots down the field to Green and second-year receiver John Ross, as well as crossing routes to Boyd.
Dalton does have seven interceptions thrown on the year, but at least three of them weren't his fault. He's playing at a high level right now, and it has the Bengals rolling.
Mixon just returned from minor knee surgery, so he brings some serious juice to the run game once again. While he did have a very low yards per carry number in his rookie season last year, the Bengals did a great job of getting some offensive line help while also changing up the blocking scheme a bit. That's helped Mixon bust out this season.
Not only is he shifty in space, he's brought a physical element to this offense. He seems to get stronger and stronger as his touch rate climbs. The Bengals coaching staff has noticed that as he's gotten more work early in games, allowing the Bengals to set the tone offensively.
Behind Mixon, Bernard filled in admirably while Mixon was out with the knee injury. I was a big, big fan of Bernard coming out of North Carolina back in 2013, and he's done nothing to disappoint in his time in Cincinnati. I fully believe that if he were given a lead role elsewhere, he'd be a star. Alas, he's stuck in Cincinnati, where he's proven to be a great change-of-pace back as a runner and receiver out of the backfield.
That being said, Bernard didn't practice Wednesday and Thursday, so his game status is up in the air. Keep a close eye on his practice status for Friday. If he can't go on Sunday that's a big break for the Steelers as rookie Mark Walton would serve as the No. 2 behind Mixon.
Walton is a shifty back that has mainly served as a receiving back this season, but overall he's received just nine touches through five weeks.
At receiver, Green is clearly the top threat. He's one of the best receiver's in football, easily in the top five, and maybe the top 3, depending on how your list shapes up. He's a deep threat because he can run by defensive backs, but he's also a possession receiver that can beat you with physicality and technical route running.
A few times this season I've noticed the Bengals line Green up in the slot to get him into the middle of the field. Each time he's either moved the chains for a first down, or busted one up the seam for a touchdown.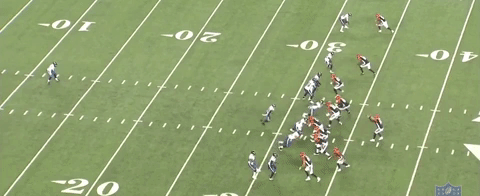 Boyd has taken a massive leap this season, breaking out in a big way for the Bengals. Cincinnati still uses him primarily as a slot receiver running open on crosses, but he's getting flat-out open, allowing him to carve up defenses so far this season. Boyd has been an under the radar story line for the Bengals this season. He's really finding a role and rounding himself out into a very good No. 2 option for Cincinnati.
The Bengals will do whatever they can to get him into a mismatch in favor of the offense. Pittsburgh will need to be careful on Sunday. He's a dangerous player in the middle of the field.
Aside from Green and Boyd, nobody has really emerged as that solid No. 3 for the Bengals. Ross is mainly a one-trick pony right now. I don't consider him a threat for any defense right now because the Bengals don't seem to know how to use him.
Alex Erickson is getting some run offensively for the Bengals, but he's mostly a non-factor outside of the return game. Josh Malone has seen his role decrease, while Cody Core is a standout special teamer.
Interestingly enough, Boyd leads the team in catches with 30, while Green has 26. After that, the next closest receiver in catches is Ross with seven. Erickson has four and Malone has one. It's not a deep group at all, but the play of Green and Boyd is carrying them, making it look good overall.
At tight end, the loss of Eifert hurts big time. Dalton loved using him in all situations. He was his safety valve of sorts. Eifert was having a great year before breaking his ankle against the Falcons.
Behind Eifert, Tyler Kroft and CJ Uzomah are the other tight ends of the roster, but it looks like Kroft won't play Sunday with a foot injury. When it comes to tight ends that fly under the radar, I'm a big Uzomah guy. He's a good blocker, and really has a knack for getting open all over the field.
Dalton seems to trust him as of late, allowing the Bengals to still utilize the tight end position, especially on play-action passes.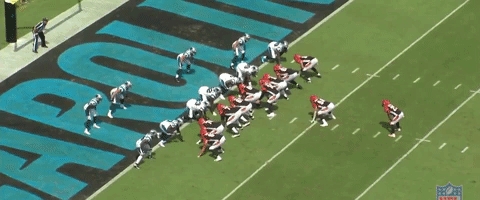 I love the way Uzomah is able to sell his blocks on plays like this, allowing him to quietly slip out behind defenders, making for easy throws from Dalton.
Up front, I mentioned that Cincinnati rebuilt its offensive line this spring – sort of.
Here's how the Bengals are expected to line up on Sunday left to right:
LT – Cordy Glenn
LG — Clint Boling
C — Trey Hopkins
RG — Alex Redmond
RT — Bobby Hart
I'm a big fan of Cordy Glenn. He's as solid a left tackle as they come. Buffalo made a huge mistake trading him, but the Bengals rejoiced, getting a left tackle to finally replace the departure of Andrew Whitworth.
Boling and Glenn form a strong left side of the offensive line, but the rest doesn't look great on paper.
Hopkins is playing out of position due to the Billy Price injury. Hopkins was a right guard when Price was the starting center, but now he's had to slide left into the center role, forcing Alex Redmond into a starting role next to arguably the worst starting right tackle in football in Bobby Hart.
Hart takes way too many penalties, is as stiff as they come, and really doesn't stand a chance against most speed rushers. Look for the Steelers to came at him all game long with pass rush after pass rush.
On special teams, this is a solid unit with Randy Bullock at kicker and Kevin Huber at punter.
Bullock looks like a smaller version of Sebastian Janikowski. He's short and stout, but he's got a powerful leg and is pretty accurate with it.
Huber's numbers don't look great (36-yard average net) on 16 punts, but he has dropped half of those punts inside the opponent's 20 yard line. He's good at directional kicking, and has a great feel for touch on his punts.
At returner, Erickson is a game breaker. It seems like every time I watch the Bengals that guy is busting off a long kick or punt return. He worries me more than he worries others, I'm sure.
Also keep an eye out for rookie Darius Phillips in punt return situations, depending on field position. The Bengals drafted him for his coverage abilities as a corner, but he was a game breaker at Western Michigan fielding punts.