With the game on the line, there's few quarterbacks in the NFL you'd rather have than Ben Roethlisberger. He proved that again with his game-winning comeback versus the Cincinnati Bengals, leading the comeback that ended in Antonio Brown's touchdown with ten seconds left.
That comeback and game-winning drive were both milestones. It marked his 30th career comeback victory and 40th game-winning drive.
For the former, the comeback, it places him into sole possession of 7th place of all-time. Previously, he was in a tie with Fran Tarkenton and Vinny Testaverde with 29 of them. Of active players, he ranks third trailing only Tom Brady (35) and Drew Brees (31). The record is held by Peyton Manning with 43, a mark Roethlisberger is unlikely to reach in his career.
His 40th game-winning drive makes him the 7th QB in NFL history to reach that mark and ties John Elway's career mark. He now trails Manning, Dan Marino, Drew Brees, and Brett Favre. Manning has the record with 54.
The Bengals game marked his first comeback and game-winning drive of the season. It was a masterful performance, especially his last two completions. He threw a perfect touch pass down the middle of the field to JuJu Smith-Schuster, floated over Vontaze Burfict's head, and then read the coverage perfectly to fire the ball to Brown, who raced into the end zone for the win. That throw to Smith-Schuster should probably be talked about a lot more than it's been.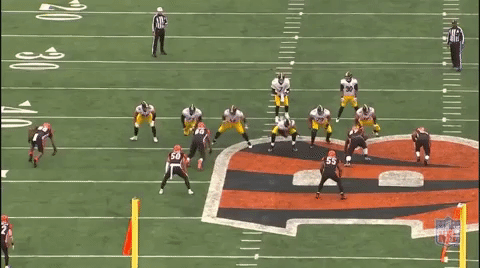 Roethlisberger led the NFL in both categories last year. Four game-winning drives, three comebacks. In 2008, he had four of each and during his rookie year, he led the NFL with nine total (four comebacks, five game winners).
Although a much more obscure stat, by the end of this year, he'll have also moved into the top 20 all-time in Pro Football Reference's Approximate Value, which as the name applies, is to numerically value a player's season. Roethlisberger entered 2018 tied with Steve Young in 21st place. At the least, he'll surpass Anthony Munoz to crack the top 20.