Getting back Mike Hilton was a huge boost for the Pittsburgh Steelers' defense. Not just for his slot corner work but the value he brings as a blitzer. After all, he's the first and only cornerback to ever record such a sack hat trick in a game.
That latter value was on display again against the Atlanta Falcons. Defensive coordinator Keith Butler blitzed him nine times and he got home with two pressures while he impacted the play on at least one more. Let's take a look at how well he times those blitzes and compare it to others who don't.
Blitzing is all about timing. It's about feel, aided by film study (something as small as the pattern of how the QB turns his head before the snap), and having that instinct for when the snap is going to happen. Butler has praised Hilton repeatedly for that trait in the past and he couldn't be more right about it.
We wrote about it in October last season.
"It's a feel," Butler told reporters. "Feel of when the ball is going to be snapped. It's a feel of body language by their whole offense. In terms of when they're set, when they're not, when they're moving around, when they're looking around, all that stuff. You get a feel for that. He's got a good feel for the blitz in terms of the timing and hitting it on the snap."
That's what you're going to see in these assorted clips below. His first pressure comes shortly before halftime. He aligns in his normal nickel spot, five yards off the ball, but creeps up right before the snap and explodes as it's snapped. The Falcons have no time to slide or adjust their protection, it's empty and there's not much they can do anyway, but Hilton is free to get after Matt Ryan.
Ryan heaves it deep but in part due to the pressure, the pass is overthrown, a partial byproduct of the QB needing to get rid of it before Julio Jones can get depth downfield.
Same thing in the 4th quarter. Hilton seems to most often blitz against empty or when the back is aligned away, the latter is true here, and he times it up again. Ball has to come out before it's ready and the throw is incomplete to TE Austin Hooper.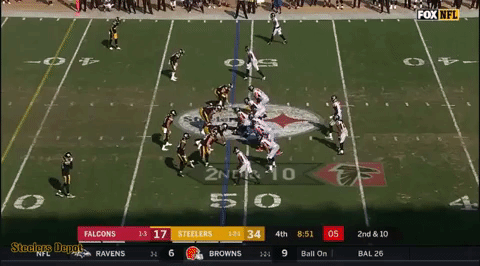 Hilton also moved Ryan off his spot on this blitz, leading to one of T.J. Watt's three sacks. Timing his blitz, the back does nudge him this time (back aligned away), but Ryan has to climb the pocket and Watt takes him down.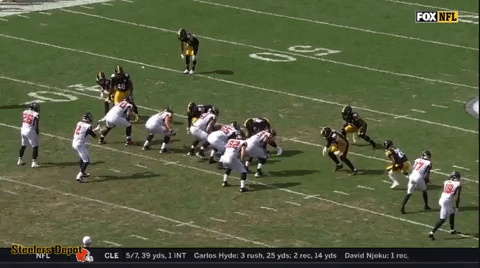 Here's one more. No pressure but his timing was very good and he shows the ability to "break down" to avoid going offsides but also not stopping entirely, sorta the way Troy Polamalu could do. Steelers still end up with the sack, the right tackle forced to pick him up.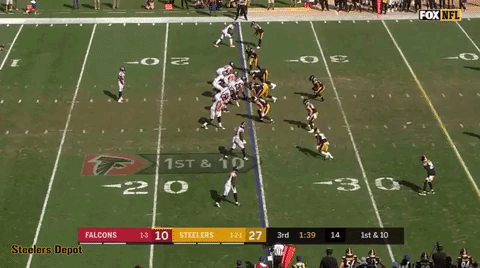 Hilton's replacement, Cam Sutton, doesn't have that same knack. And that's not me trying to be critical, not all corners to. But he doesn't possess the timing or physicality the way Hilton does. Sutton has been blitzes seven times this season, failing to record a pressure on any of them. The timing just isn't quite there. Here's a cut-up of a handful of those blitzes.
He's lined up at the top, bottom, bottom in these three clips.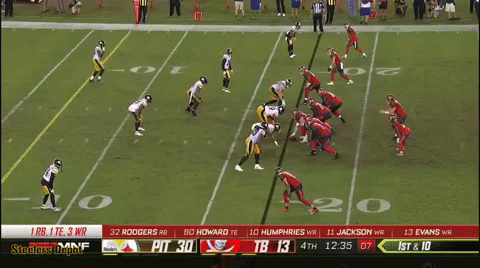 Now compare Sutton and Hilton together, rushing from the same spot, rolled up at the LOS right before the snap. See for yourself who times it better.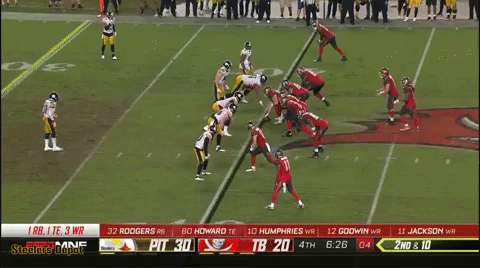 See the difference? Hilton reacting quicker and much more explosive because of it. One gets pressure, the other easily picked up by the back. Yeah, Hilton has the back away, Sutton towards him, but that's not the point. Just watch how each react to the ball.
Hard to teach that. Either you have it or you don't. Hilton does. And it makes the Steelers' blitz schemes so much more effective.