Le'Veon Bell is well-known for his ability to run in the cold. Credit that to his high school playing days, growing up in Ohio. But that feels like Florida compared to Erie PA, where James Conner went to school. And has him just as prepared as the weather turns sour and winter nears.
Conner was asked about his approach to the game heading into November and December.
"Just no matter the conditions, if it's getting a little cold out, we just continue to play football at the end of the day," he told reporters via Steelers.com. "You gotta play football. Play fast and physical."
McDowell High School, where Conner played, sits right off Lake Erie. For those of us who live in Western PA, you know the rest. Few areas get hit harder by winter weather than Erie, the lake effect snow annually slamming the city. Last year, they finished with around 200 inches of snow, one of the highest totals in history. So you get the idea. Every running back up there graduates with a diploma and snow plow.
I found one of his high school highlights, carrying defenders in the snow, showing the power and toughness that made him a star at Pitt and eventually drafted by the Steelers.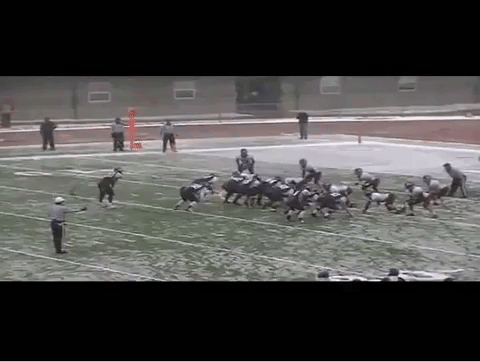 "I'm from up here, I'm used to the cold. I like to use any advantage I can get. I try to bring the same energy, same mindset all season."
The running game has gotten back on track too, quieted during an early season stretch, in part due to game circumstance. Conner has rushed for 110 and 111 yards in back-to-back games while finding the end zone a total of four times.
Sunday's matchup against the Cleveland Browns won't quit feel like winter, though the conditions will be far from great. Temperatures will max out in the low 50s with a 50% chance of rain and 11 mph wins. A dominant run game won't be mandatory. But it'd sure be nice.
The one "test" Conner hasn't passed yet this year is no fault of his own. He'll have to show the ability to be "the guy" as the season wears on. Plenty of running backs look good at the beginning of the season with fresh legs and a body that hasn't been mushed by 300 pound linemen all season long. It's another to do the same come November and beyond. And Conner has been the Steelers' workhorse, playing 85.3% of the Steelers' snaps this season. That ranks third in the NFL, trailing only the Panthers' Christian McCaffrey and Cowboys' Zeke Elliott.
In fact, that 85.3% is identical to what Bell finished with in 2017, though it's important to note he was held out of the regular season finale against Cleveland.