A lot happened on Sunday in the Pittsburgh Steelers' 33-18 win over the Cleveland Browns at Heinz Field.
There were explosive plays on the ground and through the air by the Steelers, as well as a number of sacks and turnovers forced. Fortunately for the Steelers, the plays that needed to go Pittsburgh's way did, helping them cruise to the win at home.
Now that we're back off the bye week and returning to action, I'll take a look at the top 5 plays from Sunday's game that helped change the game's outlook.
Let's take a look.
Play 5 — 3rd & 6 at PIT 42 (4:54 – 1st) (Shotgun) B.Roethlisberger pass short left intended for J.Smith-Schuster INTERCEPTED by D.Kindred (C.Kirksey) at CLV 46. D.Kindred to CLV 44 for -2 yards (J.Smith-Schuster)
After a dreadful first defensive series resulted in a 3-0 lead for the Browns, and a stagnant first drive went nowhere for the Steelers, Pittsburgh forced a three-and-out by the Browns and took over in great field position near midfield.
Looking to get going offensively, the Steelers turned to Ben Roethlisberger to get the offense moving through the air. Instead, Roethlisberger threw an incompletion to James Conner in the short right flat, before then handing off Conner for a 4-yard gain.
On 3rd and 6, the Steelers tried to run an RPO for an easy first down, but the Browns played it well in coverage while getting a free runner a Roethlisberger, forcing him to get rid of the ball before he was ready. That resulted in a forced throw to JuJu Smith-Schuster, where Cleveland linebacker Christian Kirksey tipped the ball into the air, resulting in an interception for Derrick Kindred near midfield, putting the Browns in prime field position.
Six plays and 29 yards later, Greg Joseph drilled a 45-yard field goal, giving the Browns a 6-0 lead.
TIP DRILL‼️#CLEvsPIT pic.twitter.com/XEJR2jDl9f

— Cleveland Browns (@Browns) October 28, 2018
Play 4 — 4th & 8 at PIT 23 (13:29 – 2nd) (Field Goal formation) G.Joseph 41 yard field goal is No Good, Wide Right, Center-C.Hughlett, Holder-B.Colquitt
Joseph had a rough day for the Browns, and likely lost his job in Cleveland as the kicker.
With the Browns up 6-0 and controlling the Steelers' offensive attack, Cleveland put together yet another good drive under the guidance of rookie Baker Mayfield, marching 23 yards in five plays to set Joseph up for another field goal attempt.
Hoping to make it 9-0 on the road early in the second quarter, Joseph just pushed his attempt wide right, keeping the game within one score, allowing the Steelers a second chance on the game of life within the ballgame.
After the missed field goal, the Steelers made the Browns pay.
Play 3 – 3rd & 11 at PIT 30 (12:43 – 2nd) (Shotgun) B.Roethlisberger pass short left to A.Brown pushed ob at PIT 45 for 15 yards (D.Ward)
This play will go down as an innocuous one in the play sheet, but with the Steelers facing 3rd and 11 from their own 30 yard line and having not mustered much of anything offensively up to that point, this 15-yard completion from Roethlisberger to Antonio Brown seemed to jump-start the Steelers' offense out of its slumber.
Following the 15-yard hookup down the left sideline, Roethlisberger hit Justin Hunter for a 12-yard gain on the right sideline, and then found Brown on a 43-yard touchdown down the left sideline, giving the Steelers a 7-6 lead that they'd never relinquish.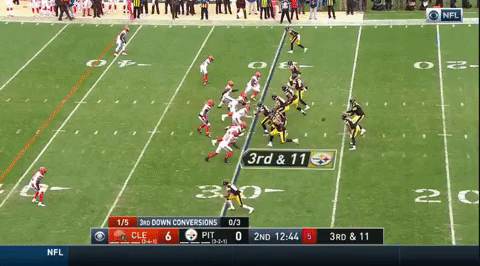 Play 2 —  2nd & 10 at CLE 25 (11:58 – 3rd) (Shotgun) B.Roethlisberger pass short middle to S.Ridley to CLV 22 for 3 yards (D.Kindred). FUMBLES (D.Kindred), RECOVERED by CLV-D.Ward at CLV 22. D.Ward to CLV 29 for 7 yards (J.James)
Coming out of the half with a 14-6 lead, the Steelers did a nice job of getting a quick stop on Cleveland, giving the ball right back to a hot offense that had scored on two straight possessions.
The first drive of the second half looked to be a third straight scoring drive until Roethlisberger dumped off a short 3-yard pass to veteran running back Stevan Ridley.
Again, Kindred made a play for the Browns, stripping Ridley after the catch, allowing Denzel Ward to recover the fumble deep in Cleveland's own end, keeping the Steelers off the board and the Browns still in the game.
That kicked off a sequence of events that later saw the Steelers record a safety thanks to a holding call on Desmond Harrison in the end zone on Bud Dupree, before the Steelers had a mental gaffe on the ensuing free kick, allowing the Browns to jump on the ball and later score a touchdown on a 1-yard Antonio Callaway catch, making it a 16-12 game after a Joseph missed extra point.
The Steelers didn't mess around from there though.
Derrick Kindred rips it loose and Denzel Ward scoops it up!

Our ball! #CLEvsPIT pic.twitter.com/d8tN8P7rBq

— Cleveland Browns (@Browns) October 28, 2018
Play 1 — 1st & 10 at PIT 25 (5:24 – 3rd) (Shotgun) J.Conner left guard to CLV 45 for 30 yards (D.Randall).
Following the disastrous swing from a 10-point lead to a 4-point lead due to the Steelers' special teams gaffe, the Steelers desperately needed a response offensively.
Insert Conner, who ripped of this 30-yarder to start the drive, breaking the backs of the Browns.
After racing 30 yards on the first play of the drive, Conner then went for 16 yards and 2 yards on back-to-back carries, setting up Roethlisberger's 15-yard pass to Brown.
Conner then raced 12 yards for his first touchdown of the game, pushing Pittsburgh's lead to 24-12.
That's a grown man run right there. pic.twitter.com/WtfIGDojGo

— Pittsburgh Steelers (@steelers) October 28, 2018