It probably feels like the Pittsburgh Steelers' kick coverage team has struggled all year long given the major problems they ran into Sunday. That's what my Twitter timeline seemed to be telling me, at least.
The reality is the coverage unit had been among the league's best before the Cincinnati Bengals game. So what changed? We're looking at the pair of long returns they have up and the reasons why they happened.
First, there's the easy but not really acceptable answer. Injuries haven't helped. No L.J. Fort or Darrius Heyward-Bey, two of their best special teamers who play on the kick coverage unit. Objectively, that hurts this unit and they've had to be creative in replacing them, even putting Vance McDonald on multiple special teams units (kick return and punt coverage). On kick coverage, where they both play, Matthew Thomas replaced Fort with Artie Burns replacing DHB.
But the injuries there can't be used as an excuse for their miscues. That's part of football and certainly not the first time it's happened to this team before. I think back in 2015, they got absolutely hammered by injuries and their coverage teams were still reasonably strong. They're just something that needs to be overcome. Not a crutch when things go south.
So let's look at both big returns. The first comes right before halftime, setting the Bengals up to tie the game before the end of the half.
You have an obvious issue of guys not getting off their blocks, essentially, the entire return side, and Alex Erickson has a huge lane to run through. One of the bigger issues seems to three players getting bunched up into the same gap.
Tyler Matakevich, Jordan Dangerfield, and Anthony Chickillo are all on top of each other, making it easy to block them and creating that lane for Erickson.
It's possible this is a failed stunt between Dangerfield and Chickillo (common for Smith's unit). Dangerfield looks to jump inside at the last second but no one scrapes over the top of him. So either he's wrong for jumping inside or Chickillo didn't do his job in working over the top to replace.
Either way, it creates the long return. Chris Boswell is forced to make the special teams tackle. And a pretty good one, I might add, though the act he had to is depressing.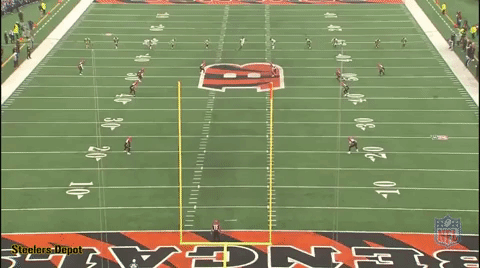 Now let's look at it coming out of the half. This one just feels like no one getting off their blocks. The spacing is correct, doesn't look to be a stunt, everyone is just stuck. Especially Matakevich, the man you'll see in the below GIF driven into the ground by the Bengals' linebacker.
Huge lane for Erickson. You or I could run through it.
You can definitely assign specific blame to individuals, I'm sure most will go after Burns. That's fair, both of these reps are bad, especially the second because he is the contain player who has to keep the returner inside. But to be fair to him as well, his job isn't to run down full-speed and defeat the block like the others. Like I said, he's contain.
I was surprised the Steelers didn't do any stunting like the tend to do on kick coverage (unless that first play was supposed to be a stunt). It doesn't always happen but has been very effective in the past.I talked about it in the latter half of this video off the Ravens' game and pointed it out last September, too.
I'm sure there's a good reason why they didn't. Playing the Bengals so often, they've seen a lot of the "exotic" stuff anyway so maybe it's less effective. This unit did end things on a decent note, Roosevelt Nix clobbering Patterson on a 24 yard return.
But yes, a sour note to enter the bye. Odds are though, given their success so far this year, it'll get corrected.