Karl Dunbar has had the difficult task of taking over for John Mitchell, the longest tenured coach on the Pittsburgh Steelers and man responsible for churning out top talent after top talent. That ranged from first round picks like Casey Hampton and Cam Heyward to mid and late round gems like Aaron Smith and Brett Keisel.
So Dunbar had big shoes to fill. You already knew that. And during the summer, after he was hired, we watched through some of his old clinic tape to identify his philosophy and what he'll teach this group.
With the bye week giving us some time, we're breaking down how his teachings have translated to Heyward and Stephon Tuitt.
Run Defense
In the clinic we referenced, Dunbar taught a "shrug release' to disengage from offensive linemen in the run game. Square up, get hands inside and press the linemen back, and then toss the blocker the opposite way of where you need to go.
From Dunbar:
"While we're looking for the football, we want to press this [linemen] back. We want to knock him out there. And then we want to make a violent release."
And here's practice tape of them working on that technique when Dunbar was a member of the Minnesota Vikings.
I honestly haven't seen it as much in Pittsburgh, probably in part to a lot more one-gapping but it's still used when appropriate. Here's Tuitt using the technique against All-Pro guard Marshal Yanda. Press him, find the ball, and shrug release to disengage and make the tackle backside.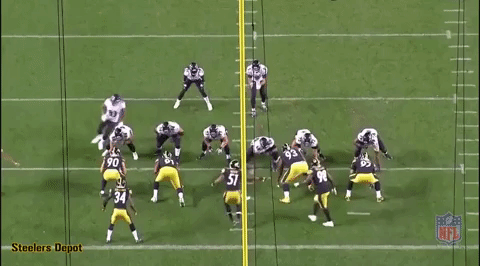 Here it is again, slowed down. Pay close attention to Tuitt disengaging, tossing Yanda aside in pursuit of the ball carrier.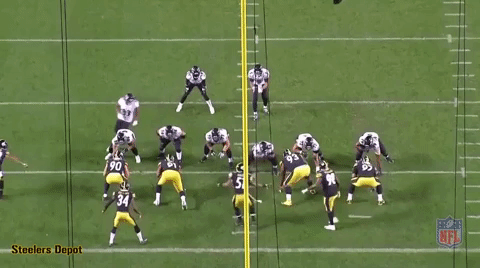 Pass Rush
Two areas to we're focusing on here. Dunbar prefers his linemen to have loose hips, the ability to open their hip while still getting vertical and gaining ground. Watch Kevin Williams (#93) here and his ability to swim through the left guard, opening up his hips while shooting through the gap and getting past.
Tuitt does similar here. He's engaged with Browns' right guard Kevin Zeitler off the snap. To beat him, he swims over but working in such a small space, he turns his hips to slide through the A gap and gain ground. That beats Zeitler inside and forces him to hold, drawing a flag. Pressure moves Tyrod Taylor off his spot and Cam Heyward cleans it up with a sack. You forget about it on a box score but a really strong play from Tuitt.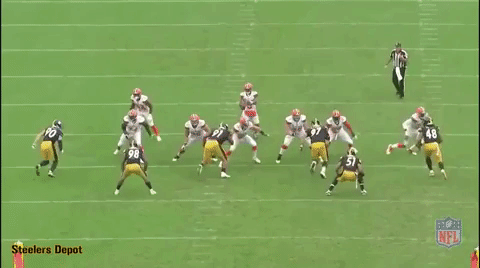 This punch and swim was literally the move Dunbar demonstrated during his clinic roughly a decade ago.
One of Dunbar's bullet points for pass rushers is to attack half-man. Attack the inside or outside half instead of down the middle.
Cam Heyward did that against the Cincinnati Bengals, attacking the left guard on his outside half, creating a soft inside shoulder, turning him, and then using a bull rush to run him back. Doesn't get the sack but forces an off-platform throw and it's incomplete (nice breakup by Jon Bostic by the way).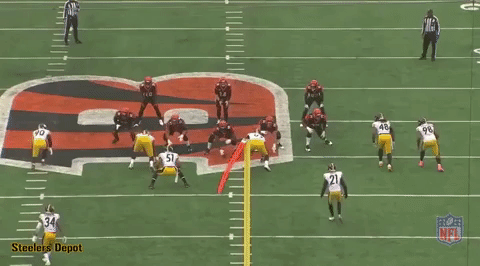 Effort
Dunbar's ideals of running to the football and giving top effort each snap are nothing new. If there was one thing fans knew about John Mitchell, it was his demand to have his big guys ran to the football. But Dunbar certainly hasn't changed that culture either. His is just as adamant about giving fanatical effort and running to the football all over the lot.
In one of his clinics, he showed a clip of his Vikings' front four immediately turning and taking off for the football as soon as the QB released it.
It looks the same in Pittsburgh. Throw to the flat, Heyward and Tuitt take off after it. Heyward turns the receiver inside while Tuitt cleans it up for the tackle.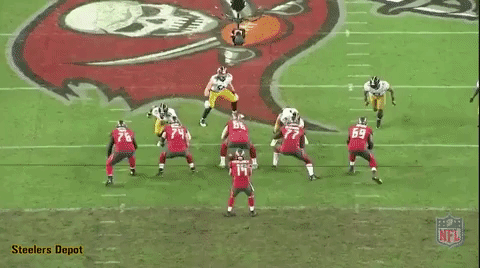 Final Thoughts
To be clear, I'm not giving a pass or fail grade to Dunbar as a whole. Positional coaches are really hard to judge from our 30,000 foot view. And obviously, the lack of statistical production of Heyward and Tuitt is concerning, though they've played better than the numbers indicate and there could be other reasons why they're not putting up gaudy numbers.
But Dunbar's teachings and principles are evident in the way this group plays. If the pressure Heyward and Tuitt have gotten this year can translate into a couple more sacks than it has the first six weeks, he'll have done his job.