Artie Burns has gotten a long leash in his career. Because he's a first round pick (the team might not admit it but it matters), because he is blessed with physical talent, and because everyone wants to see him turn it around. But we're six weeks into his third NFL season and the improvement with him just isn't there.
For the last month, Mike Tomlin has employed a rotation at the right corner spot, every other series switching between he and Coty Sensabaugh.
Sooner or later, this team has to make a decision on who to go with full-time. And it has to be Sensabaugh. Not because he's the more talented player physically, he doesn't possess Burns' side or speed, but he's the guy I trust more of the two. He's going to play with better technique, more discipline, and not beat himself.
Twice yesterday, Burns did that to himself. And they resulted in crucial plays.
The first was Tyler Boyd's 14 yard touchdown at the end of the half, tying things up and erasing the Steelers drive that should've given them the lead going into break.
Steelers are running a popular Keith Butler fire zone, bringing nickel corner Mike Hilton and strong safety Terrell Edmunds, blitzing as part of a five man pressure. With trips to the bottom and blitz side, free safety Sean Davis is naturally going to rotate over the top.
That leaves Burns one-on-one with Boyd to the top. Boyd runs a 15 yard out route to the sideline. He's wide open, Burns nowhere close, and it's pitch and catch. After the game, he explained what happened.
"I saw the coverage," Boyd told the PPG's Ray Fittipaldo. "It was just how he was playing, how far he was. I knew I had him, based on where he was standing. Usually, that's where A.J. [Green] is. But we felt they'd double him. By us switching it, it was perfectly game planned."
The problem is two-fold. Burns' feet and eyes.
Despite playing in off coverage, Burns is still back pedaling his way into the end zone. No reason for it. There's no vertical threat here, no worry about getting torched 50 yards downfield. Off coverage allows you to play with a flat foot read, watch the stem of the receiver, and make the break when he does.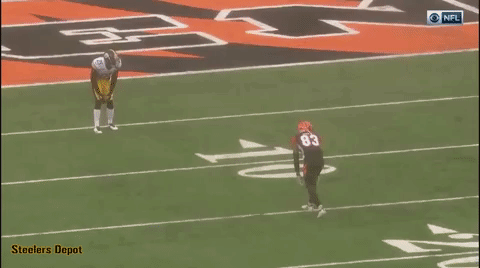 By backing off, Boyd has all the space he needs to make his out cut. And there's no chance Burns has to close on the ball in time. The throw is from the boundary, not the field, meaning there's less time you have to get there.
The other issue are with his eyes. Off Boyd's release, Burns has his eyes pinned on Boyd to read his release and breakpoint. So far, so good.
But right before Boyd does actually make his cut, Burns shifts his eyes to the quarterback. He's trying to read Andy Dalton, which I get, but it's harder to read your target 20 yards away as it is the receiver and you're adjusting last second. So he's even later to react, no longer reading the hips of the receiver and reacting to that, and can't come anywhere close to playing the catch point.
It's literally the easiest touchdown of Boyd's career. Maybe the easiest one he'll ever have. Because Burns is all over the place, changing who he is reading, playing with technique that doesn't mesh with the coverage and field position. It's just…bad.
But the Steelers stuck with their rotation and had him on the field opposite Joe Haden for the Cincinnati Bengals' final scoring drive, taking the lead with just over a minute left. Burns was called for pass interference, a 14 yard infraction, that gave Cincinnati the ball at midfield with tons of time.
The crazy thing is that Burns is actually playing this pretty well. In the beginning, at least. Wide receiver Alex Erickson takes an outside release. Burns punches, opens his hips, and pins him to the sideline.
But Erickson looks back for the ball. Burns seems to panic and immediately fall into what feels comfortable to him. He gets his head around, grabs Erickson, and that draws the flag.
A receiver turning his head around doesn't mean the ball is coming. There's other clues he's going to give a corner. Wide eyes, bringing his hands up, that's when you know the ball is about to arrive. But Burns gets sloppy with his technique, gets too grabby, and it's an obvious penalty. The right call to make from the refs.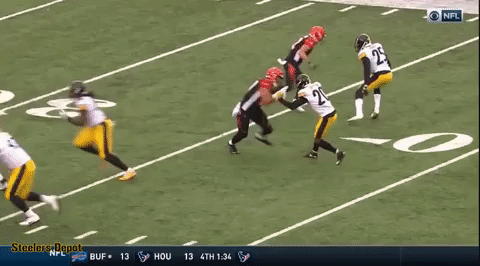 After that, Tomlin benched Burns and put in Sensabaugh the rest of the drive.
I want to see Burns succeed. Anyone rooting against him or reveling in his struggles is entirely, unequivocally wrong. But the results aren't there. He's not even making the occasional splash play he did his rookie year where he had three interceptions. Over the past two seasons, he has just one pick. So I don't know how you justify it at this point.
Give me Sensabaugh as the guy. At least there's trust in him to execute the scheme, play with reasonable technique even if his ball skills are below average, and they're pretty similar in terms of tacklers and run support. You could argue Sensabuagh is a little better in each area.
And if Morgan Burnett can return healthy, hopefully out of the bye, entertain the idea of pushing Cam Sutton out to that RCB spot. This team just can't afford to wait and hope for Burns' light to turn on. They're in too critical a point of the season to be that patient.