As you should know, the offensive line rarely gets the credit, always the blame. It's a raw deal but fact of life. Those guys know what they're signing up for. So let's show a little love to the line, who have done a great job in pass protection as a unit, but specifically, Alejandro Villanueva, who has provided Ben Roethlisberger valuable time on two recent touchdowns.
Flash back to Week Two against Kansas City, Roethlisberger hitting Jesse James on a 26 yard touchdown. Just a four man rush from the Chiefs but Villanueva is one-on-one with rookie Breeland Speaks (#57). He uses his best move, his chop, to knock down Speaks' hands and send him flying into the ground. Then, like the fat kid in a schoolyard fight, simply sits on him to finish off the block.
Roethlisberger finds James on a scramble drill for the score.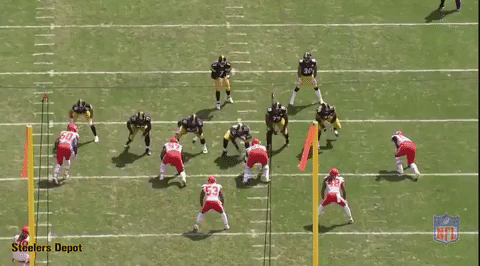 Same thing happened Sunday night on the touchdown pass to Antonio Brown. Facing ROLB Tyus Bowser, he does the same thing. Chop, sending Bowser into the ground, and then fall on him.
Allows Roethlisberger to drift back to his left and make the throw.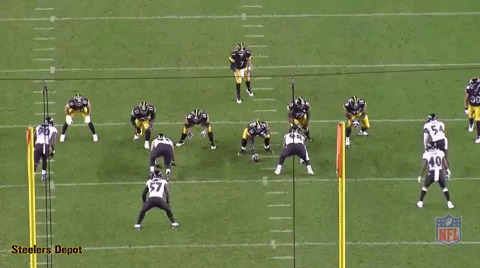 Gotta give credit to everyone. On the Brown score, great stunt pickup by Marcus Gilbert and David DeCastro. Maurkice Pouncey is a stud and Ramon Foster has played better the last two weeks than the first two, in shape and shaking off the rust from time missed in the preseason. But nothing beats sending a dude flying into the ground and sitting on his back.