They finally did it. They finally freakin' did it. The Pittsburgh Steelers finally blocked a punt this year after being close so many times already.
And honestly, it wasn't one I expected to happen. There was no crazy scheme. No obvious breakdown by the Atlanta Falcons' punt protection team. Just the rush team winning their matchup and taking advantage of the opportunity.
Well…that's not totally true. There is one wrinkle to talk about. So let's dive into what happened.
Roosevelt Nix is the man who finally notched the block. That's not a surprise. He's the team's best special teams player and has been inches shy of one time and time again.
How he blocked it though is the interesting part. On most snaps, Nix lines up as the defensive end, the farthest to the left or right. He takes on the wing, normally a one-on-one matchup that gets him away from some of the clutter and typically on a smaller defender, like a safety.
I pulled examples from all four weeks.
And to start Sunday, he lined up in his normal spot. Here he is as the left end.
But the punt block? Like putting Antonio Brown in the slot on some poor nickel corner, Nix is suddenly moved. He's now aligned to the inside, off the right tackle of the punt protection unit, standing up instead of his hand down in the dirt. Unfortunately, we never get a great angle of the punt block, but I've circled him below.
Blocking Nix is tight end Eric Saubert. I went back through all of Atlanta's punts from this season and didn't see anything noticeably vulnerable in his game. The man to the right of him, rookie LB Foyesade Oluokun has struggled, and responsible for the other blocked allowed by Atlanta this season, but there isn't an obvious matchup I'm seeing here.
Still, with Nix aligned in that gap, just like a one-gap shooting DL, Saubert has to slide over and pick him up. With Oluokun and the right wing fanning out to take the other pair of Steelers' rushers, it leaves Nix with a big gap to work through.
He rips through Saubert and then reaches out with a hand, fingers extended, palm out, and swats the punt. Matt Bosher recovers it and runs around but goes nowhere. Three plays later, the Steelers score to take a commanding 27-10 lead. And it's all Pittsburgh from there.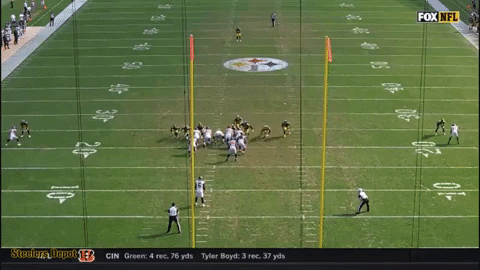 I wish I could give you the magical answer for why that was the time to bump Nix inside. Honestly, I'm not quite sure. But you can bet Danny Smith saw something he liked in the matchup, something hidden, something no one else is going to notice, and exploited it.
And that's why we harp on special teams so much. We're able to tell you Nix moved because that's the type of thing we study. There's a lot more to the game than just field goals and kick returns. It's a constant chess match, it's an operation – Smith always uses that word – because success doesn't happen in a vacuum. It is intentionally created, even by something as subtle as shifting where your best rusher lines up. Just like any good defense will do. Same goes for a rush team.
That's why I'll continue to stand by it. No one schemes up punt rushes and blocks better than Danny Smith. And he's a much better ST coach than most give him credit for.