As we have been for several years now, we'll break down the Pittsburgh Steelers' opponent each week, telling you what to expect from a scheme and individual standpoint. Like last year, Josh Carney and I will cover the opposing team's offense. I will focus on scheme, Josh on the players.
Today, another review of the Cleveland Browns' offense.
Alex's Scheme Report
Browns Rushing Offense
Obviously, there's a new sheriff in town after the Browns dealt away Carlos Hyde to the Jacksonville Jaguars. Nick Chubb is the lead back, teaming up with Duke Johnson, though Chubb had nearly all the carries last week (18 to 1). Their 4.5 YPC average as a team ranks top ten in the league.
The offensive line is expected to be: Desmond Harrison-Joel Bitonio-JC Tretter-Kevin Zeitler-Chris Hubbard. An ok group overall, but I've noticed they have trouble with stunt pickup and exotic looks. Communication isn't always clean and they're slow to react.
Run game has a little bit of everything. Duo, a man scheme with double-team blocks up front, power (mainly to the field side) and a pin/pull scheme they can run to either.
No true fullback involved in this team. They use TEs Darren Fells and more often, #82 Orson Charles, the former Bengal. One smokescreen? Pay no mind to the run game when David Njoku lines up at FB in the I. It's going to be playaction.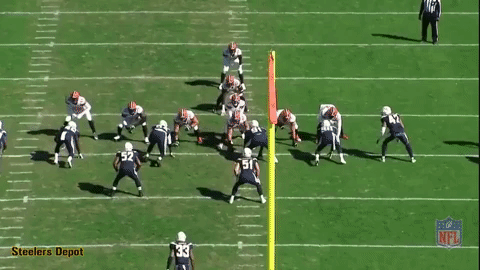 Couple notes for the offense as a whole. Though they can be more explosive with Mayfield at quarterback, they've struggled to put up points the last three weeks. 12 in an overtime win against Baltimore, 14 in a loss to the Chargers, and 23 in an OT loss last week to Tampa, who has one of the league's ugliest defenses.
Red zone offense is middling (54.5%) while they have one of the worst third down offenses in the league, especially weird given that their run game is solid. They are converting less than a-third of the time. Only the Cowboys, Ravens, and Cardinals rank worse here.
Browns Passing Offense
Mayfield is performing better than Tyrod Taylor, no question about that, but there's still problems in this pass game. He's completing only 57% of his passes and been sacked 18 times. That's top ten in the NFL, despite not starting the first games of the season. Despite having a big arm, his 6.9 YPA is tied for 26th in the league, the same as Dak Prescott and Marcus Mariota. Ben Roethlisberger, for comparison, has a 7.8 YPA.
Jarvis Landry has been hurt by that inaccuracy. They are using him downfield more than the Dolphins did but he's caught only 50% of his targets. His previous low is 66%. Finding a reliable, #2 receiver has been…err, tough. Njoku has a shockingly low yards per catch average at 9.6 while the rest of the group is young and/or injured. Not having Rashard Higgins is hurting this team a lot. And there isn't much of established players behind them. Antonio Callaway has looked like a rookie and there's a rag-tag group of names like Damion Ratley and Da'Mari Scott, two guys I'm guessing you've never heard of.
And that's the problem with Todd Haley's offense. He's a good coordinator but I'm again seeing one of my biggest gripes with him with Pittsburgh. Many of the route concepts are independent of each other. They're designed for guys to win their matchup, not part of a larger scheme of freeing players up. In Pittsburgh, when you have top talent and a Hall of Fame QB, that can work.
In Cleveland? With this group? They struggle. That leads to difficult throws and too many sacks. Mayfield was sacked on three straight plays against the Chargers two weeks ago. How can you expect anyone to get open here??
But there are still plenty of Haley staples. He does a nice job of setting up one look to run another. They'll run this smoke screen to Duke Johnson, with the same motion to go 3×1, and then try to hit the seam later in the game. Bucs sniffed it out here but you see the idea.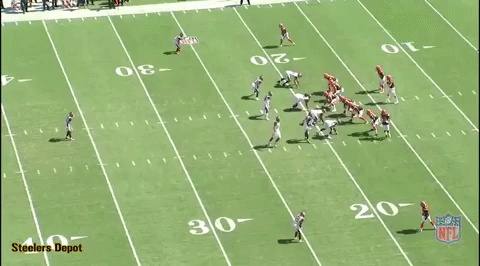 One of their favorite concepts, something Haley didn't run very often in Pittsburgh, is this post wheel. Run it a ton to either beat man coverage on a pick or flood Cover 3.
Duke Johnson is a matchup nightmare for defenses. He'll run pretty much the entire route tree, including this corner route, something you almost never see from a back. Top of the screen as he breaks towards the 30.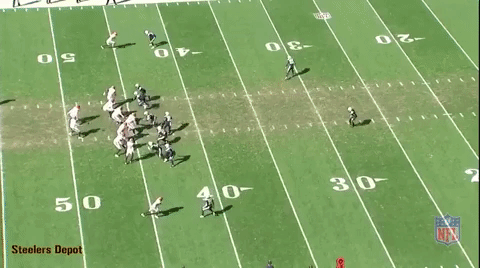 Watch out for his angle/Texas route inside the ten yard line, too.
Josh's Individual Report
It's Browns week, Steelers fans!
Coming off of the bye week, the Steelers jump right back into tough AFC North football with a home matchup at Heinz Field against the Browns, who look much different than they did in Week 1.
Gone are Josh Gordon and Carlos Hyde, and Baker Mayfield is now the starting quarterback in place of Tyrod Taylor.
That's quite a few changes on offense for an average unit that ranks in the mid-20s in nearly every offensive category. Heading into the Week 8 matchup at Heinz Field, Cleveland has the No. 22 offense in total yards per game, No. 23 in points per game (21.6), No. 29 in yards per play (5.0), and No. 29 in third down conversion percentage (32 percent). Despite having a ton of talent on the offensive side of the ball, this is still a struggling unit.
Watching the tape, the offensive line's weekly struggles are the main culprit when it comes to holding this offense back, but there's been a number of curious play calls and concepts from Todd Haley that seems to limit what the Browns want to do with Mayfield under center.
I get wanting to protect the No. 1 overall pick behind a suspect offensive line, but when Haley opens up the playbook and lets Mayfield push the ball down the field, this offense can put up points in bunches. They're just so maddeningly inconsistent though that they can't really be viewed as much of a threat heading into Sunday's game.
That being said, I'm a big believer in Mayfield. He has the right attitude to turn Cleveland around, and he's simply a gamer: constantly making things happen with his legs in and out of the pocket, allowing him to unleash his rocket of an arm on opposing secondaries. Those opportunities just come to far and few between due to the inability to keep him clean by the big men up front.
When given a clean pocket though, Mayfield will pick teams apart with a variety of tools in his toolbox.
On the road against Tampa Bay in Week 7, the Browns offense was dreadful in the first half, and at one point in the game Mayfield was hurried, hit, or sacked on 19 of 27 dropbacks. That's absurd.
An adjustment in the gameplan, and the play calling in the second half helped open up things for the Browns. Ironically, the same thing happened late in the first half against the Ravens in Week 5. Maybe Haley needs to watch more film and play to Cleveland's strengths?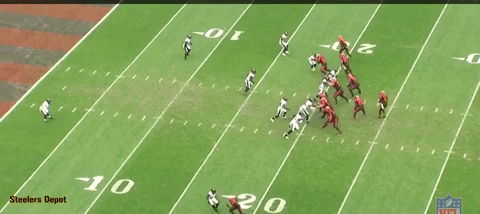 When the Browns want to push the ball down the field with good route concepts, Mayfield knows exactly where to go with the football. Prior to this strike to Rashard Higgins for the touchdown, Mayfield worked over the Baltimore defense in the middle of the field with second-year tight end David Njoku.
Route concepts to open up multiple levels of the field in the middle of the defense allowed Mayfield to make quick decisions. He's at his best when there's 1 or 2 reads for him to get through quickly and decide where to go with the ball.
Against the Buccaneers in Week 7, Haley did a nice job of dialing up this touchdown to Njoku, putting the Browns in the right personnel, calling for Jarvis Landry to motion left to right, leaving Njoku – in line at the snap – one on one down the left sideline on rookie cornerback Carlton Davis.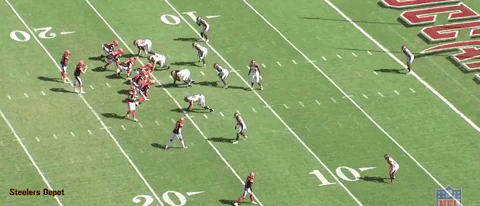 That's one heck of a throw by Mayfield, putting it in the only place – high and outside – that Njoku can go get it. This touchdown toss seemed to right the ship for the Browns on the road at the Pirate Ship.
With Mayfield cooking through the air, it allowed rookie running back Nick Chubb to get rolling on the ground. Chubb, the No. 35 overall pick in last April's draft, made Hyde– a very valuable back in his own right – expendable, as the Browns shipped Hyde to Jacksonville for a fifth round pick, making Chubb the bell cow back.
It was a curious move by the Browns as Hyde was having one heck of a season, running with power between the tackles with force, providing the Browns with the hammer back they've been looking for. Now, Chubb steps into that role, and quite honestly, he was pretty darn good at Tampa Bay.
Along with Chubb, who is a load in the box, Duke Johnson Jr. saw his role expand with the trade of Hyde. There's no reason Duke shouldn't have held a large role in the offense, but an adjustment period with Haley seems to be in the past. The last two weeks, Duke has been a major factor for the Browns. He's the gadget the Browns can use in any situation.
Keep an eye out for a potential trick play or two with Duke this week. The Browns have shown a few looks for him the last two weeks. Maybe this is the week they pull one out.
Out wide, Landry is the clear-cut No. 1 option for Mayfield. He's a physical receiver who consistently wins in the middle of the field, and he's incredibly smart for the position.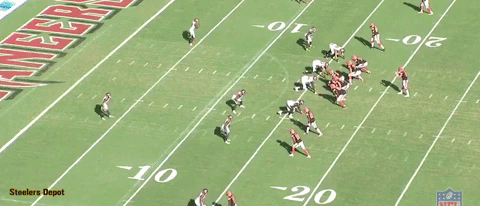 This touchdown should have been the play that helped propel the Browns to the win. Alas, a number of issues in overtime led to a loss on the road.
I just love the way Mayfield reads what the defense does quickly, locks onto Landry and fires a dart. It's a bit low, causing Landry to dive for the ball, but it' a great heads-up play by Landry to stretch the ball into the end zone before being touched down, resulting in the score.
Behind Landry, Higgins is coming into his own, but likely won't play this week with a knee injury. Rookie Antonio Callaway is up and down with his consistency.
The problem with this group is its inability to create separation against man coverage. Landry is a strong route runner, but he's never going to create a ton of room. He makes his living catching balls through contact. The same goes for Higgins, who was a physical presence at Colorado State and is starting to tap into that in the NFL.
Callaway should be the guy that creates a ton of separation, but he's struggling to adapt to the game.
Damion Ratley is still trying to find his footing as well, but Mayfield has shown a lot of trust early. Breshad Perriman was brought in as depth. He's not much of a factor, but if he figures it out, look out.
Maybe the Browns should have put up with the nagging headaches that Gordon brought for just a bit longer.
Njoku is really starting to blossom, and its clear Mayfield loves looking for his big, athletic tight end. I like what Cleveland has done in recent weeks with Njoku, getting him matched up with cornerbacks on the perimeter before then having him work across the middle of the field. That's a clear advantage for him, and the Browns are really starting to take advantage.
Orson Charles and Seth DeValve aren't much of receiving threats at tight end for the Browns, while Darren Fells is the veteran presence this position needs. He's just not much of a receiving option either as of late.
Along the offensive line, the interior is very strong, but the tackles are the major problem with this group. Expect the Browns to line up left to right like this on Sunday:
LT – Desmond Harrison
LG – Joel Bitonio
C – JC Tretter (missed Wednesday and Thursday practices with an ankle injury)
RG – Kevin Zeitler
RT – Chris Hubbard
Harrison is a tantalizing player. He flashes a bunch on tape, but the flashes don't seem to be sustainable right now. He struggles a lot with power rushers, and speed rushers that can bend cause him to hold like no other at times.
The real surprise has been the struggles of Hubbard at right tackle. The Browns paid him big money to leave the Steelers last offseason. He's been solid as a run blocker, but he has been a turnstile at right tackle the last few weeks with his pass sets.
With the struggles at tackle in pass sets, the interior has been stretched thin trying to help out the tackles, causing free rushers to put heat on Mayfield up the middle. He's been magic man as of late, but at some point that magic's going to run out and he's going to get killed. The Browns have to adjust.
Special teams are mostly a headache for the Browns. Kicker Greg Joseph is a heart attack waiting to happen on every kick, while Jabrill Peppers causes you to hold your breath on kick and punt returns, both for his game-breaking abilities and his boneheaded decisions.
His fumble in overtime on a punt return cost the Browns the game at Tampa Bay last week, leading to Chandler Catanzaro's 59-yard game winner. He's returned punts from inside his own 5-yard line this season, and we've seen him call fair catches with 20 yards of room. He's too talented to be this big of a problem as a returner.
The saving grace on special teams has been punter Britton Colquitt, who has punted 54 times (!) so far this season. That's nearly eight punts a game. On those 54 punts, he's averaging 44.85 yards per punt, and has dropped 25 punts inside the opponent's 20-yard line. Colquitt has helped flipped the field for the Browns more often than not this season, playing right into the hands of a dominant defense.