Very short breakdown of the two Pittsburgh Steelers sacks allowed against the Carolina Panthers in the preseason finale.
1. 6:17 1st. 2nd and 7. Five block vs four man rush.
Just a bit unlucky here. Steelers trying to run one of its many bootlegs, a quick, half field read for quarterback Josh Dobbs. But the RDE isn't fooled by the playaction, that's supposed to be what "blocks" him, and Dobbs has nowhere to go as he gets his head around and begins to boot left. Not enough time to even hit his first read, TE Bucky Hodges, in the flats. So Dobbs takes the sack, though the Panthers are penalized for driving Dobbs into the ground (a bad call, if you ask me).
Blame: Defensive Scheme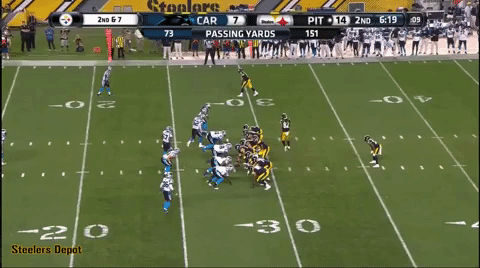 2. 8:35 3rd. 3rd and 8. Five block vs four man rush.
This is sorta similar to a sack we've already covered. The Panthers mug every single gap, a man in each, putting stress on the Steelers' protection. Hard to know who's coming and who's going.
Carolina drops their RDE while blitzing the strong side linebacker and corner. That leaves left guard B.J. Finney without a man as his guy drops out and not enough to block on the right side. The LDE rushes in free and drops Mason Rudolph.
So it's always difficult to assign fault here. Definitely wouldn't put this on RB Stevan Ridley. The back is never going to be assigned to a defensive linemen. He's trying to take the LB coming, that's part of his read, but Matt Feiler ends up blocking him.
Ideally, and again, this is with the benefit of hindsight, Ridley takes the LB, Feiler and RG Jake Rodgers slide down to take their man and everything is picked up.
Very easily can debate this one but I'll put it on Feiler. He shouldn't be picking up the LB. That is for Ridley. Slide down, that gets Rodgers to slide down, and maybe you can salvage the play. Unfortunately, the only good look we're provided is from the live view, which is far from ideal.
Blame: Matt Feiler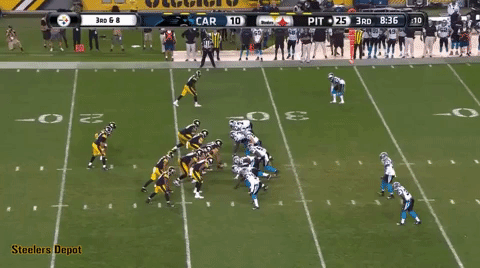 Sack Breakdown (Game)
Matt Feiler: 1
Defensive Scheme: 1
Sack Breakdown (Preseason)
Mason Rudolph: 2
Defensive Scheme: 2
David DeCastro: 1
Matt Feiler: 1
R.J. Prince: 1
Jake Rodgers: 1
James Washington: 1
James Conner: .5
B.J. Finney: .5
Penalty Breakdown (Game)
Chukwuma Okorafor: 1
Penalty Breakdown (Preseason)
Chukwuma Okorafor: 2
R.J. Prince: 2
Larson Graham: 1