Back to review the three sacks allowed by the Pittsburgh Steelers in Monday night's win over the Tampa Bay Buccaneers.
1. 1st and 10, 5:45 2nd. 11 personnel. Five block vs four man rush.
Simply put, this is a coverage sack. Randy Fichtner keeping one of Todd Haley's popular plays, faking the bubble screen to the receiver and looking vertical. Credit to Tampa Bay for not biting on it and really covering everything well. When you're a team like them who can rush just four and drop seven into coverage, you can take these plays away.
Nothing available for Roethlisberger at this point and you can argue he's a little late for not looking to his checkdown, James Conner moving into the right flat. Snap to sack takes 4.01 seconds so it's hard to pin this one on the offensive line.
Along the line, LDE Vinny Curry long-arms right tackle Matt Feiler before finally shedding him and taking Roethlisberger down.
But rare for me to put a sack on an offensive linemen after being asked to protect for so long. Half on Ben for not getting off that read and at least looking somewhere else, the checkdown was open, and half on good coverage, a tip of the hat for what the Bucs did. Rare for teams to fully take this play away.
Blame: Half on Roethlisberger, half on coverage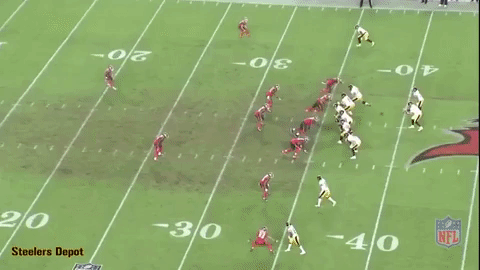 2. 3rd and 11, 4:24 2nd. 11 personnel. Five block + TE chip vs four man rush. 
This time, you can blame the offensive line. We're focused on Feiler here, simply beat around the edge by Curry on this dip move. That forces Roethlisberger to climb the pocket and take his eyes off the field.
To the other side, the chip by Vance McDonald sorta screws the left side of the line up. Tampa appears to be running a stunt that gets delayed so Ramon Foster is late in seeing it and picking it up. Probably should have done a better job of anticipating the crasher coming with the DT taking the path that he did but again, weird play with the timing being thrown off. That's one reason why chip blocks can actually hurt your protection.
Jason Pierre-Paul ends up running in free and given the initial pressure, Roethlisberger steps right into him.
Could argue Foster here but I'll give him a pass for how delayed the stunt ended up being. Feiler's initial pressure created the sack. If if makes you feel any better, there was absolutely nothing open for Roethlisberger by the time he went down.
Blame: Matt Feiler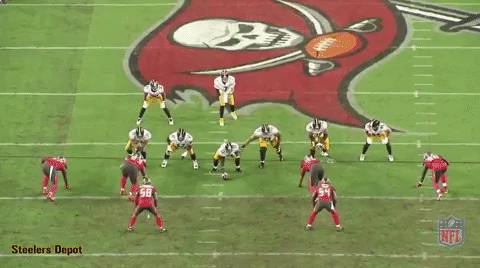 3. 3rd and 3, 1:54 3rd. 11 personnel. Five block vs four man rush. 
Steelers trying to run mesh on 3rd and short. Antonio Brown had some space and probably would've picked up the first down. But Pierre-Paul, the RDE, gave Alejandro Villanueva fits throughout the night. Routinely bull rushed him into the pocket.
That's what happens here. Speed to power, gets into Villanueva's chest, uprights him, and walks him to Roethlisberger. From there, JPP sheds him and wrestles Roethlisberger down, knocking the ball out. B.J. Finney luckily recovers it.
This one is going on Villanueva, clearly.
Blame: Alejandro Villanueva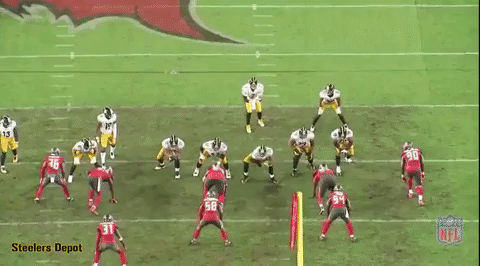 Sack Counter (Game)
Alejandro Villanueva: 1
Matt Feiler: 1
Ben Roethlisberger: .5
Coverage: .5
Penalty Counter (Game)
Alejandro Villanueva: 2
Sack Counter (Season)
Marcus Gilbert: 2
James Conner: 1
Ramon Foster: 1
Maurkice Pouncey: 1
Alejandro Villanueva: 1
Matt Feiler: 1
Ben Roethlisberger: .5
Coverage: .5
Penalty Counter (Season)
Alejandro Villanueva: 3
Marcus Gilbert: 2
Maurkice Pouncey: 1