Well, well, well. The Pittsburgh Steelers finally got in the win column, and wouldn't you know it? The tackling improved to a season-best mark through three weeks of the season. Now, I'm not saying winning and tackling goes hand-in-hand, but it's pretty darn important to do well if you want to win.
Granted, the Steelers still struggled in the tackling department on a rain-soaked field in Tampa Bay Monday night against the Buccaneers, but they were much better in space, not allowing the splash plays due to missed tackles.
What you'll see in the list below is that just one player had more than one missed tackle on Monday night. That's pretty remarkable for a team that has had major tackling issues dating back to 2016. Let's take a look.
Total missed tackles at Tampa Bay —10
TJ Watt – 2
Sean Davis – 1
Artie Burns – 1
Terrell Edmunds – 1 (special teams)
Mike Hilton – 1
Jon Bostic – 1
Vince Williams – 1
Coty Sensabaugh – 1
Bud Dupree – 1 (missed sack)
Total missed tackles through 3 weeks — 39 (13 misses per game on average)
Mike Hilton — 6 (one on special teams)
Sean Davis — 5
Vince Williams — 5
TJ Watt – 4
Stephon Tuitt — 3
Terrell Edmunds — 3 (one on special teams)
Artie Burns — 3
Joe Haden — 2
Cam Sutton — 1
Cam Heyward – 1
Tyson Alualu – 1
Anthony Chickillo — 1
Roosevelt Nix — 1 (special teams)
Coty Sensabaugh – 1
Jon Bostic – 1
Bud Dupree – 1 (sack attempt)
A couple of takeaways from Monday night's missed tackles list:  Jon Bostic recorded his first miss of the season, meaning he's missed just on just 1 percent of his 22 total tackle attempts. He might not be a great coverage linebacker, and he sure isn't Ryan Shazier, but when he gets his hands on the ball carrier, that guy is going to the ground, often with force.
Bud Dupree missed his first tackle of the season as well, and it might be the most egregious one yet, considering he had a clear shot at Ryan Fitzpatrick's blindside after beating Donovan Smith off the edge easily. Maybe he was worried about how he'd tackle him without getting a roughing the passer penalty. We'll never know; it was an awful miss.
Going back to Bostic for a second; for all the gruff Steelers fans give Bostic and Vince Williams, they're having pretty solid seasons in the tackling department. As a group, they've missed just 6 out of 47 attempts through three games. That's a success rate of 88 percent. It's not ideal, but it's pretty darn good.
Now, let's move on to the three top misses not including Dupree's missed sack, since I'm sure you readers have seen it enough since Monday.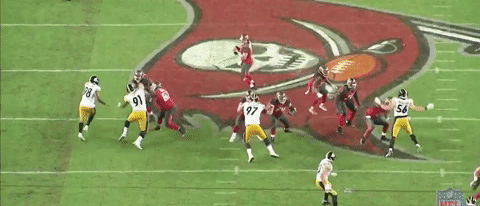 Late in the fourth quarter with the Tampa Bay Buccaneers down 10 points and driving, Fitzpatrick flips a short dump off to second-year tight end OJ Howard in the middle of the field. Prior to the throw, TJ Watt is responsible for the middle of the field in his zone coverage. Once he sees Fitzpatrick dump the ball off to Howard, he flies up from his zone to try and make a stop.
What goes wrong for Watt though is the fact that he gives up the angle to Howard, and gets caught flat-footed to boot.
I was also going to give Joe Haden a miss here, but he's credited with the tackle here on Howard, who appears to go down on his own. Who knows though? Haden gets credited with the stop and not a miss. Positive for the Steelers?

I'm jumping back to the third quarter with this slew of misses for the Steelers.
This seems like a minor play in the grand scheme of things, but it shows some of the ineptitude with tackling at times from guys like Williams and Coty Sensabaugh.
Now, I realize Tyson Alualu is also involved in this play, but I didn't give him a miss, let alone a tackle attempt. He's just diving at air at this point with no real chance at a tackle. That's something I've been trying to clean up with my evaluations. However, Alualu appears to possibly hinder Williams' attempt, as does Sensabaugh.
It's a real mess all around for the Steelers on this play, but fortunately for the black and gold, Peyton Barber goes for just 4 yards as Mike Hilton cuts his legs out from underneath him with a great form tackle.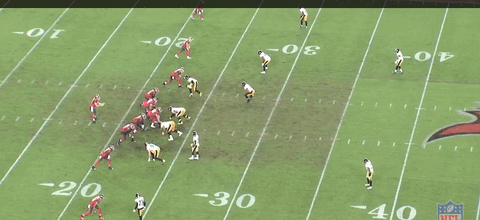 In the last missed tackle I'll show you from Monday's game, I head back to the second quarter where Artie Burns forces the Buccaneers' first turnover of the game.
Chris Godwin runs a simple crossing route over the middle, creating just enough separation from Hilton for Fitzpatrick to put the ball on him in stride. Hilton obviously misses, which could have led to a big play. Instead, there's Burns putting his helmet on the football, popping it out of Godwin's grasp, leading to Hilton jumping on the football for the turnover.
Last season, misses like this ended up being major splash plays against the Steelers with missed tackles in space. Credit to Burns on this one for firing through Godwin and popping the football loose.
Now, let's take a look at forced misses for the Steelers from Week 3 at Tampa Bay.
Forced misses at Tampa Bay — 9
James Conner – 4
Antonio Brown – 2
Vance McDonald – 2
Stevan Ridley – 1
 Forced misses through 3 weeks — 42 (14 forced misses per game)
James Conner — 18
Antonio Brown — 9
Ryan Switzer — 6
Ben Roethlisberger — 3
Vance McDonald – 3
JuJu Smith-Schuster — 1
James Washington — 1
Stevan Ridley — 1
As you can see, James Conner continues to be a problem for defenses to deal with. Not only does he run very hard, he's pretty slippery in space too.
Antonio Brown forced one miss on Brent Grimes on his 27-yard catch-and-run for a score, and Vance McDonald obviously did this.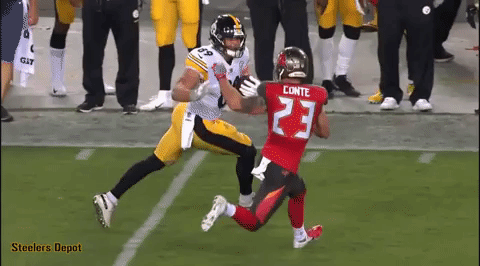 Enough said.