As we do every week, our sack breakdown and recap from Week One against the Cleveland Browns. In total, Ben Roethlisberger was brought down four times.
1. 1st and 10, 15:00 2nd. 11 personnel. Six block vs four rush. 
Couple issues here. One, as Dave Bryan talked about, it took a long time from snap to sack, almost four seconds. So not going to put this one on LT Alejandro Villaneva, who ran Myles Garrett – a great pass rusher – the whole way around the arc. 95% of the time, the ball is out.
The Steelers are running three verticals here, Justin Hunter bending his route to the middle of the field. The Browns, since they're only rushing four, drop seven, sink, and take everything away.
That was a gripe I had with Todd Haley, too often showing poor route distribution and not giving Ben Roethlisberger an "out" if the vertical threat is taken away.
But the weird thing here lies with James Conner. Obviously, I don't know the details of their blocking scheme. But Conner has to be releasing here. Four man rush, LBs drop out. I know Jesse James is on the LOLB but that's not an unusual matchup for this offense.
Conner doesn't release, there is no checkdown option for Roethlisberger, and that's why he's holding onto the ball as long as he does. There's nowhere for him to go with it.
Maybe I'm wrong and Conner is designed to chip the OLB when the TE is one-on-one with him. But I don't think that's the case. He's gotta get out into his route and be an underneath option as the Browns expand themselves vertically.
Blame: James Conner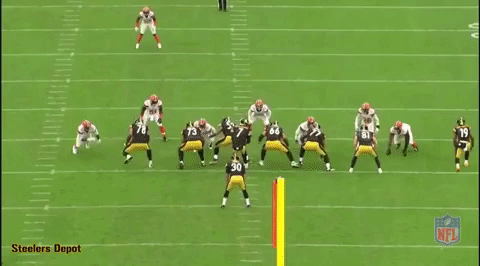 2. 1st and 10, 6:48 4th. 11 personnel. Five block vs four rush.
Dave Bryan broke this one down last night so I won't spend much time with it. RPO, slant coupled with power. Low snap from Maurkice Pouncey screws this up. Makes David DeCastro's block impossible because now, Myles Garrett doesn't have to crash down at the mesh point for the run fake/handoff. He can stay wide and attack the QB.
Roethlisberger gets hit before he can throw it and the Steelers turn it over. Had this snap been sound, the ball is out, and the Steelers likely have a big gain.
Blame: Maurkice Pouncey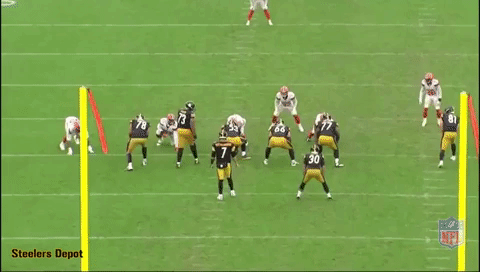 3. 2nd and 20, 7:00 OT. 11 personnel. Six block vs six rush.
Well protected up the interior on this LB blitz. Nice pickup by Conner. But Marcus Gilbert doesn't get enough width in his pass set. Beat by rookie LB Genard Avery around the edge, forcing Roethlisberger to step into the pocket and run out of room.
No, the pressure allowed by Gilbert didn't directly create the sack, Roethlisberger ends up tripping, but that pressure is what led to the end result.
Blame: Marcus Gilbert
4. 2nd and 10, :48 OT. 11 personnel. Six block vs five rush.
Similar issue here for Gilbert. Unable to seal Avery up the arc, he's able to rip under and through him, turning the corner and getting Roethlisberger from behind.
Which is a shame too because if Ben has an extra second, he has Brown streaking open in the middle of the field. Browns get bunched up and AB breaks free.
That's a completion without the pressure and it puts the Steelers – worst case scenario – in field goal range. Could've been game over. Bummer.
Blame: Marcus Gilbert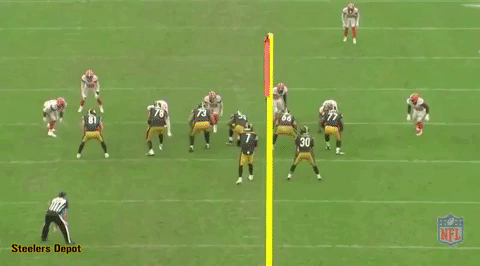 Sack Breakdown (Game)
Marcus Gilbert: 2
James Conner: 1
Maurkice Pouncey: 1
Penalty Breakdown (Game)
Marcus Gilbert: 2
Maurkice Pouncey: 1
Alejandro Villanueva: 1