You have to tip your hat to the Pittsburgh Steelers defense Sunday. To deal with six turnovers and come up with big play after big play, critical stop after critical stop. It wasn't a perfect start but they're the reason Pittsburgh came out of the game with a tie.
But man oh man, the Steelers coaching staff did their darndest to take that away from them.
Two examples of that from late in Sunday's game. The first comes late in the 4th quarter. The Browns have the ball back and are driving. Tyrod Taylor has just thrown a nine yard pass to Jarvis Landry, putting them on the Steelers 48. But they're out of timeouts with just 30 seconds left so Taylor gets the Browns to the line signaling a spike the entire time.
He does so. But there's a flag. Too many men on the field against Pittsburgh, turning a spike into a five yard gain.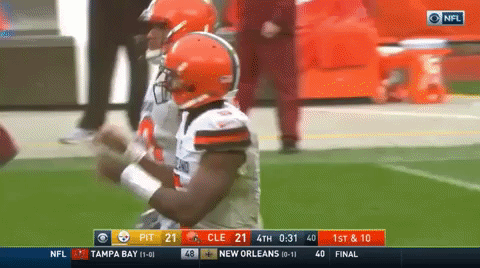 Javon Hargrave is the extra man, sent out on the field by someone on the coaching staff – either Keith Butler or Karl Dunbar (positional coaches often help handle subs). It seems the issue is the coaching staff wanted to sub Stephon Tuitt and Cam Heyward off the field. Tuitt came off but Heyward didn't, probably realizing Taylor was going to spike the ball so he remains out there. But the coaching staff doesn't get the message, trotting Hargrave out there (way late by the way, as you see in the clip) and drawing the flag.
Luckily, the Browns throw a pick the next play. But that penalty put them that much closer into field goal range and could've ended the game.
The second gripe comes in overtime. On 2nd down, with the Browns running of of a 3 receiver set – the Steelers in nickel -, Taylor connects with Landry to make it a critical 3rd and 1. Cleveland makes subs and employs 13 personnel, three tight ends on the field.
Pittsburgh, despite having the opportunity to match with subs of their own decides to STAY in their 2-4-5 nickel, almost conceding the first down if the Browns run it.
Cleveland cranks the stupid knob to 11 and decide to throw it, Sean Davis making a great breakup down the seam intended for David Njoku.
In hindsight, both situations worked out in favor of the Steelers. But man, this is an ugly process. Making subs when they didn't need to, giving the Browns a very important extra five yards. Failing to sub when it was obvious to do so. That's not putting your players in position to succeed.
With as ugly as it was, neither team able to take advantage of the other, it's a game that honestly deserved to end in a tie. What a mess.