As we have been for several years now, we'll break down the Pittsburgh Steelers' opponent each week, telling you what to expect from a scheme and individual standpoint. Like last year, Josh Carney and I will cover the opposing team's offense. I will focus on scheme, Josh on the players.
Today, welcoming back the Baltimore Ravens.
Alex's Scheme Report
Ravens Run Game
Statistically, the run game doesn't really impress anyone. Averaging 3.1 YPC, only the Tampa Bay Buccaneers have a worse average. But to be fair, they lead the league with six rushing touchdowns and are tied for 8th with 15 carries in the red zone, where yards per carry is naturally down (2.48 league wide compared to 4.19 on all runs). So that explains it a little bit.
Alex Collins is the lead back while Buck Allen is a goal line back. Only averaging 2 YPC this year but with three touchdowns on just 16 carries. Collins is averaging a healthier, but still not great, 3.4 per carry. That's in part due to a lack of explosive runs. They're one of only six teams without a 20+ yard gain.
Couple new wrinkles with this Ravens' run game this year even with the same OC as they've had since 2016. Not just an inside zone/outside zone team anymore. Seeing some more power/man concepts. They run power effectively, getting Collins behind the backside pulling guard. The second play here is their Wham concept, something a lot of teams don't do, getting the FB to down block the DT/NT while the interior line climbs to the linebackers.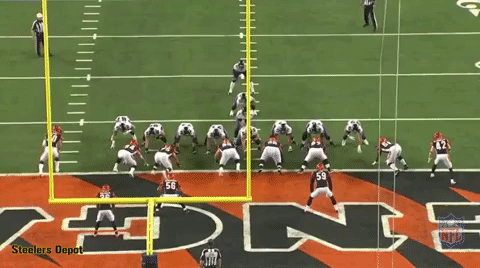 #87 Maxx Williams, drafted as a tight end, often flexes to fullback but they also have Patrick Ricard, a DL/FB who can enter the game too. He'll wear #42. They'll also use "Pony" backfields with Allen and Collins in the game, especially in short-yardage situations, and have no problem handing the ball off to Allen on a "fullback" dive.
Their run game has a lot more you have to plan for this season. Curious to see how the Steelers respond.
Credit to the Ravens' offense as a whole. They're averaging 32.3 PPG, 5th in the NFL, and even above Pittsburgh. Pretty crazy, though it's partially inflated by a 47 point victory in Week One over Buffalo.
Ravens Passing Game
Joe Flacco is still holding off Lamar Jackson under center. He's been…ok, completing nearly 64% of his passes with 6 TDs to 2 INTs. They're still working the long ball, completing 13 passes of at least 20 yards, tied for as many as the Steelers have and tied for 7th in the league.
John Brown is the deep threat, averaging a scorching 18.5 yards per catch. That's 6th for all players with at least 10 receptions. They drafted a couple of tight ends, though 1st round pick Hayden Hurst has been injured, but Mark Andrews has been involved as a vertical threat (13.4 YPC).
Some other news faces at receiver. Michael Crabtree was brought over from Oakland and Willie Snead sniped via New Orleans.
Schematically, much of it is the same. They're going to run three and four verts. A lot. Steelers have to show the ability to match vertically and carry the seam threats, whether they're slot receivers or tight ends. That helps open u the back underneath, as you see in the two plays in the clip below.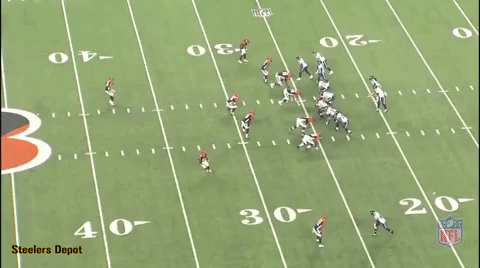 Lot of triangle and mirrored concepts in this offense. Simpler things to help out the quarterback and, I assume, all the new faces at receiver. Mirror/smash to both sides against Denver last week.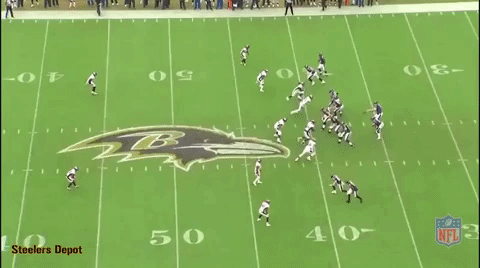 Lamar Jackson has gotten on the field along with Joe Flacco. He's never been on the field with Flacco off. Sometimes they have Jackson line up in the backfield or as a receiver. They threw one pass to him last week that was off-line and fell incomplete. But they haven't hit a big play with him yet and right now, the package is just something defenses have to deal with in their preparation.
Josh's Individual Report
It's Ravens week, Steelers fans!
Yes, this is still a big rivalry in the NFL, but in recent years it's changed from a hard-hitting defensive battle to an all-out explosion offensively. Expect more of the same on Sunday Night Football.
Coming into the Week 4 matchup, the Baltimore Ravens offense is on a historic pace. Through 3 games, the Ravens are a perfect 12-for-12 scoring touchdowns in the red zone. On top of that, Baltimore's offense is incredible at the end of the half, scoring the most points in the NFL with under 2 minutes to go out of any team in the league.
While some will still see Checkdown Joe Flacco under center (I'm still in that camp for now), there is no denying how good he looks and how efficient he's playing. Yes, he'll still dump it off to a back out of the backfield, but his arm looks better this year on deep shots, and he looks much more healthy.
Add in the Ravens getting on board with the RPO craze, and it's easy to see why Flacco is playing some of his best football in the last 4-5 years. Along with added health, the Ravens went out and addressed Flacco's deficiency in his weapons, bringing in Michael Crabtree, John Brown, Willie Snead IV, Mark Andrews, and Hayden Hurst this offseason through free agency and the draft.
By adding all that talent at receiver and tight end, and adding new life to a stagnant offensive scheme, the Ravens are able to move the ball quickly and put up points in bunches.
Expect to see Flacco run a ton of RPO's on Sunday night in hopes of drawing Pittsburgh's linebackers up to the line of scrimmage to try and slow down Alex Collins and Javorius Allen, allowing guys like Snead, Andrews, and Nick Boyle to slip behind them for big gains.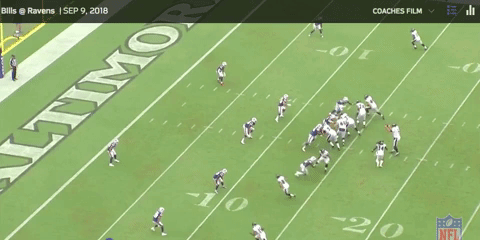 This is a simple RPO in the red zone against Buffalo in Week 1 where Flacco finds Snead IV up the seam for the score. Look at the way the RPO causes Buffalo rookie linebacker Tremaine Edmunds to slide to his left, creating a seam for Snead IV to work into. It's a terrific design and a great throw by Flacco on a rope for the score.
Two weeks later against the Denver Broncos at home, the Ravens get the tight end involved in the RPO action.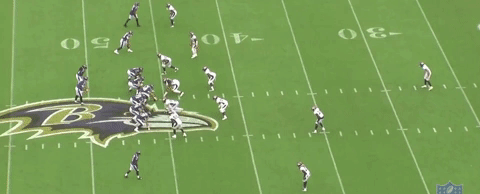 Once again, look at the way the run fake to the right with the pulling lineman causes Denver's linebackers to fly up, leaving the rookie Andrews wide open in the middle of the field for a 30-yard catch and run.
Many teams are running RPOs, but few are running it as effectively as the Baltimore Ravens.
While Flacco is having a rebirth season, Baltimore hasn't hesitated to get rookie first round pick Lamar Jackson on the field, whether that's at quarterback, or as a gadget player. The Ravens have schemed up some intriguing sets with Jackson and Flacco on the field at the same time, causing headaches for defenses to worry about Jackson's running ability, while also keeping an eye on Flacco's ability to air it out.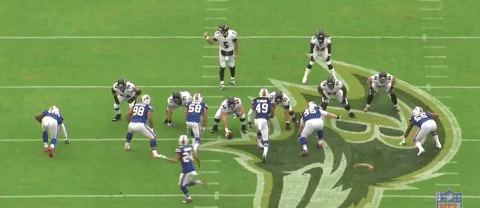 This is a great play design here, and great execution.
The motion of Jackson across the backside of the formation and the fake handoff to him on the jet sweep causes Buffalo's defensive to slide to its right. A great play fake carried out by Flacco sells it, allowing the veteran quarterback to tuck the ball into Collins' gut for the power run to the right, picking up a chunk of yards.
Last thing on Flacco: his deep ball appears to be very accurate this season. The veteran has at least 7 20+ yard completions this season, and against the Broncos last Sunday, Flacco hooked up with Brown for a big gain down the right sideline against a single-high safety look, which the Steelers have deployed quite a bit this season.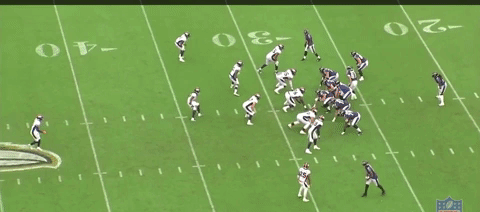 Tightening Brown down to the end of the line of scrimmage is brilliant here. Brown is able to use his speed to get vertical before then drifting towards the sideline, giving Flacco plenty of room to drop this one into the bucket for the 44-yard catch.
Aside from Flacco, Collins and Allen make one heck of a tandem at running back for Baltimore.
Collins came on strong last season and really hasn't let up this season. He's a hard runner between the tackles and is an underrated back when it comes to elusiveness. Both aren't home run threats though, which pretty much fits into how this Ravens offense is largely built:  ball control, chew clock and occasionally strike fast.
So far this season, that's working.
This year, it appears the Ravens have made Collins the between-the-20s back, pushing Allen into the red zone back. It's an interesting move, but one that's paid off in a big way. That's not saying Collins hasn't gotten looks inside the 20s; it's just saying that roughly 70 percent of the time expect to see Allen come onto the field when the Ravens get into the red zone.
At receiver, Crabtree has provided Flacco with a steady possession receiver, filling the massive hole left by Steve Smith's retirement 2 seasons ago. Crabtree won't be pushed around on routes, can wreck defenses over the middle or along the sidelines, and really brings a nasty edge to the receiver room that's been missing for quite a long time.
Brown has reemerged from his dark days in Arizona, creating instant chemistry with Flacco, while Snead IV has been a terror for defenses over the middle the first 3 weeks of the season.
At tight end, Andrews, Boyle, and Maxx Williams are all off to strong starts for the Ravens. Historically, Flacco loves to utilize his tight ends. That history is repeating itself this year. Andrews and Boyle are the "move" tight ends for the Ravens right now, at least under Hurst returns, while Williams has been used more as a blocker, but can still slip out and catch defenses off guard.
Along the offensive line, the return of Marshal Yanda this season has really bolstered the Ravens for the time being. On Sunday, expect them to line up like this left to right:
LT — Ronnie Stanley
LG — Alex Lewis
C – Matt Skura
RG — Marshal Yanda
RT — James Hurst
On paper, it's not a great line, especially when you consider what the Ravens have lost to free agency in recent years in Kelechi Osemele and Ryan Jensen to name a few.
Stanley was a former first round pick out of Notre Dame, but he's really struggled at times as a pass blocker, especially against speed.
Lewis moves really well as a pull blocker, and has a bit of a nasty streak to his game moving downhill, while Yanda is arguably the best overall guard in football when healthy.
The biggest question marks with this offensive line are Skura at center and Hurst at right tackle. Skura just seems so undersized and gets bullied at times by strong interior defensive linemen, while Hurst's lower half seems a step slow all the time. That being said, these guys make it work as a unit.
On special teams, I don't know what more could be said for Justin Tucker other than he's arguably the greatest kicker in NFL history. He just doesn't miss from anywhere on the field, and he brings a serious level of swag to the game for a kicker. He's hard to not like.
Punter Sam Koch is as steady as they come, proving to be a large reason why the Ravens have arguably the best specialists in the game today.
The returners are a different story.
Tim White was signed off of the practice squad prior to Week 2 after Janarian Grant struggled in the rain against the Bills. White isn't anything to write home about. He's not much of a game-breaker, and he appears hesitant at times on tape with the ball in his hands as a returner.
That might be a big break for the Steelers as Grant had a 51-yard punt return in Week 1 before later muffing a punt in the rain. White does have a 37-yard kickoff return, but he's only attempted 3 returns in 2 games.