As we have been for several years now, we'll break down the Pittsburgh Steelers' opponent each week, telling you what to expect from a scheme and individual standpoint. Like last year, Josh Carney and I will cover the opposing team's offense. I will focus on scheme, Josh on the players.
Today, the Kansas City Chiefs offense.
Alex's Scheme Report
Chiefs Run Game
It's only been one week so it's hard to grab any aggregate, seasonal numbers. But Patrick Mahomes threw six completions for 20+ yards last week and averaged nearly 10 yards per attempt. Excellent numbers all the way around. Despite some labeling him as a run-first QB, he took only one sack, and that was around the line of scrimmage (granted, it was against a Chargers defense without Joey Bosa).
Kareem Hunt is still the lead block and dominated the carries last week, 16 in total. Spencer Ware and Damien Williams back him up.
Lot of outside zone/stretch runs, especially when the Chiefs work out of the gun. Most of those handoffs don't get the back downhill initially but bouncing it wide.
The run scheme has plenty of layers to it. Because of Mahomes' mobility, they'll use his legs on designed runs too. Two plays that show that threat. The first is a read option, the DE left unblocked, and the second is what looks like a triple option which is just insane.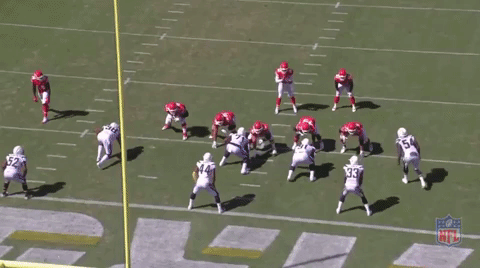 They also ran this Wildcat look on 3rd and 1 last week, picking up the first down. Patrick Mahomes runs to the flat; maybe they throw it to him one day.
Kansas City does employ a fullback more than most teams. He played 30% of their offensive snaps, the third most of anyone last week, trailing only the Patriots James Develin and 49ers Kyle Juszczyk.
Chiefs Pass Game
Two words: Tyreek Hill. That's the threat you gotta find a way to stop. To the Steelers credit, they have done so in the past but Hill took his game to a different level last Sunday. Seven receptions, five of them going for 20+ yards, two receiving touchdowns and oh yeah, a 91 yard punt return TD for good measure.
He can win vertically. He can win underneath, like this jet sweep they ran to him for a 21 yard gain against the Chargers. Pass gets "thrown" forward so if there's a bad exchange, it's an incompletion, not a fumble.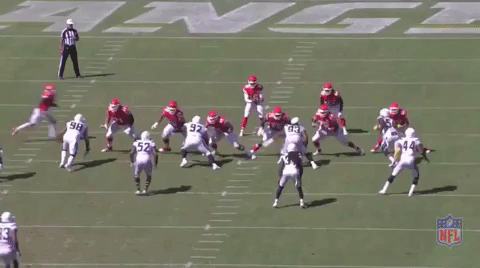 One common thread is running 3×1 sets and getting the backside receiver in a nasty split in man-to-man coverage. It isn't exclusive but often is Travis Kelce, a matchup headache. Usually need to bring a a safety down to cover him, limiting you to single high. And if you want to double-team/bracket him, you're going to tip your hand.
Kelce had a quiet game in Week One, held to just a lone catch, but you know he has the potential to go off. And the Steelers don't always do a great job of stopping tight ends.
Tons of RPOs in this offense. Going to get a lot of slant/flat combinations to the backside.
And they're creative conceptually too. Not many teams are running a freakin' fullback wheel but that's what they did, hitting Anthony Sherman for a 36 yard touchdown.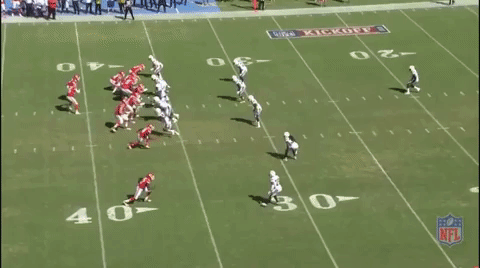 You can add this for the run or pass section but there's a lot of window dressing and pre-snap motion. They'll start in empty and then motion the RB into the backfield. They'll start under center and then go to the gun. I don't know how much of this is planned versus Mahomes having the freedom but either way, Steelers have to communicate well this weekend. Can't let this offense have an inch. They'll take it a mile.
I've often been worried in the past about these "multiple" offenses. But honestly, most times I'm wrong and the Steelers manage it. So that's not my chief concern though still, this offense is going to throw a lot at you. It's their ability to leverage defenders, put them in conflict, and kill them with speed. Even if you know where the ball is going, if you're a step behind Hill or De'Anthony Thomas, you're not catching them. And this is now a unit without their own athletic freak in Ryan Shazier.
Josh's Individual Report
It's Chiefs week, and with it comes a monster test for the Pittsburgh Steelers' defense facing off with Kansas City's explosive offense under Andy Reid.
In Week 1, the Chiefs steamrolled the Los Angeles Chargers on the road, winning 38-28 as second-year quarterback Patrick Mahomes and do-everything sensation Tyreek Hill went off for the Chiefs, helping Kansas City rack up 362 yards of total offense.
After trading Alex Smith to Washington in the off-season, the Chiefs seem to have taken the next step offensively as Mahomes isn't afraid to sling the ball down the field, unlocking Hill's game-breaking skills as a receiver. Under Reid, the Chiefs are known for the West Coast offense, but with Mahomes calling the signals at quarterbacks, Kansas City has become so multi-dimensional that it's hard to gameplan for everything they can possibly do.
Kansas City can come out in the pistol and run RPOs and off-tackle running plays for long stretches, churning up yardage. Or they can come out and let Mahomes sling it in the spread offense they've incorporated to make the former Texas Tech product comfortable. They can also turn to a power running game with Anthony Sherman at fullback in front of Kareem Hunt and Spencer Ware in the backfield, and they can always count on the ball control West Coast offense with Reid.
This is a dangerous offense that can pull out all the stops to move the football and put up points.
While the 38-point outburst in Week 1 at the Chargers looks impressive on paper, Mahomes was aided by 2 easy touchdowns tosses to De'Anthony Thomas and Hill from 1 yard out. The touchdowns are a staple of Reid's Kansas City attack.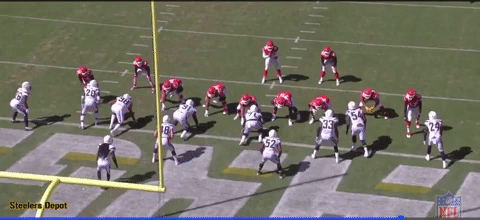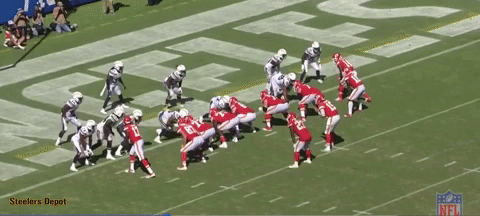 The 2 touchdowns are nearly identical. Hunt lines up as a sidecar to Mahomes in the shotgun. At the snap, Hunt breaks behind Mahomes, allowing Mahomes to flip the football Hill or Thomas cutting across the formation behind the line of scrimmage. From there, Kansas City is able to get blockers to the edge, sealing lanes into the end zone for both speedsters.
It's a plan the NFL should know well when it comes to the Chiefs, but one it simply can't stop at this point in time, due to the speed and execution of the Chiefs up front.
In Week 5 of the 2017 season on the road at Houston, Kansas City ran the same play to Thomas in the red zone, this one accounting for an 8-yard touchdown.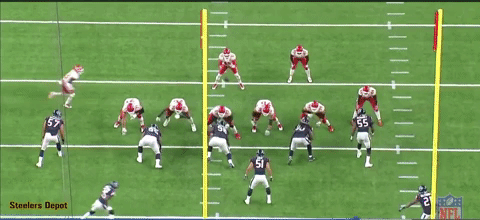 The Chiefs will either motion Hunt from right to left into the sidecar for Mahomes, or they'll start him there at the play off to his left. Kansas City runs the play exclusively to the right side of the defense. I've yet to see Reid call it going to the left side of the defense.
You can bet Kansas City will try to get Hill or Thomas on the edge against the Steelers in the red zone with this same play come Sunday.
It doesn't have to be in the red zone either.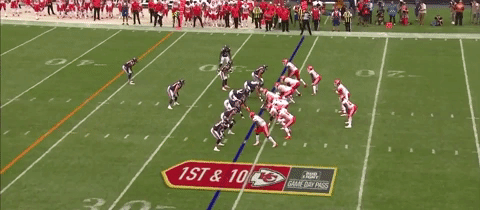 As I said, it's a staple of Reid's attack, designed to get his speedsters on the edge of the defense. The Chiefs are exceptional at executing the play.
When not running misdirection plays for Thomas and Hill, the Chiefs have developed Hill into a perennial All-Pro receiver. Sure, his speed makes it that much easier for Hill to create separation and take the top off of defenses. But it's his footwork, attention to detail with angles, and great rapport with Mahomes and Smith last season that has elevated Hill's game to the next level.
Defenses have to adjust to Hill's speed. Even when they do, it's so hard to close down angles on a guy as quick as Hill, which can result in big plays.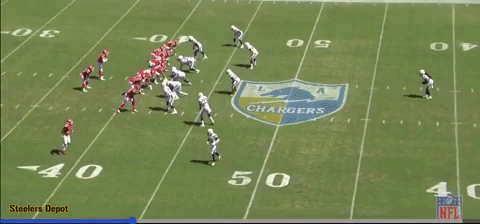 Mahomes motions Hill to the numbers pre-snap, getting him to loosen up the middle of the Chargers' defense. This is a simple slant by Hill, but Mahomes makes this play take off with a quick, accurate strike to Hill in space, giving him a fraction of a second to sidestep to his left after the catch, negating Jahleel Addae's angle from centerfield.
From there, it's off to the races for Hill.
As I said earlier, Mahomes has opened up this Kansas City attack with his howitzer attached to his right shoulder. He's not afraid to throw deep, trusts his arm on tight window throws, and has confidence that just oozes out of him. I loved his game coming out of Texas Tech. He's becoming a must-watch for me every Sunday.
However, he got away with quite a bit on Sunday, forcing a couple of throws down the field to Hill that the "cheetah" made plays on, bailing Mahomes out. He overthrew a wide-open Sammy Watkins down the right sideline in the first half, and didn't seem to be on the same page at all with tight end Travis Kelce, taking a big component out of Kansas City's attack last week.
He's the real deal though. There's very few quarterback's in the NFL today that have his arm strength and ball placement skills.
Hunt returns for his second season at running back coming off of a rookie season that saw him lead the league in rushing yards. Hunt is a power back that doesn't have game-breaking speed, yet he somehow finds ways to rip off big runs for the Chiefs.
Behind Hunt, Ware and Damian Williams bring changes of pace, with Ware being the smash-mouth back, and Williams providing a little bit of everything for Kansas City.
Out wide, I mentioned Hill and Watkins already, but the one guy that seems to get overlooked far too often is Chris Conley, who is battling back from a torn Achilles. Conley is a big receiver. Mahomes hasn't gotten him involved much yet, but Sunday could be a good time to get the underrated Conley going.
Up front, the Chiefs are expected to line up like this left to right:
LT — Eric Fisher
LG — Cam Erving
C — Mitch Morse
RG — Laurent Duvernay-Tardiff
RT — Mitchell Schwartz
Aside from Wylie at left guard, this is an offensive line that I really like collectively and individually. Fisher will be happen to not see James Harrison across from him come Sunday, but he's an athletic tackle that has gotten better and better over the years. His matchup with Bud Dupree will be a key matchup to watch.
Duvernay-Tardiff might be one of the coolest stories in the NFL. By day he's a Pro Bowl caliber guard; by night, he's a doctor. Schwartz and Morse are absolute maulers for the Chiefs. It's a really strong unit.
Special teams is a behemoth for the Chiefs under coordinator Dave Toub. Hill is a game-breaker every time he touches the ball, while Thomas brings the same speed and explosiveness with the ball in his hands as a kick returner.
Harrison Butker has really developed into a high-end kicker after the Chiefs plucked him from Carolina's practice squad in the middle of last season, while Dustin Colquitt is the all-time Chiefs franchise leader in net average for punts.