As we have been for several years now, we'll break down the Pittsburgh Steelers' opponent each week, telling you what to expect from a scheme and individual standpoint. Like last year, Dan Vasko and I will cover the opposing team's defense. I will focus on scheme, Dan on the players.
Today, we're checking out Monday's opponent, the Tampa Bay Buccaneers.
Alex's Scheme Report
Buccaneers Run Game
It's a 4-3 front and a traditional one at that. Not a hybrid one like say, what the Cleveland Browns ran back in Week One. In sub-package, they keep their even front, removing a linebacker and running a 4-2-5.
Sample size is still small two weeks in but they've allowed 3.7 YPC, 6th best in the NFL, but also given up four rushing touchdowns, tied for the most in the league. Three of those four have come inside the five yard line. So look for the Steelers to run near the goal line.
As Dan mentions below, and like virtually all four man fronts, there's a deep rotation of players here. They're not even playing Noah Spence, who has seen only four snaps this season and was inactive last week.
Their defensive line doesn't seem to move around very much, similar to what the Bengals have done in the past. Tackles will generally know who they're going up against. Marcus Gilbert on Vinny Curry, Alejandro Villanueva on Jason Pierre-Paul.
Lavonte David and Kwon Alexander are the every down linebackers. Adarius Taylor is the SAM linebacker in their base 4-3 but is removed in sub-packages.
It's an athletic, fast flow front seven and it's going to be tough to win the perimeter, just as it was against Myles Jack and Telvin Smith versus Jacksonville last season. If I'm Randy Fichtner, I'm keeping the run game largely between the tackles and not trying to get Ryan Switzer as involved in the run game. Getting to the perimeter will be tough sledding.
Buccaneers Pass Game
Some more issues here. Secondary is dealing with injury though they should be getting CB Brent Grimes back this week. Through two weeks, quarterbacks are completing a league-high 77.4% of their passes against him all while pushing the ball vertically, averaging 8.3 yards per attempt, which for Tampa, ranks a lowly 25th in the NFL.
Dan will run through the names more specifically but here's the basic outlook. Grimes will start if healthy, not sure if that's coming at the expense of LCB Carlton Davis or RCB Ryan Smith. Rookie M.J. Stewart should man the slot. Justin Evans and likely Jordan Whitehead, replacing the injured Chris Conte, should come in at safety.
Coverage wise, the Bucs run a variety of schemes but there are a couple trends that have stuck out. On first and second down, they are largely a zone-heavy defense. Different types, Cover 2, 3, and quarters.
Goal here is to flood the zones, as the Eagles do in the screenshot directly above. Post/wheel concept to flood the deep third and get the wheel open down the sideline.
On third down, they like to appear aggressive and press at the line of scrimmage, often playing single high and Cover 1.
Also some pattern matching. Here's an example of them playing Palms to the top versus Empty, the RCB reading 2 to 1 and jumping #2 out.
As you'd expect, they get aggressive as a blitzing unit in Cover 1.
They like to run a variation of the Fire X stunt. Get the linebacker into the A gap with the other scraping in from behind. Two examples. Watch #54 and #58. With that speed and athleticism, you better pick it up quick.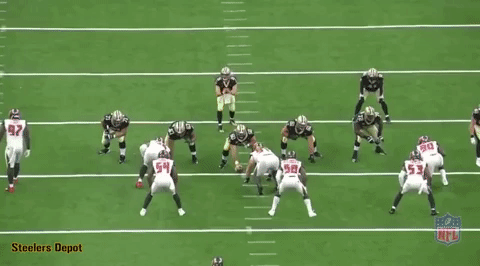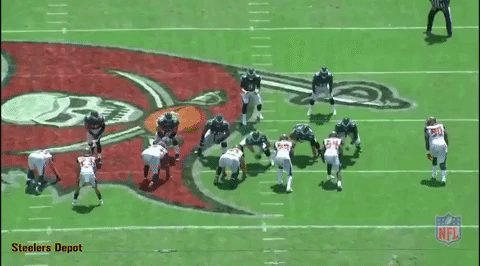 They'll also use this over front to try and overload. Also a stunt alert.
Watch out for the LDE to drop out on some of these blitzes. He'll be asked to cover the flat so a matchup to take advantage of, though LDE Vinny Curry is a good athlete who played some linebacker in Philly.
Dan's Individual Report
Defensive Line
RDE Jason Pierre-Paul, tackles Gerald McCoy and Jerel Worthy, and LDE Vinny Curry.
Allen is recovering from a week two foot-injury, and it's currently unclear at the time of this writing if he will be a go on Sunday. The team is relatively thin along the defensive line, with rookie Vita Vea also being unable to practice, so this will be a situation to monitor moving forward. Jerel Worthy is filling in for the injured Beau Allen.
Onto the players.
McCoy typically lines up in a 3-technique, as does Allen with McCoy usually taking on the right guard/tackle. That being said, the Bucs move pieces around frequently throughout every unit on the defense. In pass rushing situations, and when the Buccaneers use three down linemen, William Gholston will come in as the RDE. Allen moves to the nose, and McCoy on the left side. Carl Nassib (from Cleveland) will also be rotated in as an end. If Allen plays, that will be most impactful vs the run as he's very difficult to move given his big frame at 6'2'' 333 lbs. Quick with his hands, but not as much with his feet. Not a glaring factor in the pass game.
McCoy is a top-5 defensive tackle whose versatility makes him a threat on every down. Very athletic, and at 6'4" 295 lbs, he has the perfect combination of speed and power at the position. They like to stunt with their interior linemen quite often and that's where McCoy is very effective as he's quick to find the gaps along the line.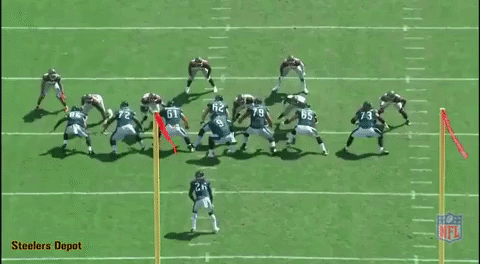 Here McCoy is lined up in the 1-technique between the center and guard. Upon the snap he holds his position with the center as Vinny Curry is double teamed by the guard and tackle. The Eagles have six men in pass protection with the outside tackle keying in on Adarius Taylor. McCoy quickly recognizes the double team and the free gap. With his length he's able to disengage easily, never allowing the center to gain leverage, pushing off and firing through the gap. From there it's his quickness that takes over and it's goodnight Nick Foles.
It will take an aggressive, and hyper-aware Steelers offensive line to be successful against this front four.
Linebackers
Kwon Alexander is the Mike, Lavonte David is the Will, and Adarius Taylor is the Sam.
This is a talented linebacker group, and they complement each other well. Alexander has great speed and lateral quickness, making stretch runs particularly difficult as he can run down the fastest backs sideline to sideline.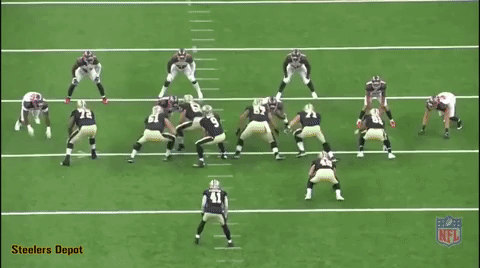 Alvin Kamara is going to come away with a nice run here, but notice Alexander's quickness as he changes direction. The Saints are running to the strong side, but that quickly collapses with the left guard pulling. Alexander's first step is naturally towards the right-side B-gap, but once Kamara shifts to the left, Alexander takes a great angle and is able to bring down the shifty Kamara despite being further away than most at the start.
Lavonte David brings the hustle to this group. He routinely is positioned well to shed blocks, and has a great burst to the gap making him a matchup nightmare one-on-one with most linemen unless they can beat him to the point of attack. He has a very quick first step with the play recognition to match. Check out this play below, where he doesn't make the tackle, but comes way closer to making a big play than he should have.
The Saints are running stretch left to the weak side, and David (#54) is in pursuit shortly after the snap.  Given his speed to the outside, the fullback and tackle are forced to double team David as Mike Gillislee continues to move towards the sideline.
The problem is David is too powerful for a fullback to take on solo, and he's too quick catching the left tackle out of position to make a clean block.
He splits the blockers, and is able to get a hand on Gillislee just nearly missing the sweep of the legs. Regardless, though, the pressure he created caused the inside lane to be very slim giving Gillislee essentially no room to avoid Vernon Hargreaves. This would lead to a fumble recovery for a TD. Big time hustle play from the veteran linebacker. Given the congestion along the LOS, the Steelers may need to run it out of the gun more than usual to remove one of the linebackers and open up some inside gaps, because as we've seen the zone/stretch runs are difficult to pull off with this front.
Defensive Backs
RCB Brent Grimes and LCB Ryan Smith. Justin Smith is the free safety, and Chris Conte is the strong safety. With 3rd year pro Vernon Hargreaves being placed on injured reserve, the Bucs are without a pure slot corner. So there will be some rotation there mainly between Carlton Davis and safety M.J. Stewart, though Davis is better suited outside. Grimes/Conte are dealing with injuries and might also not be available Monday night, so once again the Bucs could be forced to start some backups, most notably Stewart.
Conte is the typical run-support safety, who's often along the line of scrimmage and struggles in coverage, particularly when guarded the slot. Jordan Whitehead will fill his spot should he be ruled out for Monday night.
The rookie Carlton Davis is probably the most skilled athlete of this depleted secondary. He's great at press, which makes him a difficult matchup on the outside. If he's forced into the slot, though, that should make for some opportunities in the passing game.
Smith will most likely step in for Brent Grimes as the number one corner. He's physical and has solid footwork, but lacks the overall speed to contend with some of the faster wideouts in the league. He's more effective in zone as he won't be faked out by route combinations very often. Struggles in run support occasionally, and isn't the surest tackler, but makes up for that with his big-play ability in the passing game.
The biggest weakness is that this defense can be beat from the slot, especially with Hargreaves out of the lineup. Without a true nickel corner in the mix, this could be a prime opportunity for JuJu Smith-Schuster/Ryan Switzer.