As we have been for several years now, we'll break down the Pittsburgh Steelers' opponent each week, telling you what to expect from a scheme and individual standpoint. Like last year, Josh Carney and I will cover the opposing team's offense. I will focus on scheme, Josh on the players.
Let's start things off with the Cleveland Browns.
Alex's Scheme Report
Browns Run Game
Cleveland's offense is probably going to look pretty familiar with Todd Haley the offensive coordinator. Watching them this preseason, you absolutely see plenty of what Steelers Nation experienced last year.
The run game in no exception. It's a varied scheme, Haley has always done a nice job of not putting himself into a single box of run style.
Power is a large makeup of this offense. Saw it plenty on 1st and 10 in the third preseason game against the Philadelphia Eagles, the "tune up" game. Done out of 11 personnel and run to the field and boundary.
Their power manifests itself in two ways. A "traditional" kick out block by the pulling guard and a "short pull," the latter shown below, with the guard turning up into the A/B gap.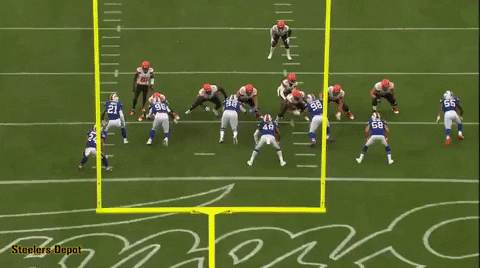 There's also plenty of split zone. Alert for the tight end to be lined of the line of scrimmage, allowing him to easily pull across the formation and kick out the end man on the line of scrimmage.
Like in Pittsburgh, much of the offense will run out of three receiver sets. But Haley can mix things up, especially early in the game, and go heavy with multiple tight ends. For Cleveland, that's David Njoku and Darren Fells. There is no true fullback on the roster.
Browns Pass Game
Again, all of Haley's greatest hits remain. He will throw a bubble screen a couple times and then try to hit you with a fake screen and throw vertically down the seam.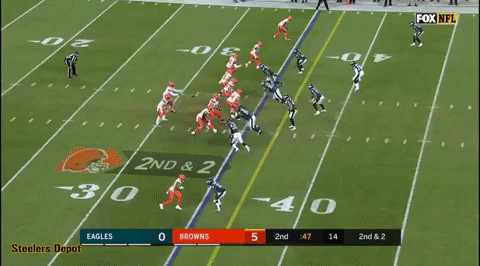 There's the false key with the pulling guard, suckering in the linebackers and trying to hit the tight end downfield.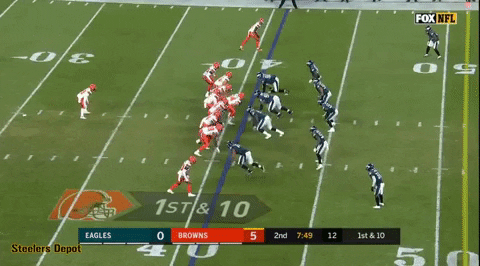 And Haley has run his mesh a ton, as he did towards the end of his tenure with the Steelers. Most often saw it on 3rd/4th and short, creating just enough of a rub to get the underneath receiver free. Haley's added a deeper Hank/curl route in the middle. I assume that's a zone beater if that's the coverage the offense gets where the rub of the mesh won't be as effective. You can see it below against the New York Giants in Week 1 of the preseason.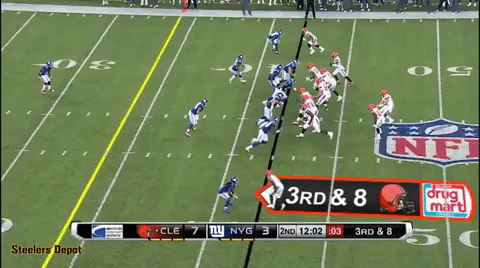 Two other quick notes. Haley has no problem getting vertical, expanding the defense, creating matchup problems on guys like Njoku, and opening up the checkdown option.
There's also plenty of RPOs and freedom Tyrod Taylor is going to have. Watch out for him throwing a smoke screen on designed runs if the cornerback is playing off. Two examples.
Might not want to give a huge cushion on the outside. Or you better be confident your corners are going to clean things up.
Josh's Individual Report
It's Browns week!
Finally, Steelers regular season football is back, and with it comes another Week 1 matchup against the Cleveland Browns in Cleveland.
It was a busy off-season for Cleveland and new general manager John Dorsey, as the Browns went out and turned over nearly their entire roster from last season to this season. It wasn't a typical Browns purge either, as Dorsey brought in quite a bit of talent in the off-season through trades, waiver claims, the draft, and free agency.
The biggest impact will be felt on offense, where Dorsey traded for Tyrod Taylor, drafted Baker Mayfield, signed Carlos Hyde, and traded for Jarvis Landry. This isn't the Browns we once knew.
With Taylor under center, the Browns finally have some stability. Sure, nobody will confuse Taylor for a top-flight quarterback in the NFL, but he's exceptionally consistent and doesn't turn the ball over, allowing his offense to stay on the field and put up points.
Along with Taylor, guys like Hyde and Landry bring much-needed juice to this offense, along with new offensive coordinator Todd Haley. Steelers fan should be very familiar with the scheme and plays they'll see on Sunday afternoon.
Taylor is a bit dinged up with a dislocated pinkie suffered in the third preseason game against the Philadelphia Eagles, but he came back into that game and played well, so it shouldn't affect him on Sunday.
In Buffalo last season, Taylor rarely pushed the ball down the field, opting to check the ball down or get the ball out quickly to playmakers in space. Through three preseason games in August with the Browns, Taylor looked comfortable pushing the ball down the field at times, utilizing the back shoulder throw quite a bit.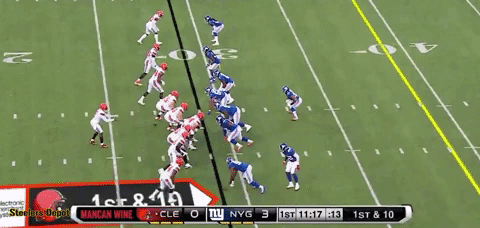 Take a look at his first pass as a Brown at the Meadowlands against the New York Giants. Right away, Taylor looks for Landry, who lines up on the boundary. Landry doesn't create a ton of separation when lined up outside, but he's very good at making contested catches.
If you've watched the Browns some this summer, Taylor has gone to the back-shoulder well quite a bit. He's not good pushing the ball down the field in terms of arm strength, but he has touch and accuracy, and that's on display here.
Janoris Jenkins runs step-for-step with Landry here, but thanks to Taylor's ball placement, Landry is able to go over top of Jenkins for the contested catch down the left sideline for a splash play right off the bat for the Browns.
Taylor has some mobility as well, and Haley has utilized that some in preseason by getting Taylor out in space with bootlegs, allowing him to pick and choose his throws and scrambles.
At running back, the Browns have a deep room with guys like Hyde, second-round pick Nick Chubb, and Duke Johnson Jr. Hyde will likely be the workhorse for the Browns early in the season until Chubb is ready to go, while Johnson Jr. will once again serve as the change-of-pace back used primarily on passing downs.
Hyde had a rough go of things in San Francisco for most of his time there before busting out last season. His strong 2017 season led to a decent pay day with the Browns, and if the preseason is any indication, he's landed in the right spot.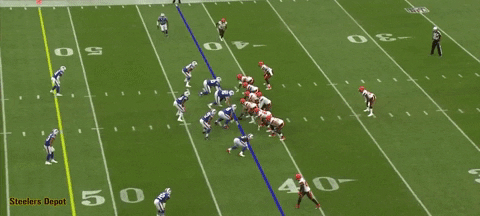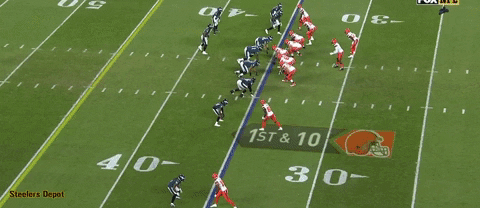 Hyde appears to be moving much better in space than his time in San Francisco. The Browns have put together a solid offensive line in front of him, and Haley has put him into the Le'Veon Bell role, allowing him to run from single back, i formation, or as the sidecar in shotgun.
One thing to watch for with Hyde is his overzealousness to use his stiff arm often on runs. I haven't seen him really lower his shoulder this preseason and bowl guys over, but he has a mean stiff arm and turns to it a lot.
Hyde will be a tough back to deal with Sunday if the Browns get their ground game going. He gets stronger as the game goes along.
Out wide, the Browns are pretty stacked as well, at least on paper. Landry does most of his damage out of the slot. While I never agreed with the notion that he was overrated because of manufactured touches, Landry's workload should skyrocket in Cleveland, as will his production now that he has weapons around him.
Aside from Landry, guys like Rishard Higgins, Josh Gordon, and Antonio Callaway will really open up the Browns' passing attack. Gordon will steal the headlines with his abilities, but Higgins might be the clear-cut No. 2 in terms of workload. Taylor really seems to trust him, based on preseason tape. Callaway can be a headache at times, but he's a first-round talent and has a knack for getting open against talented corners. If he keeps his head on straight, the Browns have a star.
At tight end, Cleveland is banking on David Njoku taking the next step. Njoku is an elite-level tight end that struggles with consistency in his hands. He'll stretch the field and is a huge problem in the red zone, but if he can't become more consistent catching the ball, he won't reach his potential.
Under Haley, I expect to see Njoku up the seam more, like we saw in the first preseason game at the Giants.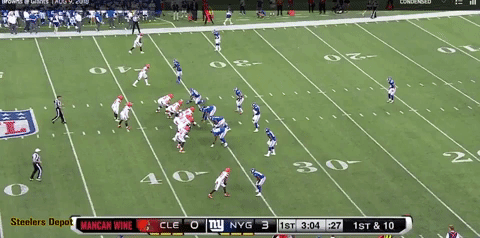 Lined up as an in-line tight end here, this is a simple go-route by Njoku, who slips off the line and burns Alec Ogletree down the seam for the score. Njoku is a freak athlete and a massive problem for linebackers built like Ogletree. He could be a handful on Sunday for Pittsburgh without Ryan Shazier.
Along the offensive line, the Browns are expected to line up like this, left to right:
LT — Joel Bitonio
LG — Austin Corbett
C — JC Tretter
RG — Kevin Zeitler
RT — Chris Hubbard
Bitonio makes the move to left tackle after the retirement of Joe Thomas in the offseason. Bitonio handled the move well despite being caught off guard by it. Throughout the preseason the former left guard looked pretty good playing out of position. It's possible the Browns just transitioned from a Hall of Famer to a perennial Pro Bowler at the position.
Corbett was hit or miss in the preseason, which was expected of the rookie coming out of Nevada. The rest of the offensive line looks really stout for Cleveland, especially Hubbard, who comes over from Pittsburgh and steps into a full-time starting role.
It's a strong unit across the board, and should really help the Browns put together a balanced offensive attack.
On special teams, Britton Colquitt returns at punter, while second-year kicker Zane Gonzalez won the kicking job in preseason. Colquitt is a steady punter with a big leg, while Gonzalez had a good rookie season, closing strong. It was curious that the Browns opened up the competition, but good on Gonzalez winning it outright.
At kick returner and punt returner, Jabrill Peppers is listed as the No. 1. Peppers is a dynamic athlete, but the former first round pick didn't do much in either department during the preseason. Callaway will likely share duties with Peppers, giving the Browns two dynamic athletes in the return game.