As we have been for several years now, we'll break down the Pittsburgh Steelers' opponent each week, telling you what to expect from a scheme and individual standpoint. Like last year, Dan Vasko and I will cover the opposing team's defense. I will focus on scheme, Dan on the players.
Today, we're checking out the Cleveland Browns' defense.
Alex's Scheme Report
Gregg Williams is back running his 4-3, aggressive style of defense. They will stand up their ends into a two-point stance, especially Myles Garrett, though I wasn't able to discern if there are any stunt or blitz tendencies in that situation. Garrett is the RDE and that's where he lines up most of the time. They do a little stunting but most often, rush things straight up and let Garrett win off the edge.
Larry Ogunjobi is a great run stuffing interior DL. So was Jamie Meder but he was released at final cutdowns.
The Browns go to their 4-2-5 nickel in sub-package, removing #51, linebacker Jamie Collins, from the field. The linebacking group is quality, led by Christian Kirksey and Joe Schobert as the MIKE. There's also rookie Genard Avery, a great athlete who can rush from the edge or play off ball, who I believe is expected to play.
Denzel Ward lined up only at LCB in the games I saw. With E.J. Gaines out, Terrance Mitchell should line up at RCB and T.J. Carrie in the slot. Damarious Randall and Jabrill Peppers line up at safety.
Much has been made about how deep Williams lines up Peppers and the same seems to be true. Plenty of MOFC (middle of field closed) in Cover 1 looks with Peppers a good 20-25 yards off ball. You can see it in this clip from the preseason, though I've read Williams isn't playing his FS as deep as last. Here, he looks about 15-17 yards off. Then again, it's 2nd and 10 vs 12 personnel.
But based on what I've seen, they're being a little more flexible with Peppers this year. Putting him closer to the box and using him on blitzes.
Williams is certainly one of the most aggressive DCs in football, blitzing more than any other team in 2017. He dialed up plenty of pressure packages in the preseason when most teams keep things vanilla.
Here's Peppers into the B gap against the Eagles. Five man pressure.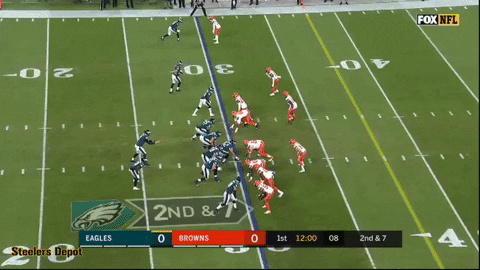 And here's a Cover 1, six man blitz, that leads to an interception.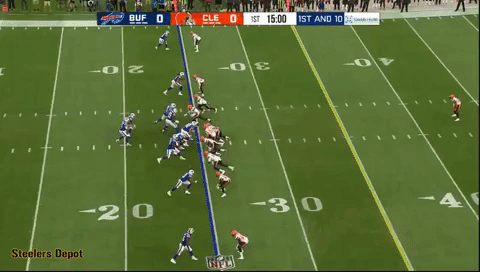 Get lots of press/mugged looks on third and short/medium. Potential to win vertically with one-on-one matchups.
How will the defense compensate for Antonio Brown? Tall task to leave him single covered. Curious to see how Williams approaches it. And if I'm Randy Fichtner, I'm using plenty of stack and bunch sets to give Steelers receivers free releases.
Dan's Individual Report
Defensive Line
The Browns defensive line starts with right defensive end Myles Garrett. More on him in a moment. The rest of line is rounded out by LDE Emmanuel Ogbah, and defensive tackles Larry Ogunjobi and Trevon Coley.
Ogbah is a powerful force along the line. He's got strong hands, and won't be moved easily. Wins at the point of attack. Not the greatest athlete, but makes up for it with his size. Much more a power rusher than a speed rusher. He'll see a lot of David Decastro/Marcus Gilbert in this one. Ogunjobi is the better pass rusher of the interior tackles, uses his hands well and can disrupt the pocket, but occasionally over-pursues. Coley is also a solid pass rusher, but run plays through the "A" and "B" gaps could prove fruitful in this matchup for the Steelers.
Now onto Garrett. He had a bit of an injury bug in his rookie season, but in just nine starts he racked up seven sacks. The dude is a beast. He's so ridiculously quick off the snap that it makes it extremely difficult for tackles to be in position, and he's so powerful that even if they get hands on him it's too late. And if you've been watching Hard Knocks you know about his wicked spin move. But it's really his quickness that leads to a lot of sacks. Check out one of his takedowns versus the Jets in Week 5 of last season.
Garrett is in a 3-technique lined up in between the guard and the tackle. Watch how quickly he gets from that position to the inside of the guard.
Josh McCown has barely turned his hips upon receiving the snap and Garrett already has inside leverage on the left guard using his body lean to overpower the attempted arm-block.
He has the awareness and athleticism as well to shift inside just enough to render the center's block completely useless and it's a clean lane to the quarterback from there. He's dangerous all along the line of scrimmage and they'll stunt with him a lot. There's not much more to say about Garrett, but he's going to be the player to watch on this defensive unit for sure.
Linebackers
The group of linebackers might not be a top-ten group in the league, but they're much more solid than they're probably given credit for. Joe Schobert is the middle linebacker. Christian Kirksey is the Will, and Jamie Collins Sr. is the Sam. It's a veteran group, with Schobert being the youngest entering his fourth season. After missing ten games in 2017 Collins Sr. returns to the unit, which should be an instant upgrade. He's a run stopper first, and forces quite a few fumbles, but his problem over the past several years has been staying healthy. Genard Avery will fill in in certain pass-rushing situations as well. But there's two guys that stand out the most.
First: Will linebacker Christian Kirksey. Kirksey's speed and athleticism make him a valuable asset particularly on passing downs. He's very good in space, and is quick off the snap as a speed rusher. He definitely excels in coverage. And although he won't be seen bull rushing too many guys, he has that quickness to take advantage of slower tackles. Very sound gap discipline, and has good play recognition skills. Marcus Gilbert should be able to match up well given Gilbert's quick set and length.
Next up: Mike linebacker Joe Schobert. Schobert is a very solid all-around linebacker. He displays good football IQ, and has quick acceleration. He's much better sideline to sideline than between the tackles (he's not bad there, either, but his lack of size can be exposed when taking on blockers head on).  Schobert can be slippery on the field, weaving his way through gaps straight to the running back or quarterback, and uses great body lean when rushing the passer or taking on a block as evidenced below.
The Eagles use their tight end to seal the edge for the running back with the right tackle pulling. Once the ball is snapped, Schobert is instantly positioning himself for the off-tackle angle. His quick burst helps him gain an edge on the guard which allows him to slip past the block. But he's got the pulling tackle to worry about as well. Instead of taking on a direct angle to the sideline, which the tackle is expecting, Schobert dips inside beating him and is able to make the shoe-string tackle. That tackle, by the way, is all-pro Lane Johnson. Not only is he one of the best in the game, but also one of the most athletic tackles. Impressive play by Schobert.
Secondary
The Browns added some key pieces to the secondary this year, and should also be an improved group overall from 2017.
Outside corners are Denzel Ward and Terrance Mitchell. Free safety is Jabrill Peppers and strong safety is Damarious Randall. T.J. Carrie will see most of his work in the slot.
Peppers is very good in zone coverage, can match up well with tight ends, and has the athleticism to be used in a variety of locations on the field. He'll line up in the slot, help stack the box, or play center field and protect deep on cover one. Peppers progressed a lot throughout his rookie campaign in 2017. His biggest asset is his physicality in the run game, but his presence in coverage can't be understated either. His fluidity matched with superb closing speed makes him a dangerous target. Take this example from his week 17 of last season versus, unfortunately, the Landry Jones-led Steelers. Bottom of the screen.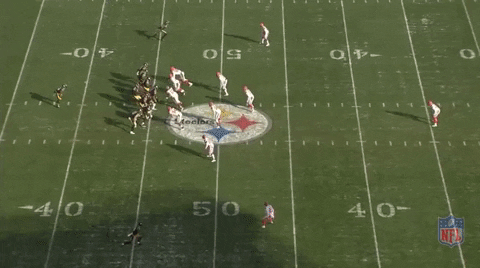 Peppers is lined up in the slot about five yards from the line of scrimmage, and quickly turns his hips locking on to Juju Smith-Schuster. Since they're in zone, Peppers has help over the top and is patiently waiting for Smith-Schuster to come out of his break. Mind you, Peppers' eyes are still locked on to the receiver. Once Smith-Schuster breaks inside on the soft dig route, Peppers turns his hips once again now with his eyes on the quarterback and is able to use his closing speed and athleticism to make a diving interception undercutting the route.  All in one fluid motion. This guy could make a huge leap in year two. Watch out for Peppers especially in the middle of the field.
Ward, a rookie, is a prototypical man-cover corner, but can struggle with bigger, physical receivers mainly because of his size. But he's a playmaker with great ball skills and loose hips.  This is a tough group of defensive backs. Terrance Mitchell is another guy willing to take on blocks and make some plays in the run game. He's another man-to-man specialist, and a good tackler. He's aggressive, which is both a strength and weakness as he sometimes will get beat due to over pursuit. Randall is also new to the squad coming from Green Bay. He's great at 50/50 balls, and has very good hands. He won't match up as well as Peppers with tight ends, though.