James Harrison said a large part of miscommunication in 2017 came from the Pittsburgh Steelers defense playing two different coverages. That problem evidently isn't solved based on what Keith Butler admitted in speaking with reporters this afternoon.
Shown in this week's Coordinator's Corner on Steelers.com, Butler was asked about comments made by cornerback Mike Hilton, who said the defense was playing two different coverages on the second Travis Kelce touchdown, a 25 yard score in the third quarter.
"The one you saw Travis Kelce going down the middle of the field is probably what he was talking about," Butler said, referring to Kelce's second TD, a 25 yard score in the third quarter. "We have a quarterback on this team and we have to be playing what he's playing. Even if he's wrong, we all have to be wrong, we all have to be wrong and we will be right if we do that."
We've broken down the Kelce touchdown several times on here already, including this morning, pointing out the clear miscommunication of the play. It's pretty easy to see the problem.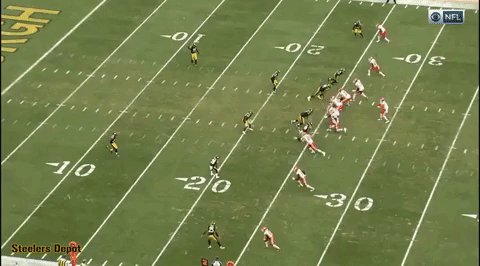 The safeties are playing a two deep zone like the coverage is supposed to be cover two, the middle linebacker responsible for carrying #3 – Kelce – down the seam. Williams isn't playing like it's Cover 2, not flipping his hips to turn and run with him. It leaves Kelce all alone, no one around him, and an easy touchdown pass for Patrick Mahomes, one of six he threw on the day.
Fault here likely is with the players, who were adjusting to the Chiefs' shift. I assume the quarterback Butler is referring to is Vince Williams, the every down ILB, and the lack of communication between he and the safeties, Terrell Edmunds and Sean Davis.
That's why as much as I've harped on Butler's shoddy playcalling and predictability, there's plenty of fault in the players own communication and execution breakdowns too.