It was a bit surprising the Pittsburgh Steelers didn't get Matthew Thomas on the field defensively in Week One. But it makes sense. It isn't easy to find a home for him and Jon Bostic played well enough to keep Thomas on the sidelines.
But the team did get the rookie linebacker in the game. And how they did that is a total shock to me and could be a Steelers' first.
In the 4th quarter, Thomas checked in as a GUNNER on the punt team. Yup, you read that correctly. The gunner – the outside defender asked to cover the most ground. You know, the one always done by defensive backs and wide receivers.
There was Thomas, blowing by everyone.
Here's his second time out, blowing by the Browns' jammer and forcing Jabrill Peppers to fair catch this punt.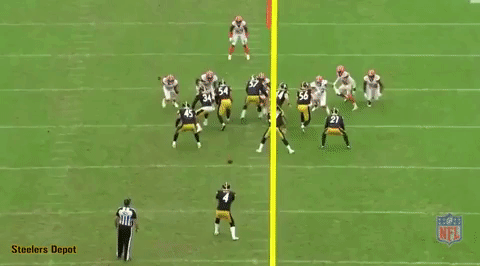 The Browns ended up double-teaming Thomas on the next Steelers punt in overtime though to be fair, I think that had more to do with him being on the boundary side than anything else.
Still, I can't remember the last time a Steelers linebacker – or any linebacker in the NFL – was used as a gunner in a regular season game. Thomas didn't start the game there. Cam Sutton lined up opposite of Darrius Heyward-Bey. but when Joe Haden went down and Sutton inserted, the Steelers ostensibly decided they didn't want to ask Sutton to run 50 yards and then play defense. So Thomas is the next man up. And hey, he looked pretty good.
Not that you needed another reminder but yeah, Matthew Thomas is a serious athlete. Now, it's just a matter of time until he shows those wheels on the Steelers' defense.