Quick film room before tomorrow night's AFC North showdown against the Baltimore Ravens. Fullback Roosevelt Nix, and you know I love the dude, had a really rare off day Monday night against the Tampa Bay Buccaneers. Taking a look at three of his misses in the run game from last week.
Lead strong play with James Conner bouncing it off left tackle. Nix tries to base block the linebacker, #53, but can't stick to it and falls off, allowing the LB to make the tackle. Holding call nullifies the whole play anyway but a negative play from Nix.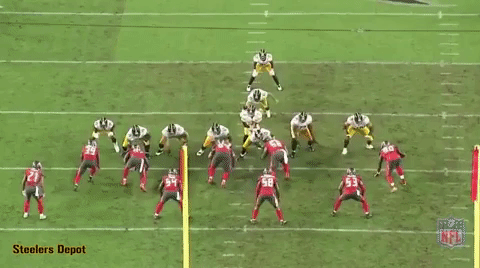 To be fair on this next one, I'm pretty sure Nix tripped. But I bet he's still pissed about what happened here. Lead play with him up the middle, possibly stumbling over someone's feet, and he falls on his face. Conner loses his lead blocker and the run goes nowhere.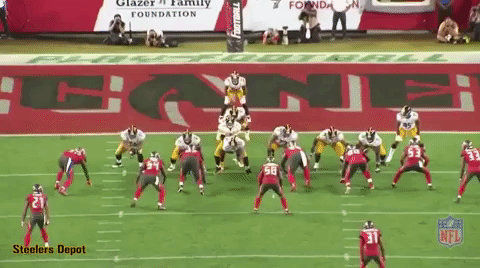 Finally, late 4th quarter attempt. Field was slick, players slipping was common, but Nix took a bad path to the linebacker and lost his footing. Too late to get his shoulders square and turn upfield. Linebacker, again, free and helps blow things up for a four yard loss.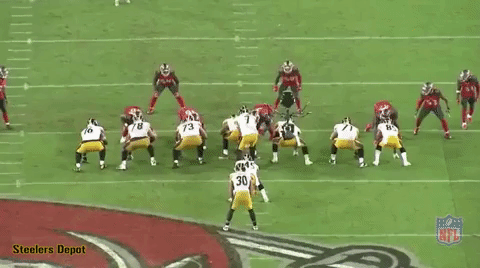 One bad game isn't a troubling sign, to be clear, but in the interest of fairness, I thought this was one of Nix's roughest games in quite some time. Baltimore is going to be a physical matchup where the interior running game will be key, especially against a TOUGH Ravens' defensive line. So looking for Nix to turn things around.