There's plenty to gripe about with Keith Butler. Many of you think he's on the hot seat, others who believe he should've been canned last season. But one thing he's consistently done well is the ability to get his ILBs to win up the middle, over the interior gaps (usually the B gap between guard and tackle), an additional way to generate pressure. You saw it last year with Vince Williams, ending the season with an absurd 8 sacks. Sunday saw Jon Bostic pick up his first as a Steeler while Williams chipped in with a pressure of his own.
That's what we're going to look at today. How Butler's scheme won again and provided the right matchup for the blitz to get home.
Here's Bostic's sack. It's a five man pressure on 2nd and 10. Goal is to get him free up the C gap, either unblocked or one-on-one against the running back. Both "wins" for the defense (the former is better, obviously).
One-gap principles for the defensive line. RDT Tyson Alualu slants into the blitzside B gap to draw the eyes of the LG. Javon Hargrave loops around as backside contain, which also draws the center's eyes, and Stephon Tuitt slants into the A gap. Bud Dupree has blitzside contain.
The rush influences the Browns slide protection away from Bostic's blitz. And rookie RB Nick Chubb doesn't identify it until it's too late. Bostic has a runway up the C gap and drops Tyrod Taylor.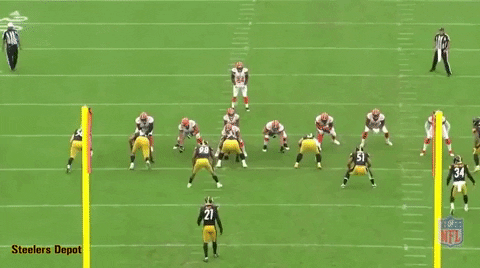 On 4th and 5 in the 4th quarter, Butler dials up another blitz. Little different this time, no stunt and Williams hits the A gap, but you get the same result. Tuitt is lined up in the A gap away from the blitz, to hold the center, with Cam Heyward in the B gap, rushing upfield to hold the left guard. That "parts the seas" for Williams to come in free. One-on-one with the back, turning into a training camp backs on backers drill. That's why it gets repped and hyped so much in Latrobe.
Williams sidesteps Carlos Hyde, getting pressure in Taylor's face, and hurrying the throw. It's too far in front and incomplete, which is a good thing, because Jarvis Landry beat Mike Hilton on a double-move. Steelers get off the field.
These rushes don't have to come with just an inside linebacker either. With how much the Steelers played dime this weekend, Morgan Burnett is going to see plenty of action as the de facto inside linebacker. And he's capable of doing the same thing.
You're getting a similar B gap blitz as in the first clip. Just out of nickel instead of base. Same one-gapping stunt. Heyward slants into the A gap away from the blitz, drawing attention of the center and left guard. Tuitt and Dupree contain.
Burnett is one-on-one with Duke Johnson. Great bull rush, running him over. He and Bud Dupree – who shows a nice power move – pressure Taylor and Dupree knocks the ball out.
Three different blitzers: Bostic, Williams, and Burnett. Three different backs they beat: Chubb, Hyde, and Johnson.
This is a "safe pressure." The ability to send someone other than the DL or outside linebackers while still rushing only four. Not every blitz has to be Cover 0 to get home. And there's nothing better than A/B gap pressure, up the middle. It's a direct path to the QB, not letting him step up, forcing him to bail the pocket, flush out (if he gets away), and take away half the field for him.
The Steelers did it as well as anyone last year. In 2018, they're off to a good start.