There's no question the Pittsburgh Steelers ran more man coverage under Keith Butler Sunday than they have under his tenure, largely speaking. One other new, or at least new-ish, element is one of the combination coverages he busted out. That's what I want to look at today.
I asked my friend Ted Nguyen from The Athletic what one of Butler's coverages was. He said it's Cover 4, a variation of the traditional zone, shown here run by Denver Broncos defensive coordinator Wade Phillips. He sent me this photo of the concept.
Here's two examples of it from Sunday. Both of these were checks against the Browns 3×1 set.
To the strength, the three receiver side, the Steelers will lock the DBs and carry vertically in man coverage. The left corner takes all of #1 while the linebacker passes off #2 to safety Morgan Burnett, who carries him vertical.
To the bottom, the single receiver side, you get a Cover 2 look. The right corner will look to bump and reroute #1, sinking to squeeze a hole shot before getting his eyes to the ball to watch the QB and drive on anything into the underneath flat. The FS plays over the top and has vertical responsibility.
Here's how it looks.
And here it is in action.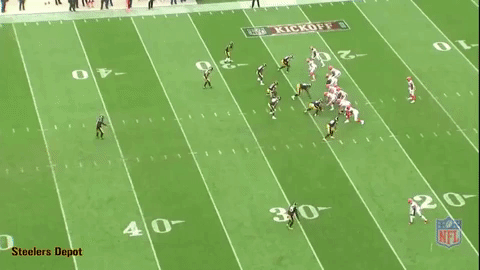 Tyrod Taylor throws deep on the corner. The ball is badly underthrown and Jarvis Landry bails him out with a fantastic catch. On paper, it's a sound concept and good coverage. The receiver just made a heck of a play.
Here it is again. Same look, 3×1 formation, though only two receivers initially release into their route. To the strength, you get man coverage. Weakside, it's Cover 2.
Results in a sack by Javon Hargrave. There's nothing available for Taylor and he's gotta eat the play.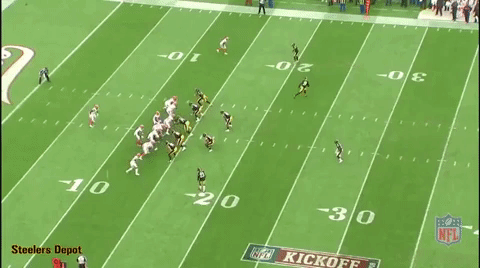 I'm not certain this is brand new but it's definitely something I haven't seen often from Butler. It reminded me of the coverage he called three straight times to close out the Steelers 2015 regular season victory over the Denver Broncos, shown below.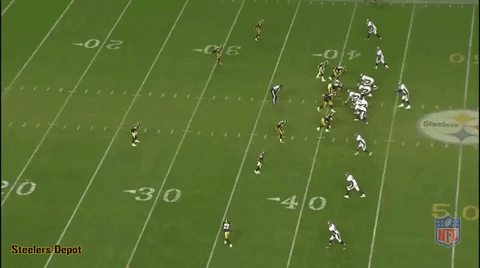 Based on Week One, expect not just more man coverage this year from Butler but more combination coverage – like this Cover 4 – too.