It's no shock that the Pittsburgh Steelers haven't magically figured it all out in a week. But it's definitely worrisome, and admit it, you were worried going into the preseason, what happened at the ILB spot opposite Vince Williams Thursday night. Jon Bostic and Tyler Matakevich didn't play like guys worthy of a starting spot. Let's look at the tape.
Tyler Matakevich: His biggest mistake turned into an Eagle touchdown. Blitzing free off the defense's left edge, it should've been an easy sack on QB Nate Sudfield, a man not known for his athleticism. Sudfield was allowed to keep the play alive and hit tight end Dallas Goedert for the score.
Another play, this time against the run. Nice carry up the middle for Corey Clement name. Matakevich is unblocked, one-on-one, but doesn't have the change of direction ability to even put a finger on him. Goes for nine yards. Even plays in semi-space were giving him trouble. And on both plays, moving laterally is exposing him.
Jon Bostic: Bostic was arguably the better of the day but not significantly so. Here, the Eagles are working out of their own end zone. Carry to Jay Ajayi left side. Steelers are in their over front vs 13 personnel (shift the DE to the strong side, tilt the NT). To the strong side, the defense does its job and fills its gaps.
Bostic doesn't technically have alley responsibility here, that's on Morgan Burnett, but he's working clean and can read the path of the runner the whole way. He reacts in time but chops his feet instead of driving through. That hesitation allows Ajayi to throw out a stiff arm and run through the hole. Couple of missed tackles later and it's a 20 yard gain.
Important to note that I would put more of the blame here on Burnett for being soft in filling the alley. But Bostic could've made the play. And didn't.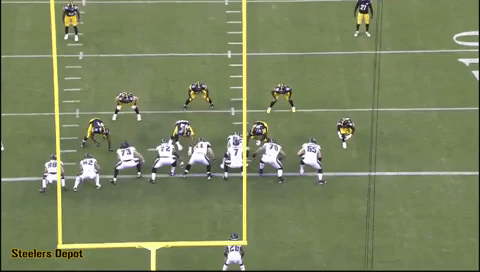 Matakevich may have missed the tackle on the touchdown I posted above. But he wasn't the only ILB to leave me scratching my head. Same play, Bostic is…nowhere. He's following Sudfield, drifting too far to his left, and vacates his zone coverage. It leaves the tight end open down the seam. If Bostic would have, I guess, run hard downhill anticipating Sudfield to take off, I could understand it. But he's squarely in no-man's land, drifting to the line but not aggressively so. He's useless. And helps create the open throwing lane.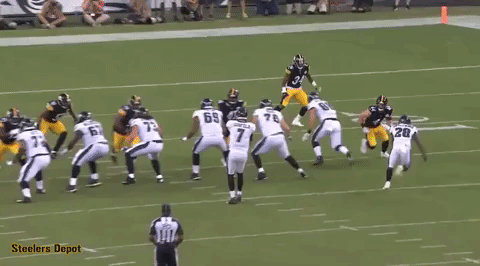 To their credit, both did make positive plays. Matakevich forced a fumble that the Eagles recovered and Bostic had a couple straight plays in their backfield. But I don't come away feeling confident about the state of the ILB situation after this one. Maybe that changes going forward. But maybe it won't. And that's a problem.