The end of the preseason has generally been an active one for Kevin Colbert and the Pittsburgh Steelers. Trading away Ross Cockrell and Sammie Coates. Acquiring Vance McDonald, J.J. Wilcox, and Justin Gilbert. You get the idea.
Could that continue this season? The odds seem good the Steelers do something, though of course, impossible to predict what that "something" is. If there's a trade, here are three scenarios that make sense. None of them are sexy but that's perfectly fine with Colbert.
Trade Scenario #1: Steelers Send QB Josh Dobbs To Chiefs For 2019 7th Round Pick
Analysis: It'll be tough to trade Dobbs if the Steelers want to pursue that route. Half the league only carries two QBs and if they want to add a third, it's generally either one of two camps.
1. Someone with NFL tape, a "known" commodity to acquire
2. Grooming a 3rd QB in-house, a guy they know and are more comfortable with than someone who's been invisible to them for at least a year on someone else's roster.
So it's an uphill battle in itself without even factoring in the lack of leverage in trying to make a trade happen. Teams could wait for the player to be cut and pick him up on waivers.
Now that I've properly undersold things, here's why a deal does make sense.
Obviously, we know Dobbs is outside looking in right now. He's not making the 53 man roster and his preseason reps (not the starter for the Packers game, didn't play against the Titans) indicate that. He could land on the practice squad but I don't like his odds of staying there. Some team will try and poach him mid-way through the year. So there's reason for Pittsburgh to get what they can.
Kansas City kept three QBs on their 53 last year: Alex Smith, Patrick Mahomes, and Tyler Bray. So they're in that "old-school" half like the Steelers. Smith was dealt to Washington, Mahomes named the starter, and they signed Chad Henne to a team-friendly, two-year deal to be the immediate backup. The #3 spot is unsettled to say the least. There's Matt McGolin, who…yeah, pass, and UDFA Chase Litton. Litton had a good debut in Week 1 but like most QBs, he's probably overvalued by the fanbase.
Dobbs is obviously cut from a similar cloth to Mahomes. Athletic, strong-armed QBs who have to overcome their erratic nature and mistakes.
Before taking Mahomes in Round 1 last year, the Chiefs took a long look at Dobbs. He was brought in for a pre-draft visit and Andy Reid is still there, so one the decision-makers that liked him are still in place.
He can stick around as the #3 for a year and maybe the Chiefs move on from Henne next offseason and make Dobbs the backup, the offensive style and scheme staying in place if Mahomes ever went down.
While I'm sticking with the Chiefs here, you could argue he's a fit for nearly the entire AFC West. The Raiders and Broncos are looking for QB help, though potentially more in the form of #2's than #3's. Jon Gruden spoke very highly of Dobbs in his QB Camp.
Trade Scenario #2: Steelers Trade CB Coty Sensabaugh To LA Chargers For Conditional 2019 7th Round Pick
Analysis: There isn't so much quality depth on the Steelers roster that there have viable trade pieces. There are bubble players who could end up on the practice squad, guys like Marcus Tucker, and some veteran guys who have no value, like Stevan Ridley. Not players who are getting dealt, even if they're interesting to you and me.
Sensabaugh is one name that fits. Cornerbacks have more trade value than say, running back because they're harder to find and are simply worth more. He's one name squarely on the Steelers bubble. If he's on the wrong side of things, the team could look to deal him.
That's why we're sending him to the Chargers, who are an absolute wreck right now with injuries to cornerback. Jason Verrett? Tore his Achilles in the conditioning test. Jaylen Watkins? Done for the year. Casey Heyward just went down with a hamstring injury, his timetable is unknown, and Dez King was reportedly about to move to FS. I'm not sure of his current status know, given all the injuries. Still, at worst, they need some valuable depth and a guy capable of playing outside and in the slot like Sensabaugh.
He's making a little bit of money this year, owed a $1.4 million base salary, but the Chargers have nearly $9 million in cap space so that won't be an issue.
The Chargers' DC is Gus Bradley, former head coach of the Jacksonville Jaguars. With Sensabaugh in Tennessee, he knows him fairly well, seeing those guys twice a season. Familiarity helps.
The condition could be anything. Probably a clause based on games or snaps played.
Trade Scenario #3: Steelers Trade 2019 5th Round Pick To Bears For ILB Nick Kwiatkoski
Analysis: Here's one where the Steelers get something in return. If I was Pittsburgh and looking to add anywhere via a trade, it'd be ILB and ILB only (unless some other player really caught my eye). The rest, I'm comfortable adding on the waiver wire where I don't have to give something up in addition to cutting a player from my 53.
Inside linebacker is the biggest concern among the starters and that's why I'm making the move. Problem is, there are very few interesting ILB prospects out there. Teams who have athletic, coverage linebackers ain't trading them. Hoarding those guys like 1999 Beanie Babies.
Feel free to throw out realistic names who aren't Navorro Bowman or Lawrence Timmons but good freakin' luck. Kwiatkoski is one of the names that made the most sense. He's stuck as a backup in Chicago after drafting Roquan Smith alongside Danny Trevathan.
Kwiatkoski tested like a decent athlete with a 32 inch vert and 10 foot broad. He's always been someone who moved better on the field than he tested. At his Pro Day, NFL.com's Gil Brandt wrote:
"He is a really good athlete who drops well into coverage and moves around better than you might think he would."
Check out this incompletion he forced last year. Does Jon Bostic make that kind of play? Does that look like a terrible athlete?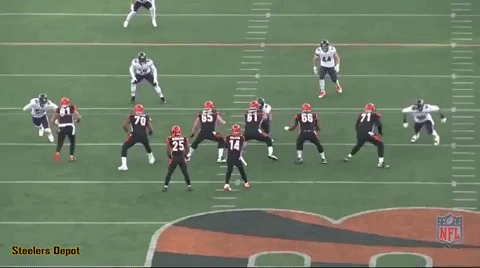 He's a local product through and through. Played at Bethel Park, just outside Pittsburgh, growing up in the area before moving onto WVU, a stone's throw away Mike Tomlin was there for his Pro Day back in 2016. A 4th round pick, he's cheap and under contract through the 2019 season.
Is he a monster upgrade over Bostic? Probably not and like I said, that guy doesn't exist, so the odds of trading for any ILB are low. But I think he's an upgrade with starting experience, 13 games started.