The Pittsburgh Steelers, or at least, DL coach Karl Dunbar, reportedly wants to use two nose tackles in 2018. Perhaps that's in part to Daniel McCullers surprising success. This article isn't to take away anything he's done in camp. It's his best camp ever, by a wide margin, and he deserves a spot on the 53 man roster.
Still, the "two nose tackle" theory sounds like something out of 1998, a concept Jon Gruden would get giddy about. Simply, I have two main issues with the idea.
1. Gameday Actives
There shouldn't be debate over these next two statements. The Steelers will keep six defensive linemen on the 53 man roster. The Steelers will dress five of those defensive linemen on gameday. That's how it's been for the last…forever.
If the Steelers want to have both nose tackles available, that leaves an odd man out. Likely, DE/NT L.T. Walton. The concern there is the lack of versatility at the back end of the roster. It's nice to have that 5th and final active linemen capable of wearing multiple hats, just in the way the last active offensive linemen should have a high degree of versatility (Matt Feiler this year, Chris Hubbard last year, Ramon Foster early in his career).
Now, you have two players who essentially do one thing: play nose tackle. That limits you if there's an injury in-game and there's a concern there. Is McCullers enough of an upgrade over Walton at nose tackle to justify what you lose at DE? Definitely debatable.
2. Scheme/QB Contain
Mike Tomlin addressed the problems Pittsburgh had keeping the Green Bay Packers quarterbacks in the pocket. It's been a problem for awhile now and not exclusive to just mobile QBs either. The Steelers increased their amount of run and pass stunts the NT got involved in last year and McCullers is inarguably worse than Hargrave and probably even most NTs around the league.
Even with his improvement, a 352 pound nose tackle lumbers around from gap to gap. Two examples of Hargrave containing the edge on a fire zone.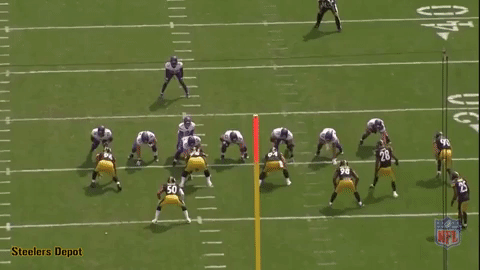 They've added more run stunts as well, albeit, with mixed success. Here, Hargrave replaces as the edge defender while Cam Heyward slants into the weakside A gap. You get the same action on the other side with Stephon Tuitt and Vince Williams.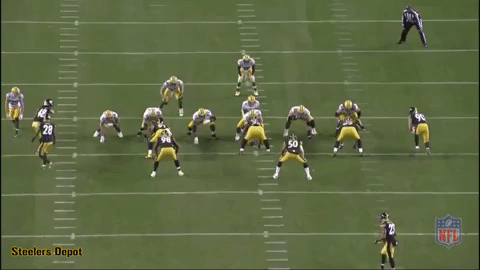 McCullers isn't going to be able to move like that. He might be able to do it, some of the time, but it's hard to trust him the way you do Hargrave, one of the most athletic NTs in the game. Just check out the stunt they ran last Thursday. McCullers is supposed to contain the right edge but you can see how long it takes for him to get there, how poor of a job he does getting outside shade on the LT (he doesn't), and then loses contain as he thinks the QB is about to go down. Ends up in a TD.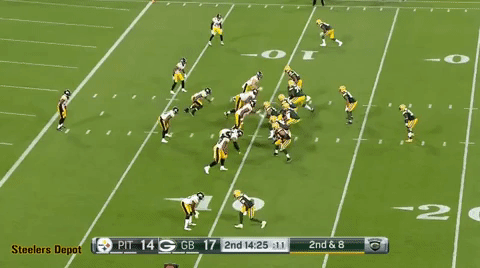 I don't think it's a TD if Hargrave was out there and they ran the same exact play. McCullers actually got kinda close to Brett Hundley here. Hargrave would've had him or better yet, wouldn't have let the QB break contain so easily in the first place.
If the Steelers still want to stunt with Hargrave, they'll have to do the same with McCullers. Or you're eliminating those concepts from your playbook and makes life a lot easier on offenses with #93 on the field, knowing you're not getting those looks.
Even looking past all that, this is a new-age, one-gap defensive line. That's part of Hargrave's allure, someone who can one-gap and penetrate. Tilt into the A gap and fire between center and guard and get into the backfield. McCullers doesn't do that so again, you're limited schematically.
---
Maybe there is some sort of blend the team can come up with. I get the basic premise of it. McCullers could play solid run defense in obvious situations, clogging the middle and demanded a double-team, freeing up the linebackers just like the good 'ol days. But it sounds much better on paper than it does in practice, and playing Big Dan to improve one area means sacrificing what the defense does elsewhere.