Football is back. That means our weekly sack breakdowns return too. The Pittsburgh Steelers allowed two early ones Thursday night and four in total by games end. Let's take a look at each.
1. 2nd and 2, 14:28 1st. 12 personnel. Five block vs four man rush. 
Pretty cut and dry here. Two great players, RG David DeCastro working on DT Fletcher Cox. DeCastro isn't able to stay square to the block, getting his shoulders turned, and Cox has a lane and is able to rip past. Down goes Landry Jones.
Chukwuma Okorafor not at fault here but definitely had that "deer in the headlights" look his first time in pass protection. Didn't pick up the end off the TE chip until it would've been too late. B.J. Finney helped bail him out. Luckily, things seemed to get better for Okorafor as the game went on.
Blame: David DeCastro
2. 1st and 10, 12:08 1st. 12 personnel. Seven block vs seven rush.
This one is messier. Steelers have the numbers to pick it up on paper. Seven block, seven rushing. But two key issues here. James Conner's pass protection isn't great. Little late getting to his spot, not able to get shoulder-square in front of the DB blitz, and he doesn't have the power to ride him upfield the way we've seen him do in drills.
But there are more issues than just Conner, as the photo indicates. Free rusher on the backside. With numbers even, shouldn't be the case. Ball doesn't have to come out hot if they're even and it's not overloaded. But there's no one to account for #53, other than Xavier Grimble's chip. Matt Feiler falls down, Alejandro Villanueva is getting bull rushed, and there's no one to pass off an interior guy so the edge rusher can be picked up.
Whose fault is that? That's definitely difficult to say. And on a play like this, with bodies all over the mat, even tougher. I'm going to give the Eagles credit for a good scheme here. They mug the A gaps to force the Steelers OL to pinch, bring the DB blitz to hold the RB, and sneak the LB off the edge in free.
Another aspect of playing the Eagles Week One? Seeing a different front, a 4 man unit, after practicing versus the Steelers 2/3 man look all in camp. One reason why it's tougher to run. And one reason why the pass protection can look shaky.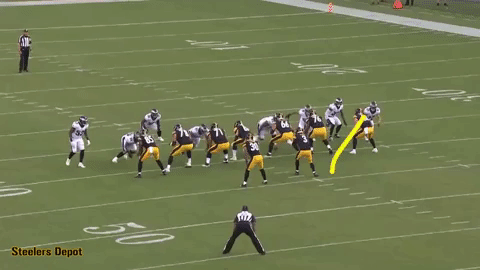 Blame: Half on defensive scheme, half on James Conner
3. 2nd and 14, 10:18 4th. 12 personnel. Seven block vs five rush.
This one is like the first. Easier to explain. Rookie mistake by James Washington (yes, non-offensive linemen can be blamed for sacks too). After Mason Rudolph sends TE Bucky Hodges in motion, you can see him throw out a hand signal to Washington. That's indicating the route he wants the receiver to run. But some wires get crossed here, likely the fault of the WR. Washington doesn't run a slant. He runs an out and there's no one for Rudolph to throw to. Avoiding making a bad situation worse, he ends up taking the sack.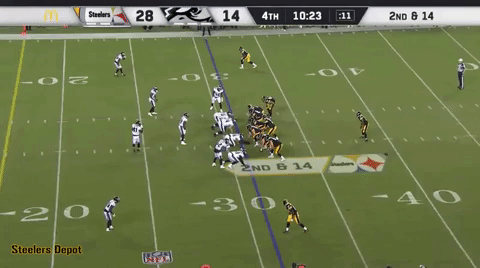 And here it is from another angle.
Blame: James Washington
4. 3rd and 7, 5:40 4th. 11 personnel. Five block vs four rush. 
Gotta tip your hat to the Eagles defense here. Some pressure as the RDE rips inside of LT Joseph Cheek, who was able to seal him enough. Mason Rudolph flushed to his left but has time. Just nothing opening up and they take away the checkdown to Jaylen Samuels underneath.
Tempted to put this partially on Rudolph for trying to sit back down in the pocket. Not going to have that kind of time to try and reset. Definitely some bad ball security, holding the ball away from him, and he gets stripped on the sack, though Pittsburgh falls on it.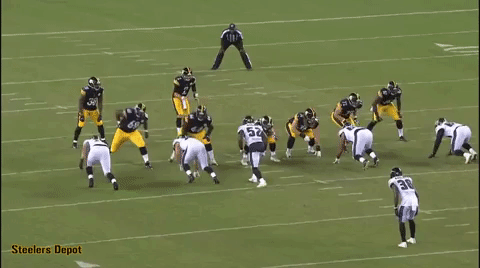 Blame: Half of Rudolph, half on defensive scheme
Sack Total
David DeCastro: 1
James Washington: 1
Defensive Scheme: 1
James Conner: .5
Mason Rudolph: .5