As expected, the first preseason game was a sloppy one for the Pittsburgh Steelers, and that sloppiness showed up the most often in ­— you guessed it — the tackling department.
Before seeing the number listed below for missed tackles, it's important to note this was the first live game in pads after a long off-season, hitting sessions at training camp be damned.
Once again, the missed tackles report is back here at Steelers Depot. Proceed with caution, but remember that it's just one week of preseason action.
Total Missed Tackles at Eagles — 18
Dashaun Phillips — 2 (one on special teams)
Ola Adeniyi — 2
Tyler Matakevich — 2
Jon Bostic — 1
Morgan Burnett — 1
Artie Burns — 1
Farrington Huguenin — 1
Anthony Chickillo — 1
L.T. Walton — 1
Coty Sensabaugh — 1
Xavier Grimble — 1 (Special Teams)
Nat Berhe — 1
Keion Adams — 1
Marcus Allen — 1 (Special Teams)
Malik Golden — 1
Eighteen missed tackles in the first preseason game of the season can be an alarming number, but again, it's the first live action these guys have seen since last season, aside from training camp practices. Yes, it's a bad number, but don't panic for now.
Let's take a look at some of the most egregious misses.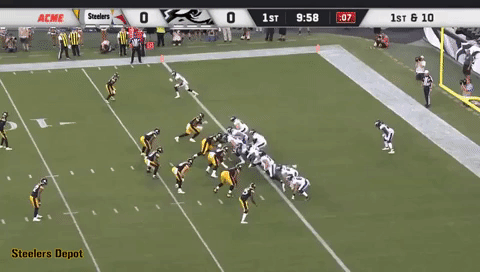 Aside from Stephon Tuitt getting washed down the line, and Anthony Chickillo flying up into the line, taking himself out of the play, this run early in the first quarter was an absolute disaster for the two new defensive starters for the Steelers.
Jon Bostic is slow to slide over into the gaping hole, and then gets caught flat-footed by Ajayi in the hole, resulting in the Eagles running back slipping by with ease. From there, Morgan Burnett and Artie Burns come up and fail to get anything but hands on Ajayi, allowing the power back to slip past unimpeded for the 22-yard gain before Sean Davis wrestled him to the ground.
Aside from Bostic's whiff in the hole, Burnett needs to be much more physical there. That's just as soft as it gets from an NFL safety.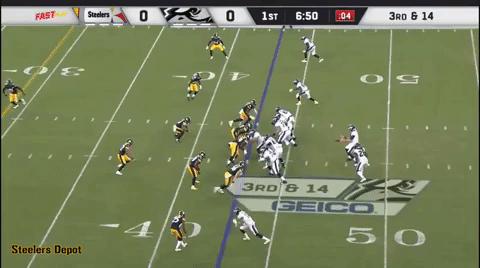 As I wrote in my positional grades piece, I was rather disappointed with Farrington Huguenin's play Thursday night, and it started with this miss on Ajayi in the backfield in a one-on-one matchup.
This miss is just egregious. Not only does he get caught flat-footed after being left unblocked off the edge, but he's so hesitant to even attack Ajayi in the backfield, allowing the veteran running back to dance around him.
Fortunately for Huguenin, the rest of the defense is able to clean up the mess for him, but plays like this won't do him any favors when it comes to making the Steelers this year.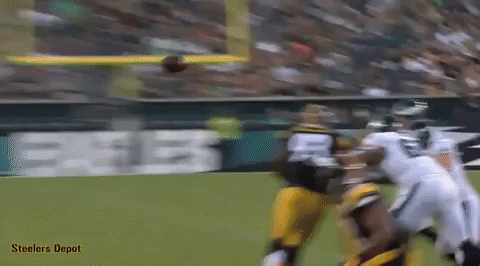 On a simple swing pass to Corey Clement in the flat from Nate Sudfeld, Coty Sensabaugh does just about everything right closing in on Clement right up until the point of contact.
Sensabaugh is too high, and isn't anywhere strong enough to hold onto Clement in this position. Clement powers through with ease for a key first down. His conversion led to a touchdown later in the drive, giving Philadelphia the lead.