Antonio Brown is the best receiver in the game. He'll finish, at worst, as a top ten receiver in NFL history. And five years after he retires, he'll be donning a gold jacket in Canton, Ohio.
But you know the story of Antonio Brown. He wasn't the "can't miss" prospect coming out of college. No fanfare when he was selected. More like a collective "who?" from Steelers Nation. A 6th round pick out of Central Michigan, his first preseason was like so many others. Do the dirty work, show up every day, do whatever it took to get noticed.
That meant playing special teams. A lot of special teams. Including running down punts in the preseason finale against the Carolina Panthers back in 2010. In his press conference today, Mike Tomlin said he used that play with this current roster to illustrate why this game still matters.
"I go back and look at some of those games," Tomlin said. "Look at guys who have made significant steps in that game. Make a case for themselves. And go on to not only make the team but now have a perspective of how careers develop based on things that happened in this game. We've used historical video to show that to the guys."
Tomlin went on to reference one punt team AB was on, forcing a fair catch and joking Brown used a speed release we're all used to seeing to get past the jammers.
I went ahead and found the play he's talking about. There's #84, left side of the screen, screaming down the field to cover the punt, something you'll never see again from him. But in the moment, that was the most important thing he could've done.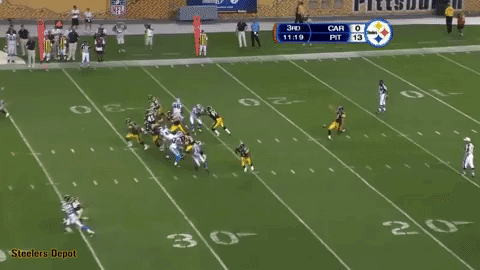 Tomlin also mentioned Ross Ventrone as a player who earned his roster spot in this game after missing time with a hamstring injury. There's other examples that went unnamed too. Roosevelt Nix blocked a punt his first year as a Steeler, cementing his status, and Stefan Logan returned a punt 80 yards to the house in 2009, locking him in for the year.
The mentality and focus of these players is something Tomlin says he pays special attention to this time of year. Guys who perform under the pressure on knowing this is their final shot.
"You want to see how they perform under duress or anxiety or pressure. Because that's reflective of this journey we're about to get on that is the regular season. So I don't mind drawing them all in and telling them how important this game is. Because it is. Seeing how they perform knowing all that. I think you learn a little bit about them in the midst of all that. And that's ok."
The reality is yes, a ton of players are about to be cut come Saturday's deadline. And most of them know it. But that just makes this game all the more special. One last time to prove to the coaching staff why they're worth keeping around, be it practice squad or maybe even on speed dial when injuries strike. And for others, at the least, one last chance to live out their dreams.