Ola Adeniyi feels like the definition of a bubble player. Someone who has climbed the ladder and into the 53 man roster conversation, no question about it, but still far from guaranteed of making the team.
That is, until Saturday.
His performance against the Tennessee Titans, another excellent outing, might have been enough to get him over the top. What's most impressive about it, and there's lots to choose from, is how well-rounded his game defensively is. Plenty of rookies are stellar pass rushers. Some can hold their own against the run. Few can do both this well this early.
Two plays stick out, one against the run and one versus the past. Let's take a look at them.
Adeniyi Against The Run
Adeniyi had a stuff at the line of scrimmage early in the 4th quarter. Excellent rep. Lined up as the ROLB and matched on the right end, he's the force defender, responsible for keeping the back inside and turning him to his help, the rest of the Steelers' defense.
Initially, he's able to get his hat (helmet) on the outside half of the TE to force the back to cut inside. It's a little blurry but you can see it here.
As the back cuts inside, Adeniyi can now shed the tight end and make the play. Proper hand placement and usage to shed the tight end, defeat the block, and make a quality, form tackle.
Here's the whole thing.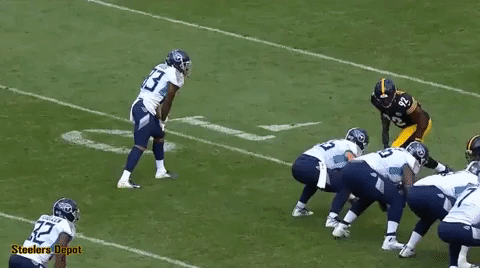 Doesn't look much prettier than that.
Adeniyi Against The Pass
He ended the game with a late sack on rookie Luke Falk. Again, he showed his IQ and hand use. Tries to win the edge on left tackle Laurence Gibson. But Gibson is able to square him up and seal him off. Instead of trying to hopelessly win the arc, Adeniyi uses an inside counter.
Love, love, love the hand use, knocking Gibson's hands down so he can counter inside and not get sealed. Wins and is able to squeeze past the linemen, finishing with a violent, clean tackle.
Those are all outstanding positions to be in if you're an outside linebacker.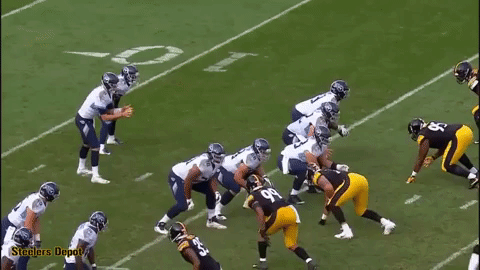 To me, there's no question Adeniyi can become an effective pass rusher in this league. And you're seeing a lot of good from his run defense. There's questions about his ability to play in space, both on special teams and dropping into coverage, but Adeniyi is checking plenty of boxes.
"Make the 53 man roster" might just be the next one he'll tick off.