Couple of Pittsburgh Steelers film room quick hits before the third preseason game this afternoon and we forever forget about the Green Bay Packers beatdown. Pair of players I want to talk about today – safety Malik Golden and tight end Pharoah McKever.
I've been pretty high on Golden throughout his time as a Steeler. And fairly down on McKever. Those feelings flipped, at least in certain respects, for the Packers game.
Golden has played well in coverage. Had a breakup in the first two games, though against Green Bay, it did come on a bad ball late in the game. He covers and profiles like a free safety. Unfortunately, his tackling is like one too.
Twice down in the box, he missed a tackle on the running back. Here's each clip, the X one going for 18 yards when it should've been a stuff near the line of scrimmage.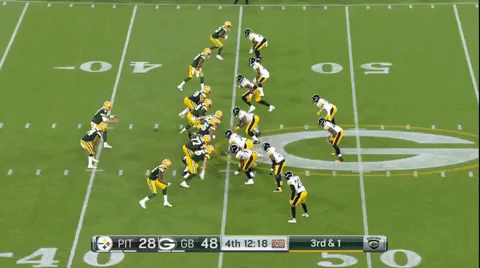 Golden is weirdly listed as a strong safety on the depth chart and even knowing that's mostly meaningless, he's definitely not one. A free safety with talent. His run support just needs some improvement.
McKever actually had a pretty good game against Green Bay. A red zone reception and some acceptable blocking. One thing that was attractive about him coming out of Florida International was his work in pass pro. Most college TEs don't spend any time repping it, much less doing it in-game. But he did, as we wrote about in our scouting report of him.
So while he's a raw player who has to fight his weight and is a below average drive blocker, his pass protection is decent for a player in his shoes. Two example of that, McKever blocking the LOLB in each clip, including the first TD pass to James Washington.
Keeps his base, rides the rusher upfield, and stays square. I can tell you this much. Bucky Hodges can't do that.
Neither of these players will see much action today, though by default, McKever will see some time given how thin the lines are at tight end. But for the finale, with all the key players sitting out, two things to look for. Golden's tackling, McKever's blocking. Each of these guys are fighting for a practice squad spot and next week will be the last chance to state that case.