New series I'll pop up from time to time to try and make the offseason at least feel a little quicker.
The Internet is a great place for some wayback Pittsburgh Steelers' games that you and I have long forgotten about (or not been alive to remember in the first place). That in mind, we'll occasionally post clips of random – and sometimes meaningful – plays from at least a decade ago.
France knocked off Croatia in the World Cup Final today, 4-2. I know he wouldn't have been eligible but I think the Croatians could've used Hines Ward hope. For one play in 2005, he was less football player, more Pelé.
Too bad for the Steelers those futbol skills worked against them. It's 2005 and Tommy Maddox is trying to lead a late drive to beat the Baltimore Ravens. Maddox, admittedly, probably forces this throw back shoulder to Ward, blanketd by corner Chris McAlister, who manages to break it up.
Instead of the ball falling incomplete, like literally any other time this would've happened, it clanks off Ward's left foot and careems back into the air.
Terrell Suggs, an apparent ageless wonder, makes a heck of a play to dive for the ball and pick it off, killing the drive.
Ok, I'll shut up and let you guys look at it because that's what really matters here.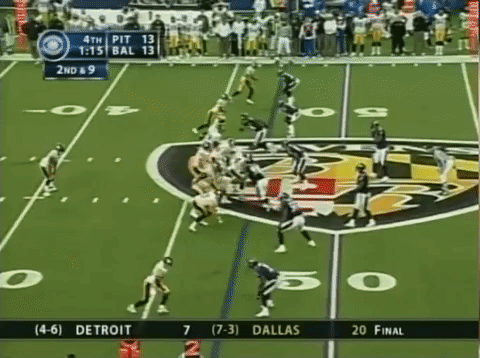 "It was a fluke, man," Ward told the PPG after the game. "I tried to bat it down with my left [hand] and it kicked off my foot. Fluke play."
Baltimore wouldn't score on the drive but won it in overtime off a Matt Stover 44 yard boot.
That loss began a three-game skid for Pittsburgh, getting dangerously close out of the playoff picture. But they righted the ship, winning the final four, and as Ben Roethlisberger promised Jerome Bettis, ended in a Super Bowl victory.
All's well that ends well. A play we can laugh about now but at the time, one that cast serious doubt on the Steelers' chances.