With offseason news at a crawl, I've spent a lot of time looking at the history of the team. From obscure players to defining moments, I've spent a ton of time watching old highlights and footage. Because it's Youtube and you can end up anywhere, I watched NFL Films' list of the top 10 fastest players in history. No Steelers made that list but it got me to thinking – who are the speediest ever to wear Black & Gold?
So I've made my list of the ten fastest in franchise history. To be clear, it isn't strictly a list based off 40 times. It's weighted based on career success and longevity, guys who put that speed to good use. Not just who ran fast on a track.
We'll have two names in each post.
#4 Mike Wallace/WR (2009-2012)
Wallace narrowly edged out Willie Parker on this list, partially because of a longer career both in Pittsburgh and league-wide while still maintaining that hold onto your butts speed. Wallace wowed at the 2009 Combine, running a 4.33, only three-hundredths of a second slower than Darrius Heyward-Bey.
As a rookie, he made that big-play impact the Steelers were banking on. His first came in Week 3 against the Cincinnati Bengals, hooking up with Big Ben for a 51 yard completion down the right sideline, a catch that would've gone for six had Wallace's momentum not carried him out of bounds.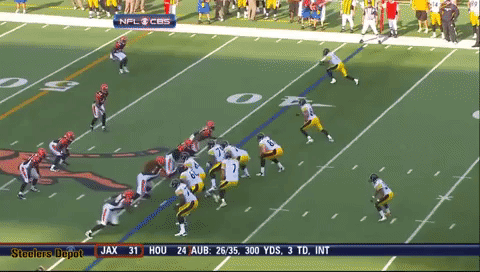 That's Jonathan Joseph with a seven yard cushion. And still doesn't lay a finger on him.
Wallace ended that year leading the entire NFL by averaging 19.4 yards per grab and the third-highest ever by a Steelers rookie (minimum 30 catches, trailing Jimmy Orr and Ron Shanklin). Six of his 39 receptions went for at least 40 yards.
He upped the ante in 2010, averaging 21 yards per grab despite increasing his reception total to 68. While his numbers dipped the next two years, he was still the fastest guy on the field every week, making plays like this 95 yard touchdown against Arizona in 2011, the longest catch in franchise history until JuJu Smith-Schuster's 97 yard trot last season.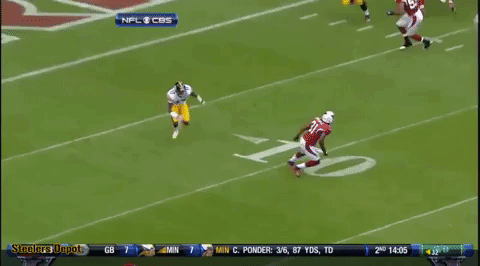 Since 1994, as far back as Pro Football Reference's data goes, only Antonio Brown has more plays of 40+ yards. And AB has had plenty more chances to rack up those ones.
Wallace hasn't quite captured that Steelers magic elsewhere and ultimately, Mike Tomlin was correct in calling him a one-trick pony. But I bet Wallace could've given Secretariat a run for his money.
#3 Rod Woodson/CB (1987-1996)
Woodson wasn't just football fast. He was track fast and had he dedicated his life to that, there'd probably be a couple of Olympic medals dangling around his neck.
He did football and track & field at Purdue and it's honestly debatable which he was more successful at. He still holds the Boilermaker record in the 110 meter hurdles, turning in a time of 13.54. He was a two-time All-American as a runner, came in second at the 1985 NCAA Championships and qualified for the Olympics the year before.
Here he is competing in the high hurdles at a 1987 event in Zurich. Woodson is lined up in lane 5.
According to this Sports Illustrated feature piece from 1992, Woodson ran the 40 in 4.29 seconds.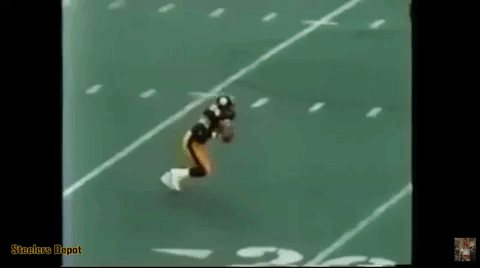 Such speed was just as evident on the football field. He had the speed, especially at his size, 6'0 200,and dangerous whenever he got the ball in his hands. The Steelers made sure to get him involved every chance they could too, using him as a kick and punt returner throughout his career. In 1989, he led the NFL in kick return average.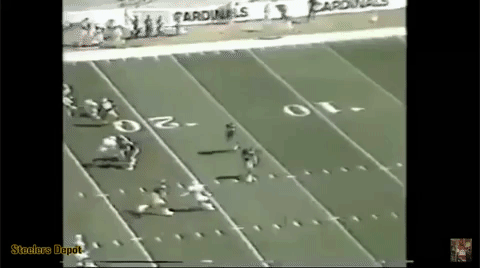 As a Steeler, he took back two punts and two kicks, still the only Steeler to ever be able to make such a claim. He returned five interceptions for scores and added a fumble return TD for the fun of it. And though not an air-tight way to measure speed, he's the team leader in career kick and punt yards, each by healthy margins.
That combination of size, physicality, playmaking and, of course, speed, sent him to Canton. And #3 on our list.