With offseason news at a crawl, I've spent a lot of time looking at the history of the team. From obscure players to defining moments, I've spent a ton of time watching old highlights and footage. Because it's Youtube and you can end up anywhere, I watched NFL Films' list of the top 10 fastest players in history. No Steelers made that list but it got me to thinking – who are the speediest ever to wear Black & Gold?
So I've made my list of the ten fastest in franchise history. To be clear, it isn't strictly a list based off 40 times. It's weighted based on career success and longevity, guys who put that speed to good use. Not just who ran fast on a track.
Today, we unveil the top two.
#2 Dwight Stone/WR (1987-1994)
Sure, his bad hands earned him the "of stone" moniker. But his feet made him The Flash and when he did secure the football, it was rare for a defender to track him down. In eight years, he averaged more than 16 yards per catch and nearly six per carry, a multi-purpose threat who caught, ran, and returned.
His return numbers were surprisingly average, though he did run back a kick 92 yards against Houston in 1988.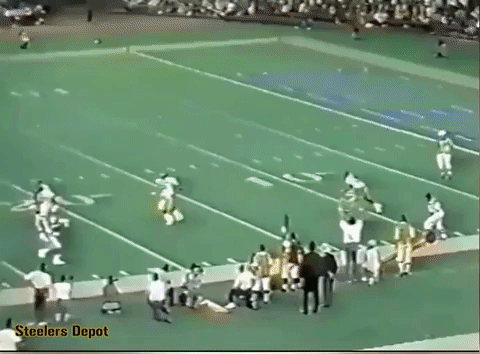 In 1990, he caught a 90 yard pass against Denver, though that failed to reach the end zone. In '91, he went 89 yards to the house. And a few years prior, 1988, he went 72 yards the other way. Few were as big a threat in the open field like Stone.
Check out how seamlessly Stone makes the catch, lands on the ground, reaches top speed, and burns the entire secondary.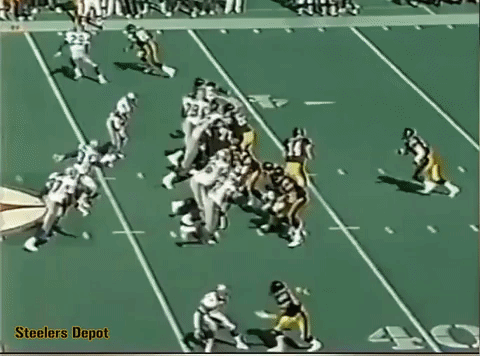 It's hard to find a hard-and-fast 40 time on him but he was rumored to run a sub-4.2 and even if those reports are of by a tenth of a second, it's still elite speed. Chuck Noll called it "beep beep" speed for Stone and if Noll throws that much praise your way, it means something.
For Stone, that speed didn't fall away during his career like it normally does for others. Even at 36 years old, 2000 with the New York Jets, Stone was still returning kicks. The big plays weren't nearly as common but there was still the belief in his wheels. He has the second most kick returns for anyone 35 or older (53) and he's one of two players in NFL history – Ollie Matson is the other – with at least 25 KRs at age 36.
Like Darrius Heyward-Bey, that speed made him an asset running down kicks too. From his time with the Jets in 2000, via the New York Post.
"After affectionately joking about Stone, Chrebet marveled at the veteran's speed and heart.
He's like the wind, Chrebet said.
Against the Giants, Stone was in on nearly every tackle on kickoff coverage. He'll play any special teams the coaches want, returning kicks or covering kicks and punts. It doesn't matter.
'He just loves the game and is willing to do whatever it takes,' Chrebet said. 'It's admirable to play all these years and still play the way he does. I look at him and say, 'That's the way to play the game.'"
His speed was forever. Even if his hands weren't.
#1 Ike Taylor/CB (2003-2014)
Taylor might hold the franchise record for fastest unofficial 40 time ever recorded and man, I wish he would've gotten a Combine invite. Few guys know speed better than Tom Shaw, whose job is to literally make players faster, and he believes Taylor is one of the fastest ever.
Unofficially, Taylor ran a 4.18 coming out of UL-Lafayette. Immediately in the video below, Shaw recounts the story of using police radar guns to measure speed. Taylor topped out at 26 miles an hour during his 40 yard sprint, faster than anyone else, most of whom came in around 24 mph.
"Ike is the fastest kid I've ever trained. He's the #1 guy I've ever worked with. We've had Chris Johnson, who ran 4.24 at the NFL Combine, he has the record."
Shaw rattled off all the names of players who hold 40 time near-records: Deion Sanders, Dominique Rodgers-Cromartie, even Rod Woodson, who appeared 3rd on this list. Taylor was faster than any of them.
In that video, which was published in 2010 and I assume shot around the same time, Shaw said Taylor – who was 30 at the time – ran a 4.26 prior to OTAs.
"And he was just cruising."
As mesmerizing as those times are, it has to translate on the field. And though it is a little difficult to find Taylor showing off that speed full-bore, he was so successful at shutting receivers down because of those wheels.
Despite coming to a near-stop, he catches up to Tab Perry to prevent a touchdown, even if the tackle took some, uh, work.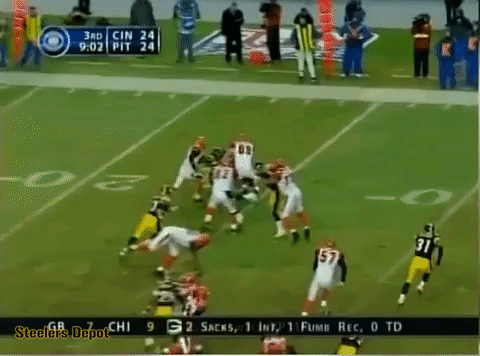 And for early in his career, Taylor was used as a kick returner, where he wasn't incredibly successful but you could sense his speed.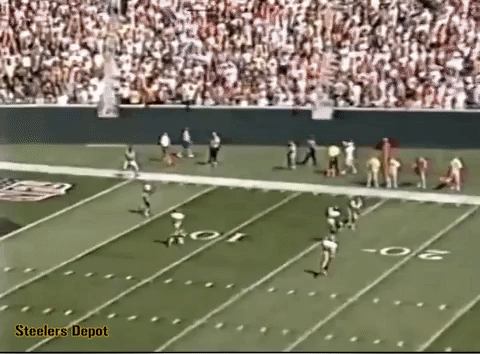 But for those who watched him play, and I know all of yinz did, his speed wasn't debatable. And he is the fastest guy to ever wear a Steelers' uniform.
Thanks for following along during this series. Here's a recap of our top ten.
1. Ike Taylor
2. Dwight Stone
3. Rod Woodson
4. Mike Wallace
5. Willie Parker
6. Lynn Chandnois
7. Stefan Logan
8. Darrius Heyward-Bey
9. Jimmy Orr
10. Ryan Shazier