Welcome to a new series we'll sprinkle in throughout the offseason. Writing about Dallas Baker's lone career catch recently got me to thinking about others in that "solo" club. Players who did one thing only one time in their entire career. One rush, one pass, one interception, one touchdown, you get the idea. Truly, a blip on the radar but Steelers nonetheless and literally, a "one" hit wonder.
Practice squad lifers aren't as much of a thing these days. The NFL, like the on-field product, moves too fast. The churn of the bottom end of the roster is quicker than even a decade ago; at least, that's how it feels to me. Players are more likely to get yo-yo'd, the way Ross Ventrone did, the way Brandon Brown-Dukes has.
But guys like Walter Young just sat there. Brought into camp, get cut at the end of the preseason, added to the practice squad. Rinse, repeat.
That's how it was for the first two years of Young's Steelers career. He began his NFL trek with Carolina, a 7th round pick in 2003. That lasted just the one season before he latched onto the Steelers, sitting on the practice squad in 2004 and 2005.
2006 would begin the same, back on the practice squad. But Pittsburgh lifted him to the 53 man roster in late November, finally giving up on Willie Reid's foot to heal and placing him on IR two weeks later. Young dressed for their Week 13 tilt versus Tampa but didn't log any snaps and I'm not sure if he even played.
He did check in the following game against Cleveland. All that work and patience finally paid off.
Early in the 2nd quarter, the Steelers up 7-0, Ben Roethlisberger broke the pocket on 3rd and 9. He rolled right and found Young sitting down over the middle. Young took an extra half-second to ensure he secured the football, turned upfield, and was taken down after a few more yards of YAC. He kept the drive alive, one that wound end in a short Jeff Reed field goal. Pittsburgh would go onto win comfortably, 27-7.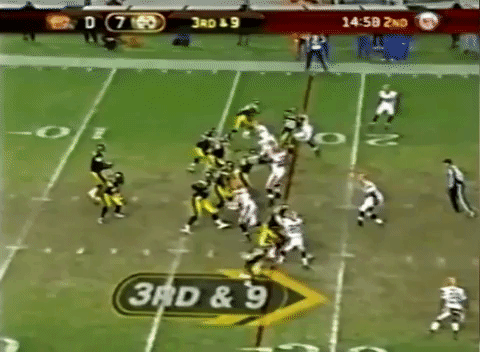 It was the only target Young would ever have as a Steeler and his only catch in the NFL. In that first year, the Panthers targeted him five times, all in the same game, but none connected.
2006 would also be something of a swan song, if you can even call it that. While Mike Tomlin carried him over into camp, he was released for good at final cutdowns. Instead, the team chose to keep Dallas Baker over him, the man who inspired this whole series, and feels as good a place as any to end it for the offseason. Thanks for enjoying reading it as much as I have writing it.