Welcome to a new series we'll sprinkle in throughout the offseason. Writing about Dallas Baker's lone career catch recently got me to thinking about others in that "solo" club. Players who did one thing only one time in their entire career. One rush, one pass, one interception, one touchdown, you get the idea. Truly, a blip on the radar but Steelers nonetheless and literally, a "one" hit wonder.
Obscure quarterbacks are probably my favorite ones to talk about. The larger-than-life nature of the position juxtaposed with the totally irrelevancy of some of these names. Not that they were bad players; just backups stuck in a bad situation who came and went and everyone forgets.
Tee Martin is one of those names. He was the Big Man on Campus at Tennessee, leading his Vols to a National Championship after knocking off Florida State in the 1998 Fiesta Bowl. Even today, long removed from his playing days, he's still a well-known name, the offensive coordinator for USC.
But in the NFL? He was largely forgotten about, a 5th round pick by the Steelers in 2000 and spent two seasons with the organization. Martin appeared in one game for them, like many of the others, a blowout win against the Cleveland Browns.
Up 28-7 in the final game of the 2001 season, Martin checked in and mostly diligently handed the ball off to to R.J. Bowers and Jon Witman. On 2nd and 14 at the two-minute warning, Cowher let Martin drop back for the first time of his career.
But not to pass.
It was a designed QB draw, Martin a threat as a runner, On a field that barely looked worthy of a Monster Truck Rally, he faked the handoff, took a glance downfield, and then tucked the ball to follow his lead blockers. He dove headfirst into a pile, gaining eight, and then on 3rd and 6, was asked to handoff again to Bowers, Cowher opting against throwing the ball versus a hapless Cleveland bunch.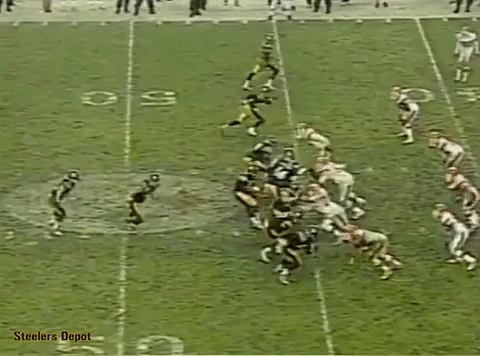 That was his only play as a Steeler. He did, however, get that chance to sling the pigskin in 2003, making a pair of appearances for the Oakland Raiders. Martin completed 6 of his 16 passes and he knew his football history, almost literally locking onto Jerry Rice. Ten of his targets went his way. So did five of his completions, the 6th landing in Tim Brown's arms.
Meaning all his completions were caught by Hall of Famers. That's as worthy for stats of the weird as anything I could throw at you the rest of the year.