As we have done the past couple years to bide our time during the offseason, we're looking back on Pittsburgh Steelers you may have forgotten…or not remembered at all in the first place. Our "blast from the past" series, with a new, dumb name, highlighting players who have long hung up their cleats.
If you have a player you'd like to see profiled, leave it in the comments below.
We've spent the last couple of these focusing on wide receivers so today, I wanted to switch to the defensive side of the football and highlight DL Ryan McBean.
Generally speaking, I don't think people begin using the "bust" label after a player is drafted in the 4th rounder.
Dri Archer? Bust.
Ryan McBean? Ehhh, just a miss.
Which is fair and fine, I'm not looking to debate the point because hey, the line has gotta be drawn somewhere. But those "busts" get remembered for a long time, even if for all the wrong reasons, while everyone else is forgotten about within two years.
McBean falls into the latter category, a 4th round pick by the Steelers in the 2007 NFL Draft, Mike Tomlin's inaugural class. He wasn't quite as bad as say, Fred Gibson, a 4th round pick who didn't even make it out of his rookie camp, but production-wise, he was essentially the same.
According to his NFL.com game log, McBean appeared in only three games as a Steeler, all during his rookie season, and failed to record any stat. Injuries didn't do him any favors either and by the end of camp in 2008, he was shown the door.
He enjoyed his first NFL success with Denver and in 2011, managed to rack up four sacks. Here's his first sack, looping around before dragging down Philip Rivers.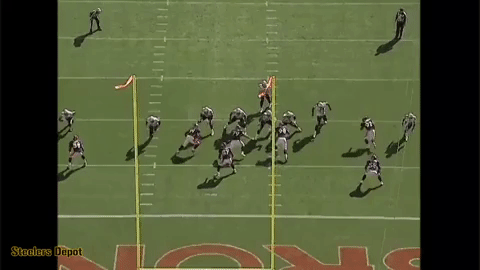 But again, he played through injuries. Doctors gave him predictable pain killers like Toradol, drugs with nasty side effects, so McBean used marijuana as a substitute. In fact, in the below video where he advocates for the NFL to allow players to use pot, he says his use began as a Steeler.
"My ankle was dangling off on the side. I was on Toradol to prevent me from feeling any pain," he said. ".I didn't want to do anything. I didn't want to get out of bed, I didn't want to move, I just wanted to lay in bed and sleep. That pain just numbed me and made me feel like I wasn't capable of doing anything."
Using marijuana took away the pain while bettering his mental state.
"It was a tremendous relief. A tremendous change. I just remember wanting to wake up, wanting to go to work, wanting to recover."
McBean was suspended in April of 2012 for six games after the league determined he violated their PED policy, claiming a urine sample he submitted wasn't from a human. He fought the case, especially after the league themselves fired the collector for some unknown wrongdoing. Both sides settled; McBean would drop the lawsuit and in return, be out only three weeks.
Still, the damage was done. The Broncos rescinded their RFA tender, making him a free agent. Baltimore took a flier, signing him to a one-year deal in May of that year, but he shattered his ankle late in the second quarter of the first preseason game. You can see it briefly below, McBean wearing #98 and playing LE.
By then, his career was functionally over, the journeyman with suspension and injury labels. Kansas City gave him a glance in 2013 but didn't sign him and the Arizona Cardinals added him to the roster late in the summer of 2014, appearing in one preseason game before getting ousted.
I haven't been able to uncover much information on his life since exiting the NFL, outside of the passionate plea and diligent education for why the NFL should legalize marijuana. That of course, is unlikely to happen anytime soon and would be an issue given the federal laws against it. But I imagine it'll be a hot button issue when it's time to hammer out a new CBA in a couple of years.