James Conner probably didn't have the rookie season he envisioned. Sure, there was success as a runner, averaging 4.5 yards per carry, but he struggled to log snaps behind Le'Veon Bell and had his season ended early after tearing his MCL.
The play you probably remember him best for came in one of his worst moments. His blown pass protection against Jacksonville that led to the first of five Ben Roethlisberger's interceptions.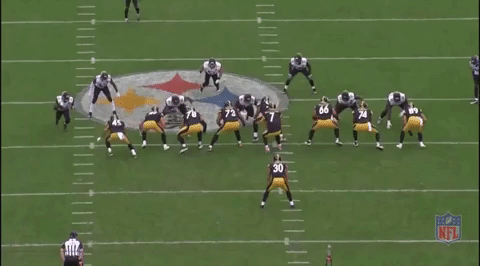 It's an objectively bad play. It looks like Conner was too quick to get into his route, a check/release, and didn't see the linebacker coming until it was too late to do anything about it. So he understandably got the reputation that pass protection is an area he struggles with.
Here's the thing. That's literally the only time he was asked to pass protect last season. You could try to argue one other, picking up a linebacker off the edge, but that came on a bubble screen where the ball was out of Roethlisberger's hand before the linebacker would've been there even if he as unblocked.
There were a couple other of those check/releases where no one came and Conner went into his route. But the Jacksonville game was truly his only opportunity in that aspect of the game – I looked at Matthew Marczi's offensive charting, went through each possible play, and walked away empty-handed.
How good he is in pass protection is still an unknown, and something to absolutely watch out for this year, but it's unfair to label it as anything other than an incomplete. One bad play shouldn't make for the entire evaluation.
Now that he has a year under his belt, is in better shape, his mind no longer spinning about breaking into the league, we'll get a much better idea of where he's at. I'm geeked to watch him in the first backs on 'backers drill. That's where his evaluation will begin. Not anything that happened in-game last year because if we're being honest, there's almost nothing there.