Welcome to a new series we'll sprinkle in throughout the offseason. Writing about Dallas Baker's lone career catch recently got me to thinking about others in that "solo" club. Players who did one thing only one time in their entire career. One rush, one pass, one interception, one touchdown, you get the idea. Truly, a blip on the radar but Steelers nonetheless and literally, a "one" hit wonder.
I was the "Steelers guy" in middle school. (For the record, I was also the "short" and "weird" guy). The dude who memorized the box score after every game to share it with anyone who pretended to listen to me – people absolutely deserve medals for putting up with me, by the way.
Until one day my friend came up to me with a Steelers trivia question. And I assume I could impress with a quick answer.
"Who wore #7 before Ben Roethlisberger?" 
I was stumped. Pride before the fall, I felt like an idiot.
The answer is Pete Gonzalez. He spent two years as a Steeler, 1998 and 1999, appearing in only one game. And chucked only one pass.
It came against the Cleveland Browns in 1999, a game we've begun to mention so often here that I feel like I need to write them a royalty check. The 43-0 shallacking Pittsburgh put down on them on Monday Night Football.
After throwing a touchdown pass for the final points of the day, Kordell Stewart started, exited mid-way through the 3rd quarter, and Mike Tomczak took a seat on the bench with five minutes remaining in the fourth quarter after tossing a touchdown.
That brought in Gonzalez, the 3rd stringer, for his first NFL action. Leading by 43, his job was mostly to hand the ball off and look pretty but consecutive holding calls put the Steelers in a 3rd and 22. Bill Cowher decided to throw his QB a bone, opting against calling a boring draw. He let 'ol #7 sling it, taking a quick three-step drop out of the gun.
At the top of his drop, he fired underneath to Hines Ward for an 8 yard gain.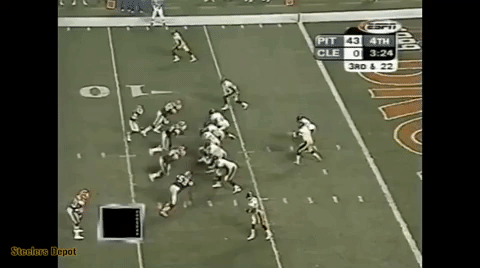 The Steelers would get the ball back after Joey Porter's first sack resulted in a fumble though Cowher asked Gonzalez to take a pair of kneeldowns and go home victors.
That was the last time Gonzales got a shot in Pittsburgh and after spending the 2000 camp with Buffalo, he was cut and played in the CFL for a few years before hanging up his cleats for good.
Not including the Single Wing era, the 30s and 40s, Gonzales is only one of two true quarterbacks to throw exactly one pass as a Steeler (Brian St. Pierre would join him five years later). It's a less prolific passing career than ever Cedrick Wilson but hey, he's in the record books.
And an excellent trivia question.