In the Pittsburgh Steelers Sunday home playoff loss to the Jacksonville Jaguars the team's offense failed to convert two separate fourth down and 1 opportunities and as all of you know, neither of those two plays were quarterback sneaks. Since then, there's been a lot of discussion about why quarterback Ben Roethlisberger didn't attempt a sneak.
On Tuesday, Roethlisberger claimed during his usual radio interview on 93.7 The Fan that while he's certainly open to quarterback sneaking in short-yardage situations, he doesn't have the ability to audible to such a play call if it's not the one sent in by offensive coordinator Todd Haley.
Surprisingly, the last last time that Roethlisberger attempted a quarterback sneak was during the Steelers 2015 Week 12 road loss to the Seattle Seahawks. In fact, he attempted a quarterback sneak twice in that game in the second quarter and both were successful. That game, however, also included Roethlisberger removing himself from the contest in the fourth quarter due to him experiencing concussion-like symptoms. Those symptoms, however, were probably a direct result of Roethlisberger suffering a helmet-to-helmet hit from Seahawks defensive end Michael Bennett late in the fourth quarter and not from either of the two quarterback sneaks he attempted in the first half. In case you forgot that hit, you can see it below.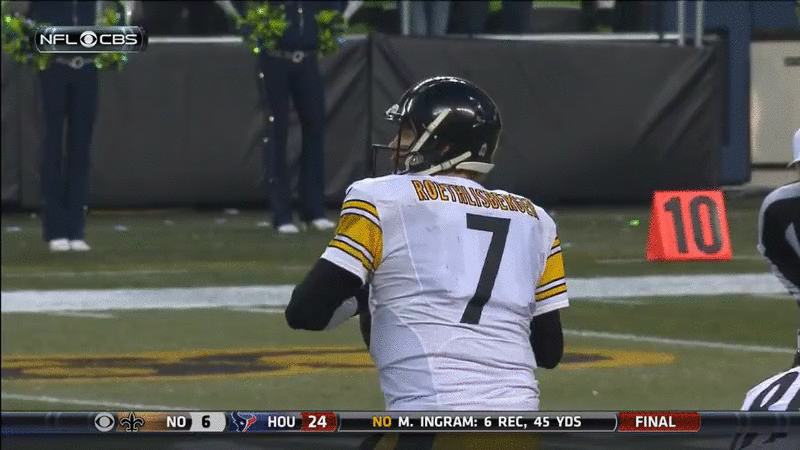 During his long career in the NFL, Roethlisberger has been highly successful when it comes to him attempting quarterback sneaks. In fact, a quick research on Pro Football Reference shows that of the 43 times that Roethlisberger has rushed "up the middle" on either third or fourth down with one yard to go that he's converted all but three times. Let it be known, however, that Roethlisberger did fumble away the football on one of those plays after gaining 2 yards.
It should also be noted that these were the only plays scored as middle runs and without looking at the video of each one of them, I can't say for sure that all were quarterback sneaks. With that said, it's a good bet that most were. I also don't know for sure if a few other rushes that were scored as being to right guard or left guard weren't also sneaks without looking at each play so because of that, I did not include them in my totals.
Inside that presented 93% success rate is the fact that Roethlisberger is believed to be 18 of 19 on quarterback sneaks on fourth and 1 play during his career with his lone failure coming in the first quarter of the Steelers 2009 road loss to the Oakland Raiders. That fourth down play also started at the Raiders 5-yard-line.
While New England Patriots quarterback Tom Brady is currently considered the all-time king of quarterback sneaks, Roethlisberger has quite the success rate when it comes to his own number being called. Will we see him resume short-yardage quarterback sneaks during the 2018 season? It's hard to know for sure but if he does attempt one, you should have faith that he'll likely be successful.
In the meantime, I have uncovered footage of Roethlisberger's last two quarterback sneaks and you can see both of them below.
Ben Roethlisberger's last QB sneak came against the #Seahawks in Week 12 of the 2015 season. He had 2 in that game. I have uncovered OLD TV footage of that last one. #Steelers pic.twitter.com/XvLgGLoF47

— Steelers Depot (@Steelersdepot) January 16, 2018
Thanks to the miracle of modern technology, I have now also recovered the other QB sneak that #Steelers Ben "Crazy Legs" Roethlisberger had against the #Seahawks in that 2015 game. pic.twitter.com/fWScuRNSMU

— Steelers Depot (@Steelersdepot) January 16, 2018