Our game notes from the Pittsburgh Steelers 27-24 loss to the New England Patriots Sunday evening.
First Half
– Kick return unit. Front line. Moats-Watt-Matakevich-Chickillo-Fort. Golden behind. Conner/Walton/Nix the wedge with Grimble replacing Conner after his injury. JuJu/Fitz the KRs.
– Roosevelt Nix. The hero we need. This from the opening kick.
– Would've been a huge run for Le'Veon Bell. But he slips. Bummer.
– Punt coverage. Brian Allen and DHB the gunners. Watt-Fort-Canaday-Matakevich-Chick up front. Nix/Davis the wings, Golden the upback.
– Artie Burns has to get depth here on this three deep zone. A one man route that goes for 43 yards? Ughhhh.
– Antonio Brown worked this scramble drill twice. Sat down on a curl for this hitch/wheel. Play broke down so he pivoted outside and then back inside for what turned out to be a 19 yard gain. Amazing.
– Punt return unit. Golden-Fort-DHB-Nix-Chick-Fort-Fitz. Sutton/Burns as one set of jammers, Brian Allen the other.
– Like last year, poor rush lane contain on third and short. Tom Brady slides to his right, keeps the play alive, completes the pass.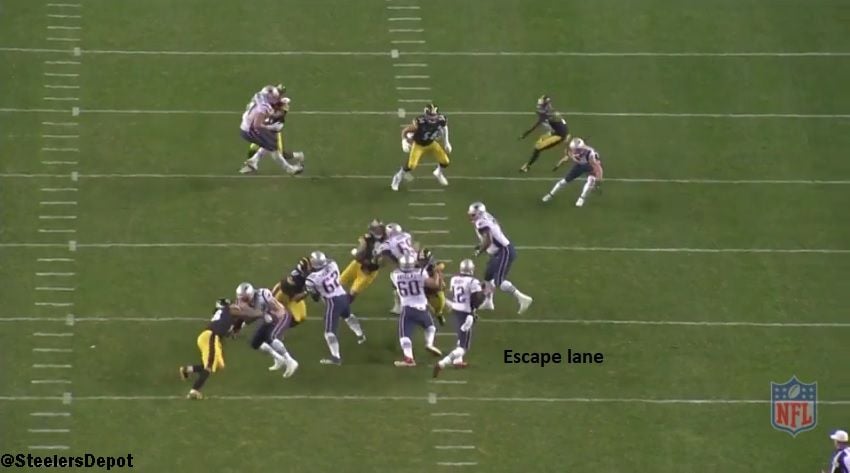 Second Half
– Chris Hubbard with a vicious pancake on the edge. Clear out that corner.
– Le'Veon Bell still getting skinny through the hole. Good run out of his end zone.
– When William Gay played safety after Sean Davis covered Gronk, he almost always rolled down to be the Robber with Mike Mitchell playing single high behind.
– Mike Mitchell's depth was too deep on the final drive. Couldn't close on throws to Gronk over the middle.
– JuJu's gotta take a knee in the end zone. He made up for it but wasted time and yards.
Speaking of kick returns, probably going to do a video on this later in the week, the blocking was terrible. Not really JuJu's/Fitz's fault.