Coming off of a 21-18 win Sunday on the road at FirstEnergy Stadium in Cleveland, we're back into the full swing of things here at Steelers Depot.
If you've been following along since the end of the game Sunday, we've had some great content go up on the site for you to read.
Now, it's time to dig into some film room stuff for me, personally, starting with my favorite piece of the week:  missed tackles.
Much like the offense, the defensive performance wasn't pretty, at least from a tackling perspective.
Total missed tackles at Browns — 15
TJ Watt – 3
William Gay – 2
Anthony Chickillo – 2
Stephon Tuitt – 1
Sean Davis – 1
Tyler Matakevich – 1
Javon Hargrave – 1
Joe Haden – 1
Tyson Alualu – 1
Ryan Shazier -1
Vince Williams – 1
As you can see from the numbers above, it wasn't a good performance in the tackling department for Pittsburgh.
While rookie TJ Watt had a great game overall (seven tackles, two sacks, one interception), but he missed some tackles against the Browns that he should be expected to make, one of which was a missed sack on Browns rookie quarterback DeShone Kizer.
Yes, Stephon Tuitt did miss a tackle on the first play of the game, which happened to be just one of two snaps the standout defensive end played on the day, while Tyler Matakevich missed arguably the biggest stop of the day on Kizer at the goal line on one of his lone defensive snaps.
On tape, there were certainly things to get excited about with the defense, but there was also some glaring missed tackles.
Let's start with a big combination miss by Anthony Chickillo and Watt midway through the first quarter on Cleveland's first scoring drive.
Facing a 3rd and 8 near midfield, Kizer has all day to throw in the pocket. He needed all of that time to find dual-threat running back Duke Johnson open in the middle of the field, short of the sticks.
Normally, that's a win for an NFL defense, but Johnson is able to make both Chickillo and Watt miss in the open field to pick up the first down, keeping the scoring drive alive.
Chickillo takes a bad angle to the catch point, allowing Johnson to use his lateral quickness to get around him, and Watt goes for the lunging arm tackle. Neither works.
Those two missed tackles short of the sticks proved costly a few plays later when Kizer bowled through Matakevich for Cleveland's first touchdown of the game.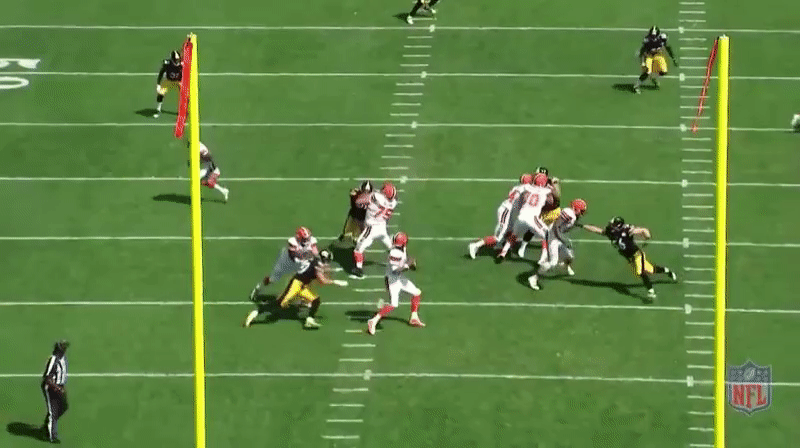 On another 3rd and long near midfield (3rd and 11), the Steelers nearly mess up another chance to get off the field.
Watt was a menace off the edge all game long, and on this play he beats future Hall of Famer Joe Thomas around the edge. You see the dip around the edge and the bend to get into the pocket, but he fails to finish here as Kizer slides slightly forward as Watt slides off his waist for a would-be sack.
Following Watt's miss, Kizer is able to find tight end Seth DeValve in the right flat for what should be a short gain.
Joe Haden comes in low and out of control, allowing DeValve to side step his tackle attempt. Fortunately for the Steelers, Ryan Shazier is right on the heels of Haden to make the stick short of the first-down marker, getting the Steelers defense off the field.
On Cleveland's final drive of the game, the Steelers simply struggled to wrap up in the open field, allowing the Browns to march down the field for a touchdown and a 2-point conversion to pull to with three points.
On that drive, Isaiah Crowell made three Steelers defenders miss on a simple check-down throw from Kizer, putting the Browns in scoring position quickly.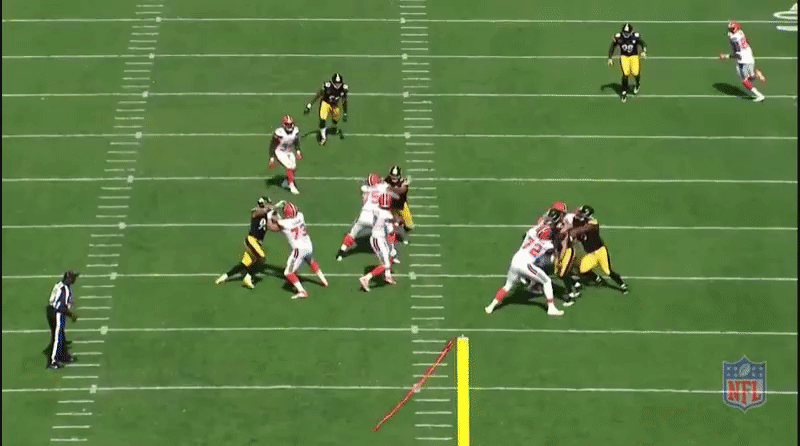 Much like the Johnson and DeValve plays, this is just a short dump-off from Kizer that the Steelers fail to stop quickly.
Kizer finds Crowell in the middle of the field, where Shazier closes quickly. But like he has done throughout his Steelers career, Shazier comes in out of control, guesses which way Crowell will turn, and whiffs on the stop.
After making Shazier miss, Crowell has a ton of room to run. In that space, he forces Vince Williams to miss in the open field while juking Haden almost out of his shoes (I didn't count it as a miss because he technically didn't even attempt to tackle him) and then runs through an attempt by Sean Davis to finish off the play.
In a 23-yard span, Crowell made three defenders miss and left another one trying to figure out which way he went. Not bad from a power back, but putrid from a defense with Super Bowl aspirations.
While the 15 total missed tackles is a sight for sore eyes with this group, it's important to remember that it was the first game of the season and the first continuous action for the starting defense as a group.
Things will get better and that number should drop week to week, but there's no denying that a ton of work is needed in the tackling department once again for the black and gold.