Quick notes from the Pittsburgh Steelers 21-18 Week One win against the Cleveland Browns.
First Half
– Kick coverage unit. Mike Mitchell-Robert Golden-Roosevelt Nix-L.J. Fort-Vince Williams-Chris Boswell-Tyler Matakevich-Anthony Chickillo-Mike Hilton-Terrell Watson-Darrius Heyward-Bey
– Punt return team. Mike Hilton-Roosevelt Nix-Anthony Chickillo-L.J. Fort-Tyler Matakevich-Terrell Watson-Darrius Heyward-Bey-Robert Golden. Joe Haden and Artie Burns the jammers.
– First 3rd and long of the year…Steelers in man to man. Gave up the completion and first but a welcome sight for fans, I'm sure.
–  Good job by Eli Rogers to square up to this punt. That's the first key to being a successful punt returner. Getting square and under the ball.
– Punt coverage. Front five: Watt-Fort-Canaday-Matakevich-Chickillo. Nix/Davis the wings, Robert Golden the upback. Hilton/DHB the gunners.
– And your KR unit. Front five. McDonald-Watt-Matakevich-Chickillo-Fort. Golden right behind. Hubbard/Conner/Nix part of the "wedge." JuJu and Watson the return men.
– Good job by Joe Haden in zone coverage. 3rd and long. Cover 2 but no need to play the flats – let the offense throw it underneath. Sinks to take away the predictable route by #2 (corner) with #1 short. Then drives underneath, though he missed the tackle.
– Nothing doing for Le'Veon Bell on 3rd and 1. OL didn't get much going.
– Getting Brown on a crosser vs a linebacker. That's going to pay off well. Rogers did well to set a legal pick.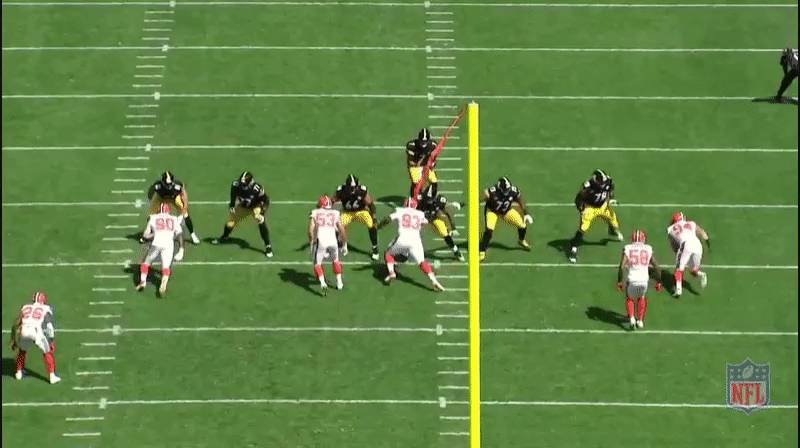 – Xavier Grimble and Jesse James served as the wings on the field goal unit.
– Some sort of miscommunication here. Three Steelers take one man. Helps open Corey Coleman on a dig behind for a 19 yard gain.
– Really nice setup by Danny Smith on this kick coverage. Williams and Fort run a stunt that gets both of them free. Tackle inside the 15.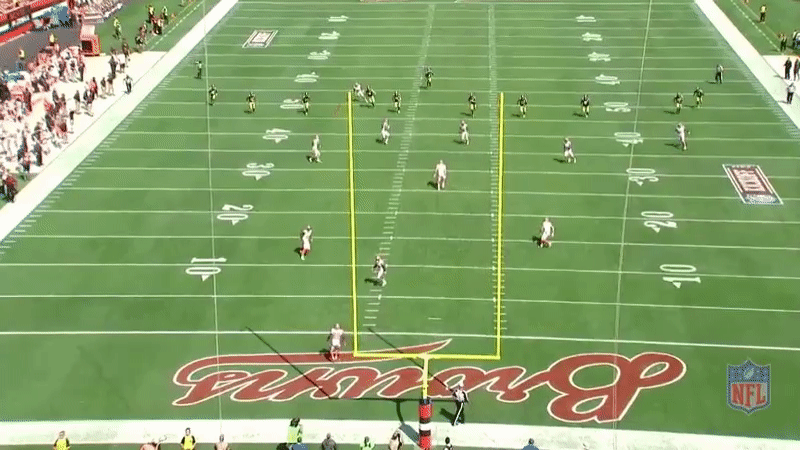 Second Half
– Tyson Alualu/Anthony Chickillo run a stunt. But Alualu gets caught inside and DeShone Kizer is able to scramble to the edge.
– Teams want to bracket Bryant and AB? Going to leave Eli Rogers on a linebacker. This is probably a TD if it isn't batted down at the LOS.
– Thought Steelers did a better job of carrying seam threats than in the past but this one still got open. Safety needs to take him. Can't count on single high to make the play.
– Great run fill by Gay. Why he still can thrive in the nickel.